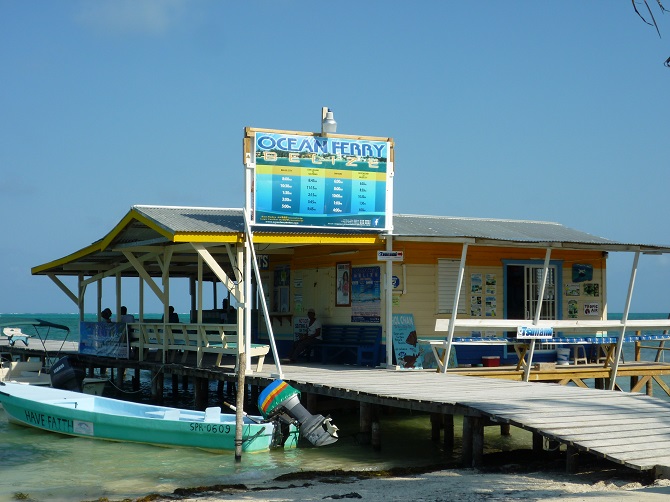 Belize is famous for its islands or Cayes, and getting to and from them, or even between them, is all part of the Belize holiday experience.
Although there are thousands of Cayes off the coast of Belize, the vast majority are either uninhabited, privately owned or the base for hotels which arrange their own private boat transfers. The only islands with significant public boat trips are Caye Ambergris and Caye Caulker.
Caye Caulker, much the smaller and less developed of the 2 islands, takes around 45 minutes by boat from Belize City. From Caye Caulker to Caye Ambergris takes another 30 minutes or so and all boats from Belize City to Caye Ambergris and vice verse stop at Caye Caulker. From the north, there are scheduled (but far less frequent) boat trips from Corozal and even Chetumal in Mexico to Caye Ambergris; both these journeys take at least 2 hours.
If travelling as part of a pre-booked holiday, most tour operators will be able to book tickets in advance although it's not really necessary. Generally speaking, passengers are advised to arrive around 30 minutes before the scheduled departure and pay for their tickets there and then. The journey from Belize City to Caye Caulker normally costs around US$15 while the onward trip from Caye Caulker to Caye Ambergris typically costs around US$10.
There are only 3 boat companies operating on these public routes and timings and prices are usually very similar. However, each company will have its own dock so, if you are being met at the other end, make sure that you / your meeter know which boat company you are using.
In terms of what to expect from the actual journey, well, not a lot. Although different boats are used, they are all effectively large speed-boats. That's great for speed, not so great for either facilities or passenger comfort. In terms of facilities, there are none whatsoever so don't expect to go for a stroll, have a drink or use the loo! In terms of comfort, seats are generally pretty hard and, if the boat is full, you might find yourself sitting outside in the sun / wind / rain – there is nothing glamorous about boat travel in Belize so be prepared.
The one thing you don't have to worry about is lugging your suitcase onto the boat or, worse still, having it sat at your feet for the entire journey. As soon as you arrive at the dock, often before you have paid for your ticket, any large luggage will be taken away and you will be given a luggage tag as proof of ownership. This luggage is stored separately on the boat (under cover) and passengers then claim it back on arrival at their final destination.
If the weather is nice (ie both sunny and calm) and the boat isn't too full, it's a wonderful experience. If you get the opposite, full boat in bad weather, you might wish you booked a flight instead.