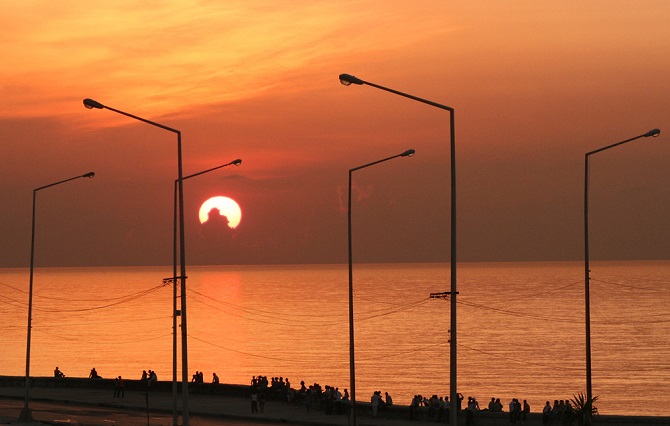 With at least 10 people having tragically lost their lives in Cuba as a result of Hurricane Irma, and many others having lost their homes, some might view any discussion of the effect on travel to Cuba as being at best glib, at worst downright insensitive.
The reality is that Cuba is a poor nation and one whose economy is hugely dependent on tourism, not just in terms of boosting the state's coffers (the same coffers that will be called up to re-build homes and infrastructure) but also in terms of supporting many thousands of jobs, be they cooks, cleaners or entertainment staff in hotels or owners of casa particulares, paladares, shops and taxis. Staying away from Cuba won't help any of them.
What follows therefore is a brief summary of the state-of-play post Irma although details are still very sketchy as communication has been severely disrupted and damage assessment is still underway. The most important point to be made about Cuba is that it is a large island, at over 1000lms long, and the effects of Hurricane Irma were not felt evenly.
Cuba's Northern Cayos
Hurricane Irma hit Cuba near the island resorts of Cayo Coco & Cayo Guillermo before making its way west along the north coast to the island resorts around Cayo Santa Maria, Cayo Ensenachos & Cayo Las Brujas. It then carried on just past these islands before veering north-west towards Florida.
Although precise details are hard to come by, we know that Cayo Coco & Cayo Guillermo were hardest hit with the airport roof collapsing and almost all hotels being very badly damaged. With no other nearby airport, and such damage to hotels, this area will take a long time to recover.
The islands of Cayo Santa Maria were also badly damaged, although perhaps not to quite the same extent. The same can't be said for the mainland, coastal town of Caibarien which was flooded. Nearby Remedios was also damaged although not as badly.
At the moment, it seems that the resorts on the northern Cayos will be closed until the middle of November with the worst damaged hotels probably closed well beyond that.
Eastern Cuba
The east of Cuba was braced for significant damage from Hurricane Irma but seems to have come out of this relatively unscathed. The main resort in the east, Guardalavaca, together with the coastal towns of Baracoa & Santiago de Cuba suffered superficial damage (trees and power-lines down, damage to tiles etc) but no great structural damage. The one town for which I don't have any news, and which is on the tourist trail, is Gibara, a coastal town near Guardalavaca. Otherwise, this part of the island is already welcoming tourists pretty much as normal.
Central Cuba
Although a long way from the coast, the central city of Camaguey is said to have suffered some flooding and damage to buildings. Although this is not thought to be major, as pretty much all overland tours use Camaguey as an over-night stop, it is important that the limited number of hotels are up and running as soon as possible. To the north of Camaguey, the small coastal resort of Santa Lucia will have suffered extensive damage from Hurricane Irma although no details have been released yet.
Cuba's South Coast
The south coast of Cuba is home to Cienfuegos, Trinidad & Sancti Spiritus, 3 of Cuba's most important tourist destinations. Thankfully, due to their distance from the eye of the hurricane, and the protection offered by the Escambray Mountains, this part of the island suffered only minor damage and tourists can visit pretty much immediately.
Varadero & Jibacoa
Cuba's largest beach resort, Varadero was spared a direct hit as Hurricane Irma veered north towards Florida. With so many hotels in Varadero, it will take some time to get full details through although tourists should be able to return in a matter of days. What we do know so far is that the Melia Peninsula & Paradisus Varadero were amongst the worst-hit hotels and aren't expected to re-open until 30th November. Even at hotels which will soon be open again, one can expect damage to pool / beach bars etc.
Closer to Havana, Memories Jibacoa also escaped a direct hit but the resulting storm surge has caused damage to the ground-floor, seaview rooms. The hotel has yet to comment officially but it is hoped that it will re-open before the end of October.
Havana
Cuba's capital city is vital to the nation's economy and is a 'must-see' for the majority of visitors to the island. Fortunately, it was spared a direct hit by Hurricane Irma with the main damage being done by the resulting storm-surge which breached the famous Malecon and flooded nearby streets. Fortunately, the historic Old Havana part of the city was largely spared this flooding and no major damage has yet been reported. Trees are still down, and power hasn't been fully restored yet, but Havana will be back to business-as-usual in a matter of days. The only hotel that will be out of action for quite some time, due to its location on the Malecon, is the Hotel Terral.
Western Cuba
Cuba's western region of Pinar del Rio, home to the Vinales Valley, Las Terrazas & Soroa, suffered only minor damage and is already pretty much back to normal. Even the island resort of Cayo Levisa suffered only minor damage and is set to re-open within 48 hours.
For more general information, you might also be interested in our feature on the Cuba hurricane season.