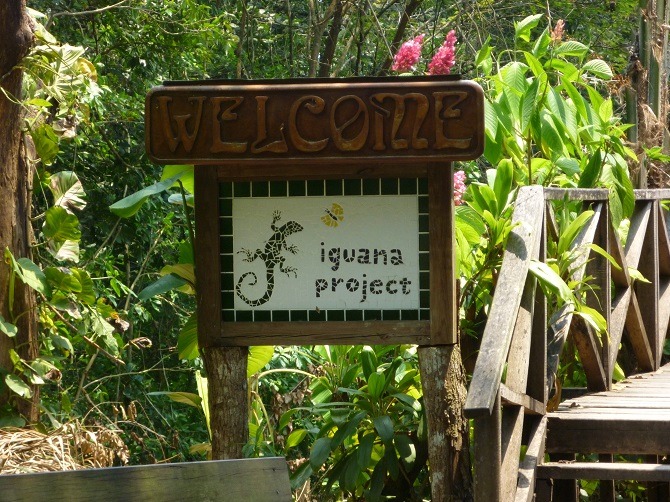 Atop a steep hill above San Ignacio is the smartest hotel in town (smart enough for the Queen to have been a guest on her visit to Belize in February 1994), the San Ignacio Resort Hotel; and very nice it is too.
Within the hotel's capacious grounds is also one of San Ignacio's worthiest and most popular visitor attractions, the Green Iguana Conservation Project.
The Green Iguana Conservation Project was founded in 1996 by Mariam Roberson and Daniel Velasquez as a response to dwindling numbers of green iguanas in Belize, largely a result of over-hunting by humans. The Conservation Project was set up with the intention not only of species protection and breeding but also to educate the local population.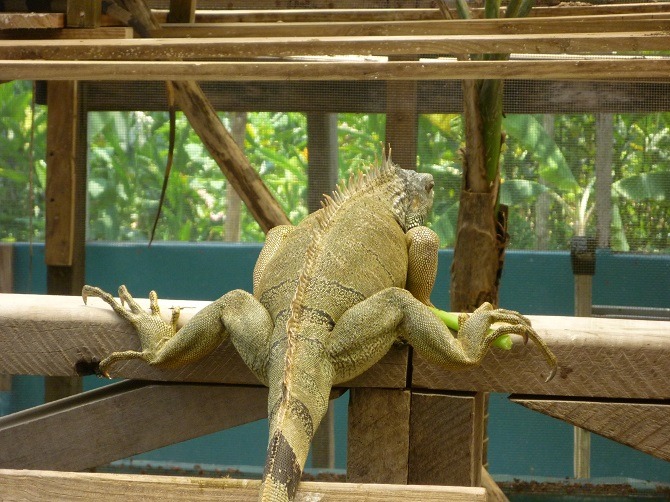 In Belize, the Green Iguana is typically referred to as the Guana although the ancient Maya who inhabited the area knew it as the Itzamna. It has long been part of their diet, and is even considered something of an aphrodisiac, but over-hunting is threatening the existence of the species. As if being hunted by humans wasn't bad enough, green iguana's (which are vegetarian) are also viewed as lunch by their close relatives, the larger black iguana. On our visit, a very large black iguana was seen taking an almost equally large poop by the hotel pool; that's one way of making your point I guess.
Tours operate roughly every hour, last approximately 40 minutes and cost 18 Belize $ / US$9. There is no need to pre-book, one can simply turn up at the hotel, pay at reception and have a drink at the hotel's lovely outdoor bar while waiting for the next departure; I can highly recommend the ginger, lime and mint mocktail.
Every tour is led by an experienced guide who will explain about the work of the Conservation Project. Visitors are then led into the large pen in which there are a whole lot of green iguanas from small to large. The largest green iguana in residence is currently Oscar The Grouch and, as his name suggests, he is isn't the friendliest sort; our guide was able to show us the scars that Oscar had left on his arm. Fortunately, there are plenty of others who are perfectly happy being handled by strangers and who will obligingly sit still while you take a photo. One word of warning – iguanas do have very long tails so be careful where you put your feet.
The Green Iguana Conservation Project receives no government or external funding and is therefore entirely reliant on visitors and donations for its valuable ongoing work. There is plenty to see and do both in and around San Ignacio that we can highly recommend and this is one of our favourites.