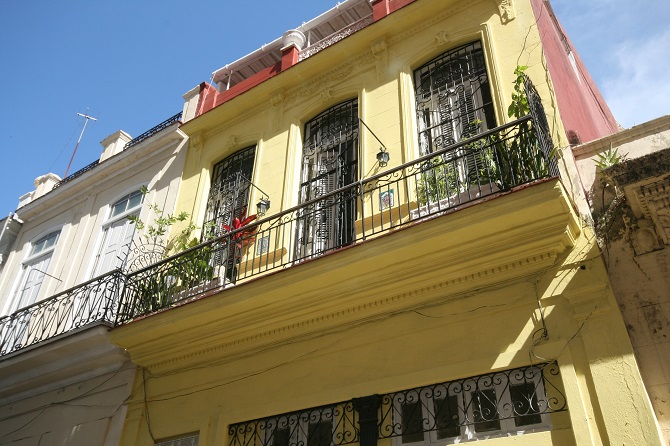 There are now reckoned to be at least 600 casa particulares in Havana so sorting the wheat from the chaff is never easy; Casa Zaiden certainly falls into the 'wheat' category and is one of our favourite options in the capital.
If the name – Zaiden – sounds odd for Cuba, that is because the grandfather of the current owner originally came from Syria. His grandson now owns the apartment in which Casa Zaiden is housed although, having married a French woman and moved to Paris, the casa is now managed by his sister, Mildred. You won't come across many more friendly and helpful casa owners / managers, and, almost as importantly, Mildred speaks fluent English, still something of a rarity in Cuba.
Casa Zaiden is located on Calle Santa Clara in Old Havana, just behind the Hotel Santander, and within a very short walk from both Plaza Vieja and Plaza San Francisco. Opposite the casa is the new Russian Orthodox church and, from the roof, there are far-reaching views out across Havana's harbour.
Housed in an attractive, colonial-era building, Casa Zaiden is accessed by a steep stairway (a common feature of casa particulares in Old Havana) leading to the ornately decorated living / dining room. An outside, but covered, corridor leads to the first of the casa's 2 bedrooms and is also where breakfast is served.
At the end of the corridor, a spiral staircase leads to the roof of the building and the casa's second bedroom. It must be said that getting up these stairs isn't that easy and getting bags up and down can be a challenge – the rooftop room is therefore only suited to those with full mobility and who are prepared to haul their own bags up the stairs.
Bearing all of the above in mind, and if you really don't mind a bit of grunt-work, the roof-top bedroom is certainly worth the effort. Although not luxurious, it's a good sized room with a double and single bed, ample storage space, a clean bathroom (shower only) and reliable a/c. None of that is what makes this room stand out though.
The stand-out feature of this room is the incredibly spacious, covered, private terrace that overlooks both the church and harbour; and, as if that wasn't enough, if you want full sun there is a second terrace between the stairs and room and a third terrace on the small roof above the room. In a city where windowless rooms in both hotels and casa are common and outside space is a real rarity, Casa Zaiden is positively awash with it.