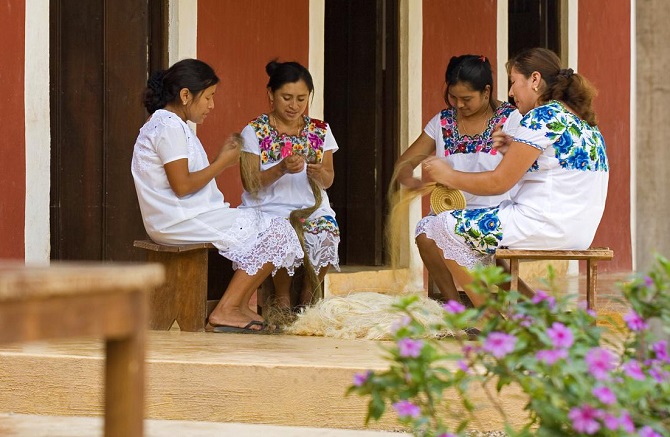 The Fundacion Haciendas del Mundos Maya is a not-for-profit organisation that works with, and for the benefit of, Mayan communities in Mexico's Yucatan Peninsula.
Through its Community Development Program, the organisation sets out to implement a variety of projects to improve these communities' social and economic prospects as well as promoting and preserving Mayan natural and cultural heritage.
The organisation was formed in 2002 as an offshoot of The Haciendas, a business project set up by Starwood Hotels and Resorts to restore a number of derelict sisal haciendas and convert them into luxury, heritage hotels. The group now manages 4 such luxury hotels in the Yucatan – the Hacienda San Jose, Hacienda Temozon, Hacienda Santa Rosa and Hacienda Uayamon.
Even before the Fundacion was created, The Haciendas endeavoured to use as many locals as possible in the restoration process and then set about providing training in the hotel business – waiters, cooks, gardeners, therapists etc – for local Mayan communities; all done at the same time as respecting Mayan values and principles.
Since its early days, the Fundacion has extended its reach and aims beyond these original 4 hacienda properties although the geographic focus remains the same.
As an example of just how the organisation has grown and expanded, in 2008 it created 2 new commercial brands, Taller Maya for artisanal products and Traspatio Maya for gourmet products, as well as launching Texturas de Yucatan, a jewellery collection designed by Roxana Liendro.
Of course, there are other hacienda hotels within the Yucatan who also work with their local communities, albeit through different channels. Examples include the Hacienda Santa Cruz near Merida, and Hacienda Sacnicte, located midway between Merida & Izamal. Both haciendas are privately owned and managed.
For more information on the work of the Fundacion, you can visit their website.