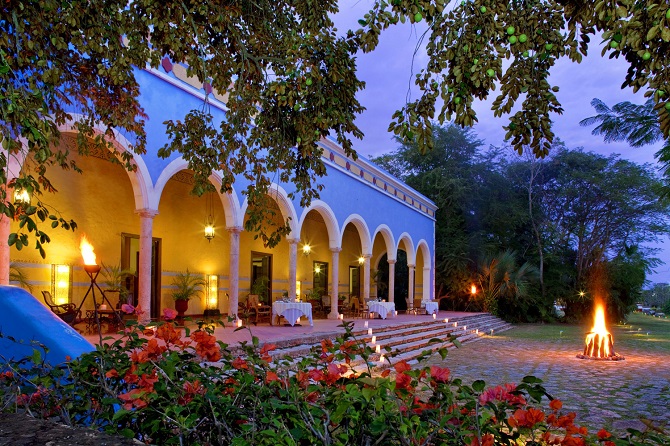 Undoubtedly one of the highlights of any holiday to Mexico is the opportunity to visit or, better still, stay in one of the haciendas of the Yucatan.
The Yucatan Peninsula was home to Mexico's sisal industry – known as 'green gold' – and across the region a number of haciendas were built at the heart of immense estates. When the good times did eventually come to an end, largely due to the emergence of synthetic fibres, these estates fell into rapid and, almost always, terminal decline.
For almost a hundred years many of these haciendas were either left to slowly rot or, in many cases, simply abandoned to the elements. As with the palaces of India, what saved many of these haciendas was tourism or, more specifically, heritage tourism.
The Yucatan Peninsula is home to a huge number of Mayan sites – Chichen Itza, Uxmal, Calakmul and Edzna amongst them – as well as a more recent colonial era towns and cities such as Valladolid, Izamal, Merida & Campeche.
With such a wealth and variety of cultural attractions, it was only a matter of time before someone saw the potential for converting old haciendas into luxurious heritage-style hotels.
Some of the haciendas of the Yucatan are truly luxurious and have price tags to match; these would include Hacienda Xcanatun, Hacienda San Jose, Hacienda Santa Rosa, Hacienda Temozon and, our favourite of all, Hacienda Uayamon.
Those on a more modest budget need not miss out however as, in addition to these high end haciendas, there are a number of equally characterful but far more affordable options, all owner managed, such as Hacienda Sacnicte, Hacienda Santa Cruz , Hacienda Ticum & Hacienda Misne.
Another of our favourite haciendas, and surprisingly good value, is Hacienda Chichen Itza, located directly overlooking the world famous Mayan ruins.
While all of the aforementioned haciendas no longer have any working element to them, a trip to either the Hacienda Sotuta de Peon or Hacienda Yaxcopoil, both just to the south of Merida, will afford the visitor an insight into the workings of a traditional 19th century hacienda; both are well worth a visit.
With so many haciendas of the Yucatan to visit, even if only for a drink or meal, the best way to take them is undoubtedly by car or a fly drive holiday of the region.