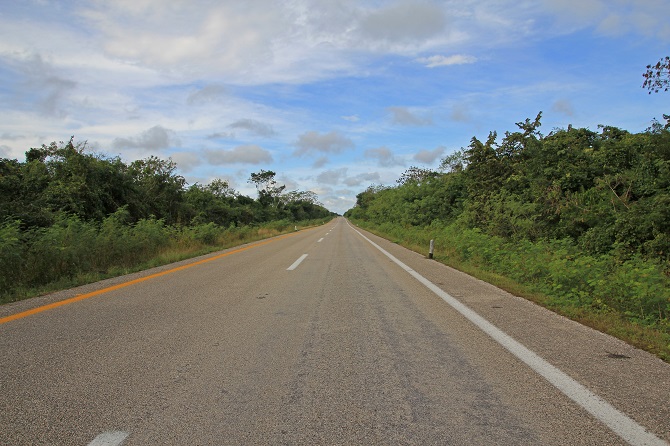 Although primarily visited for its superb beaches, the Yucatan Peninsula is a treasure trove of cultural attractions and having one's own car is probably the best way to fit in as many as possible.
Almost without exception, the first question people ask is whether a fly drive holiday in the Yucatan Peninsula is even safe? The short answer is yes, but, if you want a more detailed explanation, safety in the Yucatan is a subject I have broached in a previous feature.
In more practical terms, roads are in good condition, fuel is readily available, traffic is light (away from the main coastal strip that is), and the standard of driving generally good. Due to the proximity of the US, and the number of American visitors to the country, the Yucatan Peninsula is also well served by car hire companies.
So, where to start? Well, although there is an international airport at Merida, the overwhelming majority of visitors to the Yucatan Peninsula arrive at Cancun, whose international airport is served by flights from across the US and Europe.
The great thing about Cancun (and I don't say that very often) is that the Yucatan Peninsula is essentially square-shaped with Cancun located in the top right-hand corner, an ideal start / end point for a fly drive holiday.
Looking at a map of the Yucatan Peninsula, you will note that not only is the region itself square-shaped but its four main highways largely replicate this; one road runs due west from Cancun to Merida, another due south from Merida to Campeche and beyond, then another back east towards Chetumal followed, finally, by the coastal road north from Chetumal to Cancun via Laguna Bacalar.
Of course, if all these roads didn't lead to anywhere of interest then they wouldn't be of much use. Thankfully, they do.
The first leg of this square circuit, the highway from Cancun to Merida, runs close to both the great Mayan ruins of Chichen Itza and nearby colonial towns of Valladolid and Izamal. The second leg, linking the colonial cities of Merida and Campeche runs close to the Puuc Mayan sites including Uxmal. The third leg, heading back east along the Yucatan Peninsula's southern border, runs close to further Mayan sites including Calakmul, Becan & Kohunlich.
Finally, the fourth and final leg, the coastal road running north from Chetumal to Cancun, passes Laguna Bacalar and Mayan ruins at Tulum and gives visitors the option to drop the car and flop out at the beach for a bit of R&R before heading back home.
Such a fly drive holiday around the Yucatan requires at least two weeks but, if you haven't got that long, or want more than just a few days at the beach, there are plenty of variations and alternatives.
Travel Beyond The Ordinary