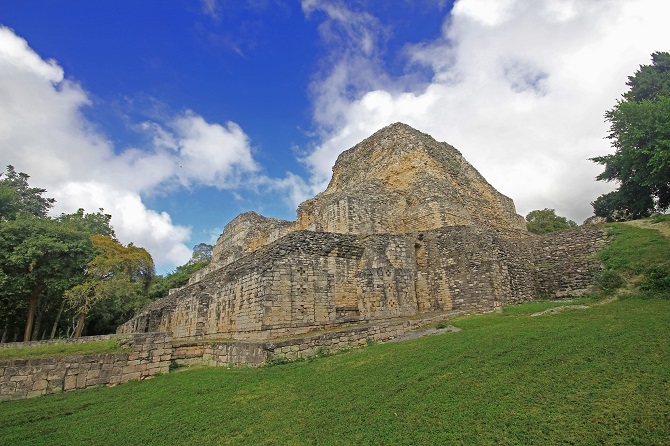 Located in the sparsely populated south of the Yucatan Peninsula, very few visitors make it to the small Mayan site of Becan; fewer still would visit were it not for its relative proximity to the far larger and better knows ruins at Calakmul.
Relatively little is known about its history (even its name, Becan, meaning 'ravine or canyon formed by water', was given to it by the archaeologists who re-discovered the site in the 1930s) although we do know that it was occupied from the middle Pre-Classic Period and reached its peak a few hundred years later in the late Pre-Classic.
At the time of its occupation, this part of the southern Yucatan Peninsula and northern Guatemala was home to a small number of powerful city states, such as Tikal & Calakmul, together with a number of smaller, vassal states such as Becan. Within a short drive of Becan are other similar ancient sites such as Chicanna, Balamku, Xpuhil & Rio Bec. The last of these, Rio Bec, is also used to describe the style of architecture which is common to the region.
The site at Becan covers some 60 acres although only a small fraction of this area has been excavated, the remainder being covered by dense jungle. An excellent example of Mayan fortification, Becan was surrounded by a defensive ditch which is some 15 metres wide and 4 metres deep today but which, at the time of its construction, would have been far larger.
This is the only such example of a defensive moat in the Mayan world and suggests the need to defend the city from outside attack. As we also know that the moat was partly filled-in around 700AD, it may be that at this time Becan was under the control of nearby Calakmul.
For the visitor, Becan can easily be explored in an hour or so and is situated just a short detour off the main coast-to-coast highway 186. Chances are, you will have the site entirely yourself, a far cry from the crowds at other Mayan sites such as Chichen Itza. Accommodation is available nearby at Chicanna Eco Lodge or about half an hour's drive away at hotel Puerta Calakmul.