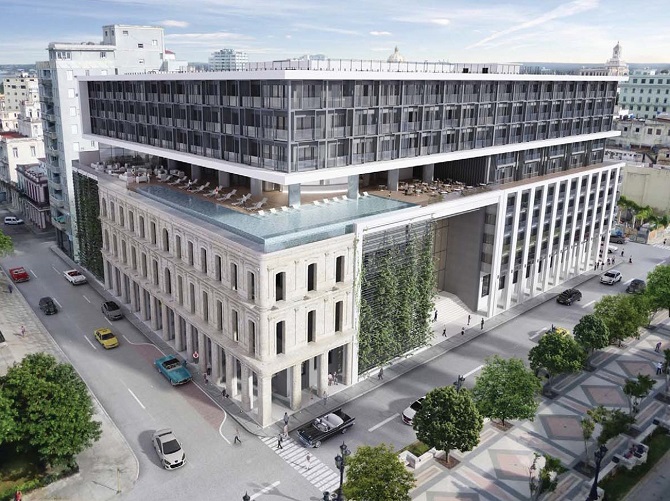 Currently the second largest hotel management company in Cuba, Iberostar Cuba seems determined to close the gap on the market leader, Melia Cuba.
Previously, we announced that Iberostar Cuba were taking over the management of the iconic Riviera Hotel in Havana. Although not confirmed, it now seems a fairly certain bet that they will be awarded the contract to run the Hotel Packard in Old Havana. Currently being entirely renovated / re-built, the Iberostar Grand Packard (as we understand it will be known) is set to open sometime in 2018 and will provide a much-needed boost to accommodation options in Old Havana, following on from the planned opening of the Gran Hotel Manzana Kempinski La Habana this April.
In Cuba's second city, Santiago de Cuba, Iberostar Cuba are being no less ambitious. From having no hotels at all, our understanding is that they will soon have 3 – the Iberostar Casa Granda, Iberostar Imperial & Iberostar Gran Santiago. All 3 are existing 'heritage hotels' (although the second 2 have only recently re-opened) which, at the moment, are locally run. For visitors to Cuba's eastern outpost, having these hotels under the management of Iberostar Cuba will certainly lead to an uplift in standards.
Away from Cuba's cities, the Iberostar Bella Vista is a brand-new hotel in Varadero that is set to open sometime this spring and which will be the 6th Iberostar Cuba property in Cuba's largest beach resort.
In Cayo Coco meanwhile, the Iberostar Colonial will see the company take over an existing property and add to its portfolio of All Inclusive resorts there and in neighbouring Cayo Guillermo.
Other rumours surround the Union Hotel in Cienfuegos, currently locally run and in need of investment. With the Iberostar Grand Trinidad only an hour along the coast, and both hotels of a similar-size, this would seem to make a lot of sense.