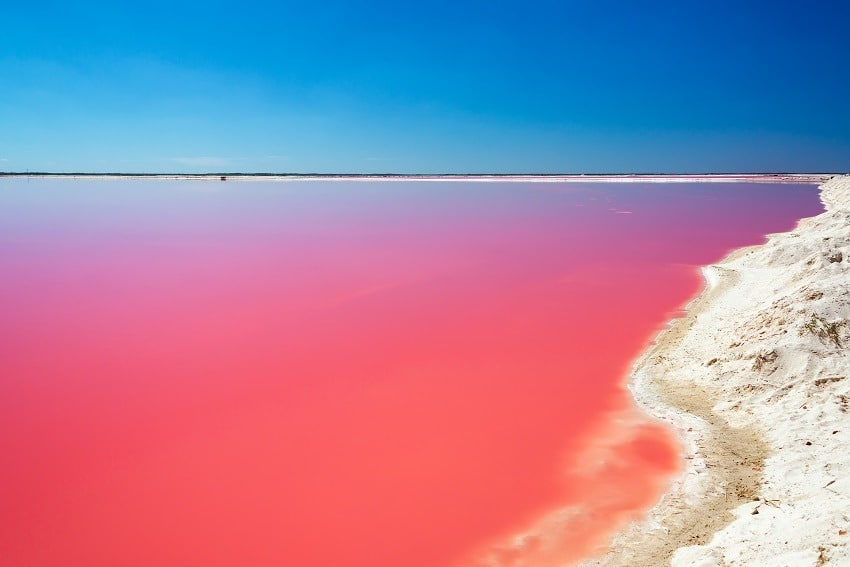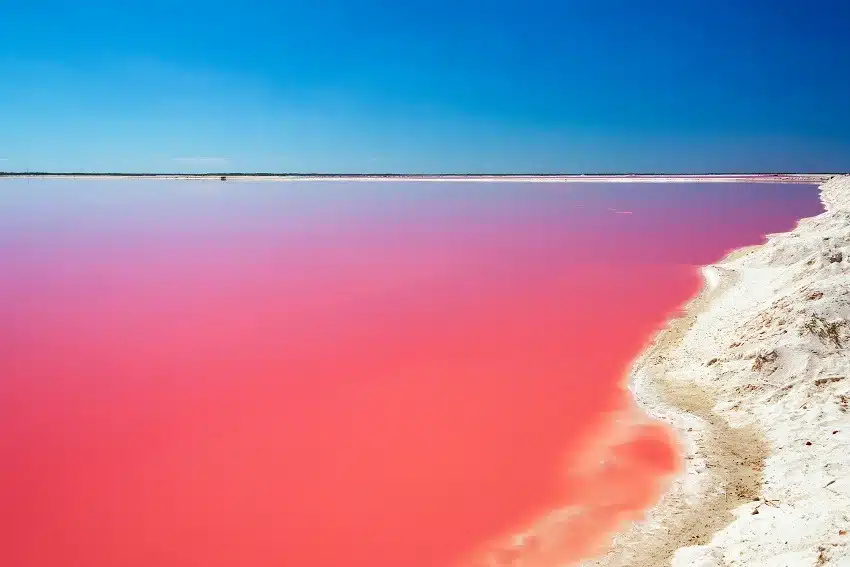 The famous pink lakes of Las Coloradas are located on the Yucatan Peninsula's north coast, just a short drive from Rio Lagartos.
While there are a number of small fishing villages along this quiet stretch of coast, salt production has been an important micro industry in the region since long before the arrival of the Spanish.
The actual process of producing salt is relatively straightforward but does rely on having the right natural environment in place.
At Las Colaradas, seawater from the nearby mangroves floods onto the adjacent, flat, hard terrain. Under the heat of the Mexican sun, the water then evaporates, leaving behind salt.
Why pink? Well, as the water evaporates, it becomes the perfect habitat for multiple, tiny organisms such as red algae, plankton and brine shrimp which, together, have a distinctly pinkish hue. The more the water evaporates, the darker the shade of pink left behind, hence the different coloured lakes.
If you imagine visiting your local supermarket, and checking out the selection of rose wines on offer, you will get an idea of the different shades of pink / rose / blush that you will find at Las Coloradas.
While this may sound like a wonderful marvel of nature, it should be noted that the salt lakes of Las Coloradas are actually 'farmed' on an industrial scale by agri-business and paddling about in the pink lakes there is no longer allowed.
However, if you're in the area, chances are that you'll be taking one of the boat trips offered in Rio Lagartos to explore the nearby Biosphere Reserve. Most of these trips include a visit to a lake where you can get out and splash about in the shallow, warm and, yes, pink water (if you've got a cut, or sunburn, prepare for it to sting!).
While there are a couple of hotels in Rio Lagartos, our nearest featured accommodation is in the charming, colonial town of Valladolid to the south. As well as being a lovely town in its own right, Valladolid is a great base for exploring a wide variety of nearby attractions.
From Valladolid, clients on a Fly Drive holiday will generally get to Rio Lagartos for an early morning boat trip followed by lunch. It is then possible to drive to Las Coloradas to witness the original pink lakes before heading back to your hotel in the late afternoon.
For more detailed holiday ideas and suggestions, please visit our dedicated Itineraries page.
To discuss your travel plans, please contact us by phone or email.