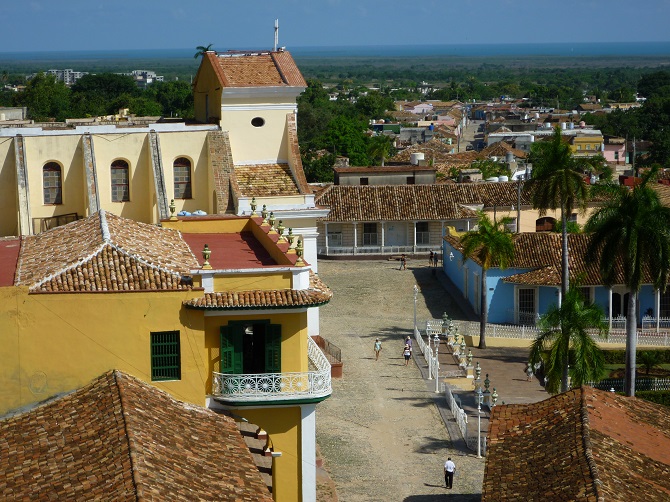 On a hill overlooking Trinidad, a new hotel is slowly taking shape. Very, very slowly. The Pansea Trinidad is the first of what is eventually hoped to be a collection of 4 luxury hotels in Cuba – the other properties being the Pansea Havana, Pansea Vinales & Pansea Santa Lucia.
Anyone who knows Cuba will know that things don't happen overnight; this is not China. The Pansea Trinidad has been under construction for a few years now with planned opening dates having come and gone. The latest expected opening date is, well, 2017 hopefully, but there is still a lot of work to be done before then.
Adjacent to the new hotel building is La Popa (bottom picture), said to be the oldest church in Cuba although little remains of it and, with time, it falls further and further into disrepair. As part of the agreement to open the new hotel, Pansea are responsible for saving and renovating La Popa although progress is hard to spot.
Once the Pansea Trinidad does eventually open, it will be the most luxurious and expensive hotel in Cuba. Despite its popularity with tourists, Cuba scores very poorly on the luxury front (a new Kempinski Havana hotel is set to open in early 2017) so, with the UNESCO World Heritage town of Trinidad at its feet, it seems almost certain that the Pansea Trinidad will be an instant success.
The hotel will feature just 52 luxurious rooms, a restaurant, swimming pool and, potentially, a spa. The Pansea group has its origins in South East Asia so, from a design point of view, we can expect a 'less-is-more' ethos in the design of the hotel.
The Pansea Trinidad will be no more than 10 minutes' walk from the heart of the town, the Plaza Mayor, and will enjoy panoramic views, not just of town, but out across to the nearby Caribbean ocean.
** Update ** – At the start of 2020, the hotel finally opened but with a brand new name, Hotel La Popa.