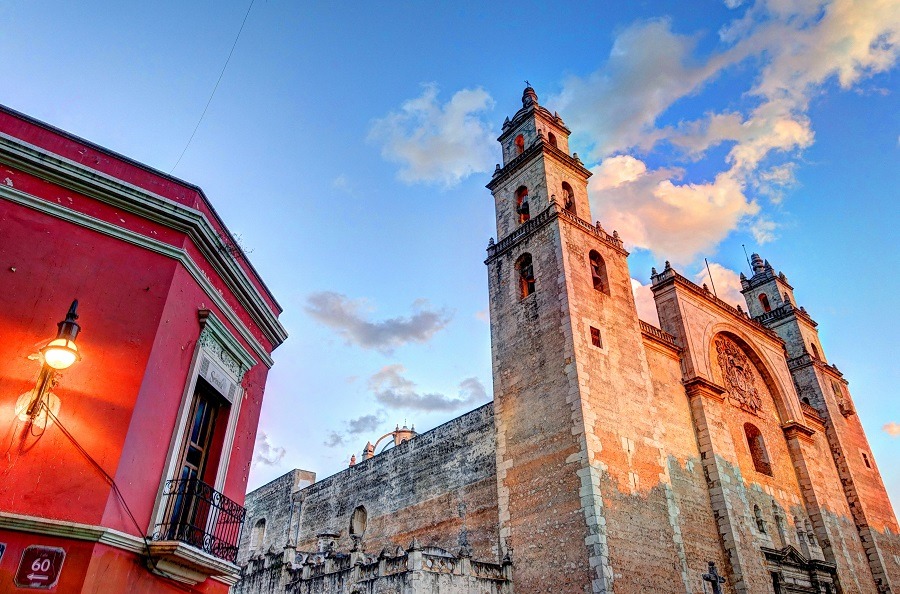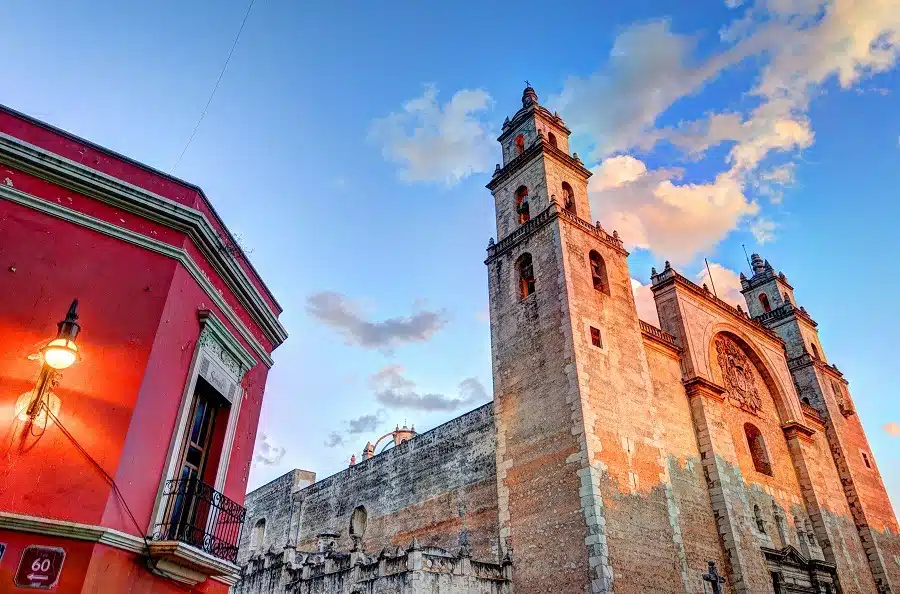 Completed in 1598 after a near forty year build, San Ildefonso in Merida is one of the oldest cathedrals anywhere in Latin America.
Located in the heart of Merida, alongside the city's main square, or Zocalo, the San Ildefonso cathedral was built on top of (as well as partly from the stone of) the ancient Mayan city of T'ho.
From the outside, the vast cathedral seems appears sombre and austere with little in the way of decorative embellishment.
Originally, this plain exterior would have given way to a richly decorated interior although much of this was subsequently stripped out or painted over during the Mexican Revolution, when sentiment ran strong against the church, seen as a bastion of the old, Spanish colonial order.
Amongst the most notable features of San Ildefonso, the most noticeable is clearly the huge crucifix located behind the main altar. Known as Cristo de la Unidad (Christ of Unity), it was meant to signify unity and reconciliation between the indigenous Mayans and the Spanish settlers.
Such unity was often achieved through war, as evidenced by the painting in the cathedral of Tutul Xiu (a Mayan chief) and Francesco de Montejo (the Spanish 'founder' of Merida) who allied together to defeat the Cocome Mayans. Tutul Xiu was one of the first and most important Mayans to convert to Christianity.
British visitors to the cathedral may be interested to note that the machinery for the giant clock was built in London in 1731 before being shipped over. Unfortunately, it stopped giving the correct time in the late 18th century!
Visiting the San Ildefonso Cathedral is free and, due its central location, fits in well with a walking tour of Merida.
To discuss your travel plans for the Yucatan Peninsula, you can give us a call on 01580 764796 or drop us an email on travel@beyondtheordinary.co.uk
You can also find holiday ideas that feature Merida in the Itineraries section of our website.