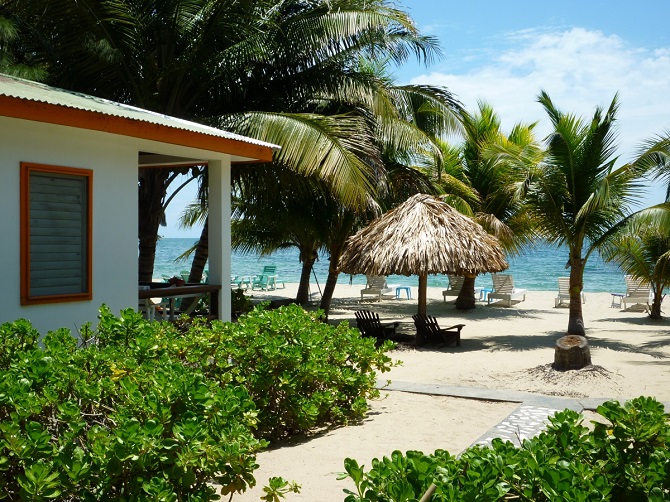 In spite of its lovely beach, laid-back atmosphere and a good selection of restaurants, bars, shops and travel agencies, accommodation options in Placencia Village are surprisingly limited, especially if you want direct beach-front access. Of the limited selection of hotels in Placencia Village (and please note, we are talking purely about the Village here and not Maya Beach) our favourite is Villa Ranguana.
If it's fancy or luxurious accommodation that you are after, or even somewhere with a smattering of facilities, then Villa Ranguana is not for you. There is no on-site restaurant or bar, no room service, no sports facilities, no nothing really; you can exchange your second hand books in reception and the owners also double as local agents for Tropic Air, but that is pretty much it.
In terms of accommodation, there are just 5 individual bungalows. The cheapest option are the 2 bungalows located between the boardwalk and beach; these offer the largest living space with simple kitchen facilities, but no aircon. The 3 beach-front bungalows are smaller but do feature aircon. Of these 3 bungalows, the 1 in the middle is set back slightly and isn't quite as appealing.
If you're going to travel all that way, it really does make sense to try and book the seaview bungalows. Although not luxurious, they are perfectly comfortable – rooms come with 2 decent sized single beds (spacious for a single person, a bit cosy for a couple), aircon, fan, bathroom (shower only), large fridge, safe, coffee making facilities and very basic kitchen bits and bobs ie bowls, cutlery, a knife for cutting your lime. Rooms are also thoroughly cleaned every morning.
All rooms at Villa Ranguana have a spacious terrace with table, chairs and hammock. The seaview bungalows really are right on the beach with wonderful, uninterrupted (bar the palm trees) views out over the Caribbean. For much of the year the hotel picks up a lovely breeze so aircon isn't even always necessary.
If you do get thirsty or peckish, there are bars and restaurants either side of Villa Ranguana and a selection of supermarkets a short walk away. Wine is relatively expensive in Belize but the local rum is incredibly cheap (and good) so why not buy in a bottle, add whatever mixer and nibbles float your boat, and just enjoy the view. What else do you need?