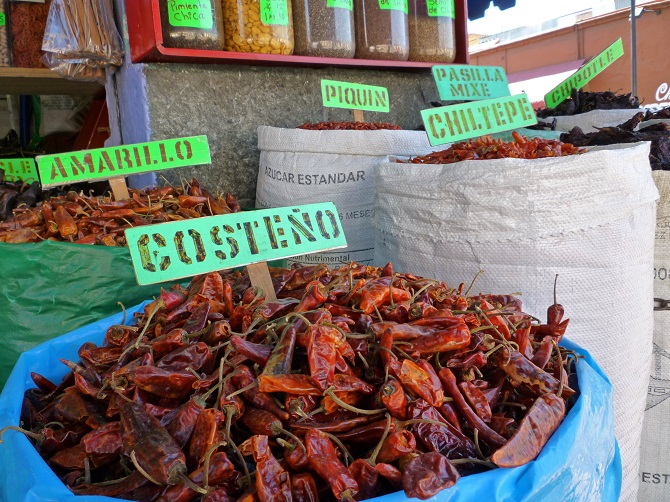 Mexicans are proud of their national cuisine which varies from region to region. Eating out in the Yucatan Peninsula is no exception with numerous local specialities happily rubbing shoulders with pan Mexican favourites and a wide selection of international options.
Perhaps the first thing that visitors to the Yucatan, or pretty much anywhere else in Mexico, will notice is that the Mexican food on offer bares almost no relation to the bland, non-descript Tex-Mex food served up by restaurants and supermarkets in the UK.
As soon as you sit down in almost any restaurant in the Yucatan you will normally be presented with a bowl of totopos and fresh tomato salsa. This salsa is freshly made, nothing like the supermarket mush found in the UK, a delicious blend of tomato, chilli, onion, coriander and lime juice. These salsas vary slightly from restaurant to restaurant, some hot, some less so, but soon become a big favourite with visitors.
Of course Mexico is famous for its chillies and nowhere do they come hotter than the Yucatan. The good news is that these chillies are seldom incorporated into cooked dishes but, rather, served on the side in a plate or small bowl. Green chilli sauce is hotter than red. In addition to chillies, the other staple of Yucatan cuisine is the 'Recados', marinated pastes made of cumin, oregano, garlic, coriander, clove & black pepper.
Yucatan meals often start with a soup, usually quite thick and fragrant; probably the most famous version is Lime Soup which is vegetable or turkey soup flavoured with lime and a side dish of chilli sauce for a bit of kick.
The Yucatan was once known as the "Land of Pheasant & Deer". With both long gone, the most popular meats in the Yucatan now are pork, chicken and turkey although beef is available. One of the most delicious local specialities is Cochinita Pibil, pork wrapped in banana leaves, pit-baked in achiote sauce sour orange and spices, served with plenty of warm tortillas.
Other, less known dishes, include "Poc-chuc", charbroiled slices of pork with onions, marinated in a tasty sour orange sauce, "Frijol con puerco" (pork and beans), "Potaje de lentejas" (lentil vegetable stew) and "Tamales colados" (chicken wrapped in a heavy dough and baked in banana leaves).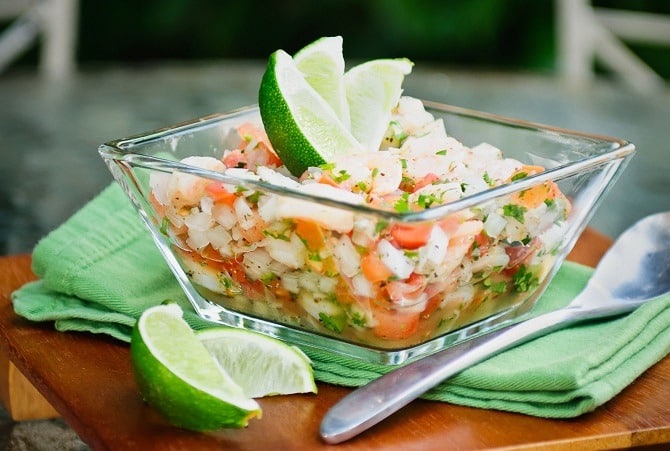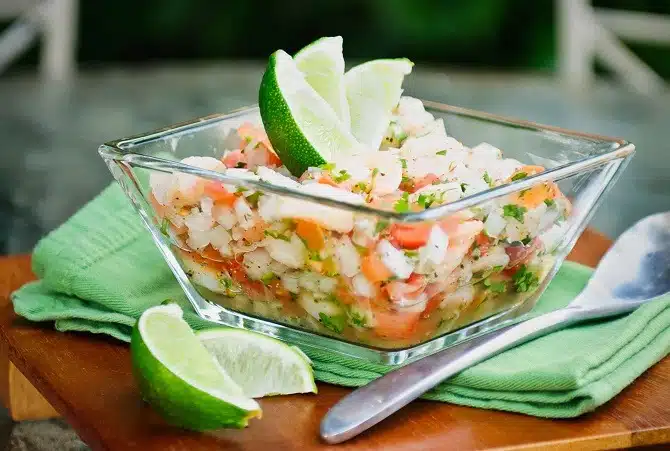 Not surprisingly, seafood is also widely available especially shellfish. One dish that shouldn't be missed is the classic Ceviche, seafood marinated in lime juice – this dish can be found pretty much across Latin America but varies from country to country. In the Yucatan it is often served in a cocktail glass with shrimp, squid, avocado, tomato and onion. One Yucatan seafood speciality is "Pescado Tikinxic", fish marinated in achiote sauce, wrapped in banana leaves and charbroiled, served with a tomato and Habanero pepper sauce.
Visitors who travel around the Yucatan will also find, perhaps to their surprise, that cheese is incredibly popular. If you can, try "Queso relleno", a mild yellow cheese stuffed with minced meat, served in round slices covered in cream sauce.
In terms of the practicalities of eating out, almost every town in the Yucatan will have a few basic restaurants known as loncherias or cocinas economicas. These are often in the form of hawker stalls with a communal seating area surrounded by individual vendors selling their particular speciality. In some cases these are only open for breakfast and lunch. In larger towns you will find more established restaurants with menus and, unlike loncherias, alcohol.