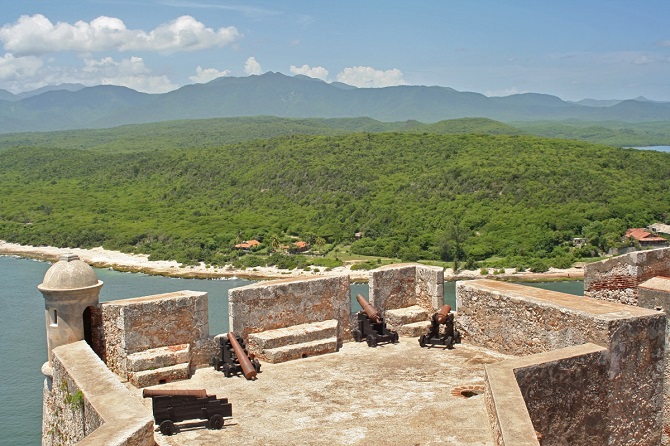 Although often referred to as the Morro Castle, the correct name of Santiago de Cuba's iconic castle is San Pedro de la Roca.
Santiago de Cuba is the island's second largest city, and one-time capital, and construction of the Morro Castle (a Morro is a rocky promontory) commenced in 1638 to defend the narrow entrance to Santiago de Cuba Bay from foreign powers as well as marauding pirates.
Much of the coastline along this stretch of Cuba's coastline is distinguished by its steep cliffs (a far cry from the sandy, white beaches of the north coast) and nowhere is this more apparent than at the Morro Castle which is built directly into the side of the cliff over a number of levels, each linked to the other by a series of stairways.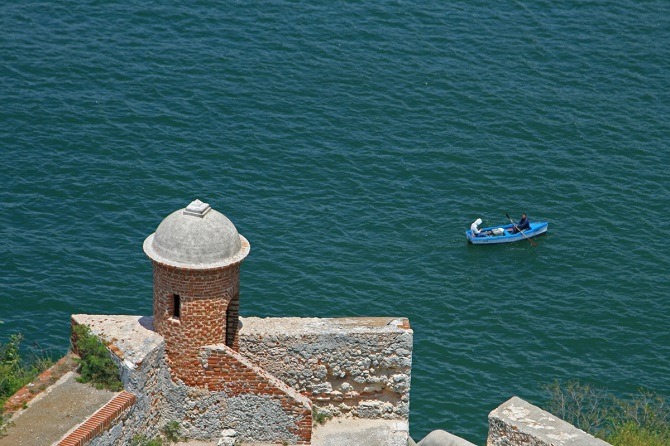 On the very lowest level, barely above the highest level of the sea, is a fortified gun platform while the very top level is known as the Santísima Trinidad Platform.  Although the Morro Castle was originally built in the 17th century, additions and improvements were made on an ongoing basis, but especially in the 19th century.
The Morro Castle ceased to be actively used at the very end of the 19th century and was largely unused for the entire first half of the 20th century before restoration work began in the 1960s. As a testament to the castle's historical importance, and its status as one of the best preserved examples of Spanish – American castle architecture, in 1997 it was designated a UNESCO World Heritage Site, one of several in Cuba.
Most city tours of Santiago de Cuba will include the Morro Castle on their itinerary although, for those who prefer to travel independently, it's less than 20 minutes by taxi from the city centre and close to the airport.
Depending on what time of day one visits, a popular option is to visit the castle and then head across to Cayo Granma by boat for lunch.