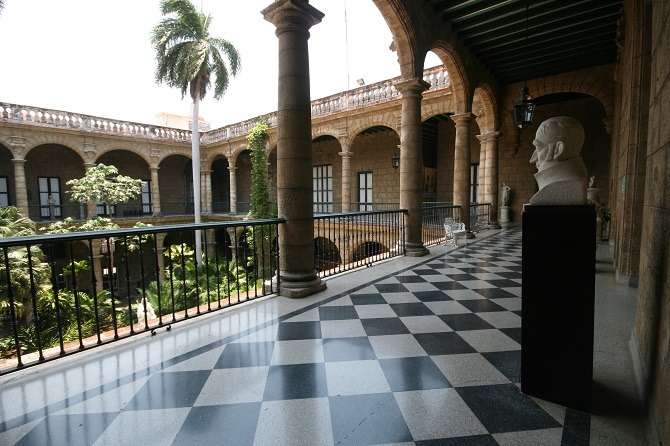 Havana is a city full of museums so, for anyone whose time is limited, deciding which ones to visit is an important consideration. Amongst the best, at least in our opinion, is the Palacio de los Capitanes Generales.
For over 100 years, from its completion in 1792 until independence in 1898, the building was home to successive Spanish Governors' of Cuba. Located on the eastern side of the Plaza de Armas, the oldest square in Havana, the building was originally more than just home to the Governor, it was where the town council met as well as housing a prison.
After Cuba gained its independence from Spain in 1898, the building was next used by US military governors until 1903 when it became the Presidential Palace. When a brand new Presidential Palace was constructed nearby (the current Museum of the Revolution) in 1920, the building reverted to being the offices of the city council. It wasn't until 1968 that the Palacio de los Capitanes Generales became a museum.
Before you even enter the museum, in the street that separates the building from the Plaza de Armas, look down at your feet. You will note that the street surface is laid with wooden parque tiles, an early sound-proofing method designed to counter the noise of carriages clattering about all day. I'm sure the prisoners appreciated the thought.
The building itself is square, very solid looking and little-changed from its original construction. The ticket office (6 cuc per person) is located under the huge arch that leads into the large, open courtyard. Standing in the centre of this courtyard and looking up and around, you will note that the building's 3 floors are all different heights, a reflection of their different purposes.
The most impressive of these 3 floors is the top, where the Governors lived. With their high ceilings and ornate decoration, one could just as easily be in Madrid as Havana.
Tour groups will often wizz around the Palacio de los Capitanes Generales in under 20 minutes (we even saw a tour group stand outside for 5 minutes discussing what was inside – but then not going in) although you can just as easily spend a good hour if you take your time and look at all the exhibits.