The Plaza de la Independencia in Campeche is located in the very heart of the city's UNESCO World Heritage historic centre.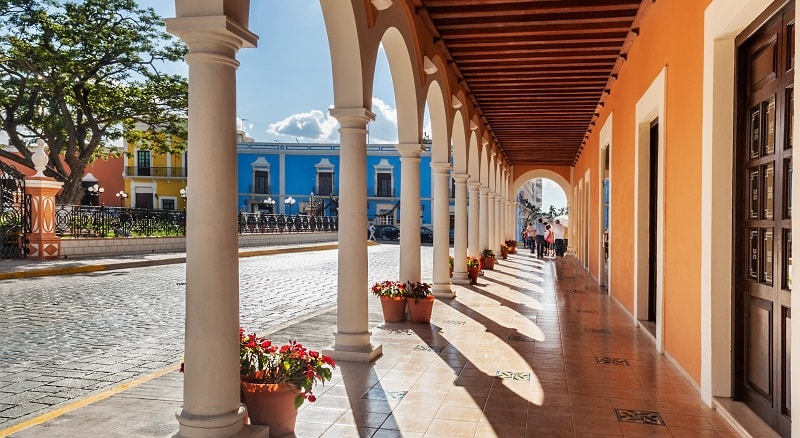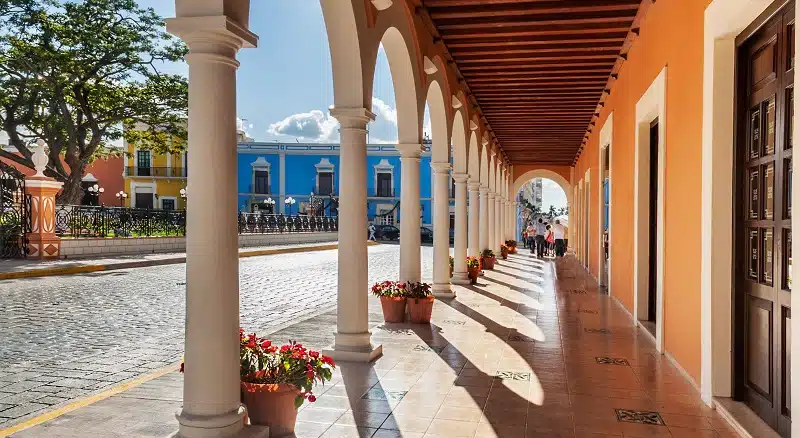 Originally the site of a military camp, Campeche's Plaza de la Independencia dates back to the mid-16th century and is one of the best-preserved and most picturesque plazas anywhere in Mexico.
At the centre of the plaza is an attractive, covered stage area and, surrounding this, broad paths, iron benches and plenty of shade from the mature carob trees.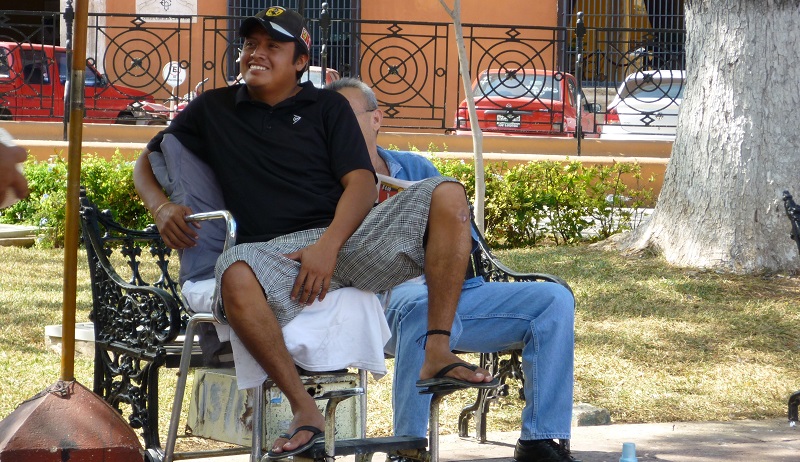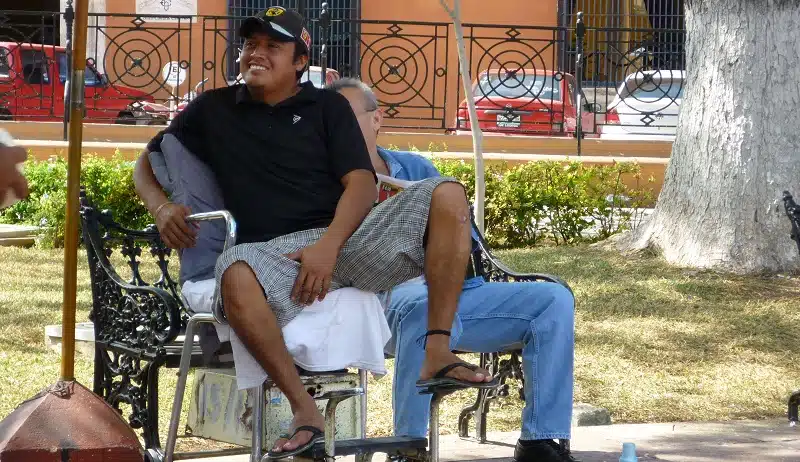 The benches in question are often taken over by locals touting curios and crafts but it's all very friendly, relaxed and low-key. If you didn't have time to polish your shoes before setting off on holiday, there are also a handful of shoeshine guys who have made the plaza their base.
Although relatively modest in size, the plaza is surrounded on all four sides by historic, beautifully preserved buildings. At night, when the whole plaza is lit up, the combined effect is particularly stunning.
Dominating the eastern side of the Plaza de la Independencia is the Catedral de Nuestra Señora de la Purísima Concepción, a sombre, century's old, two-towered cathedral that, unlike much of Europe, is a standing-room only affair on Sundays.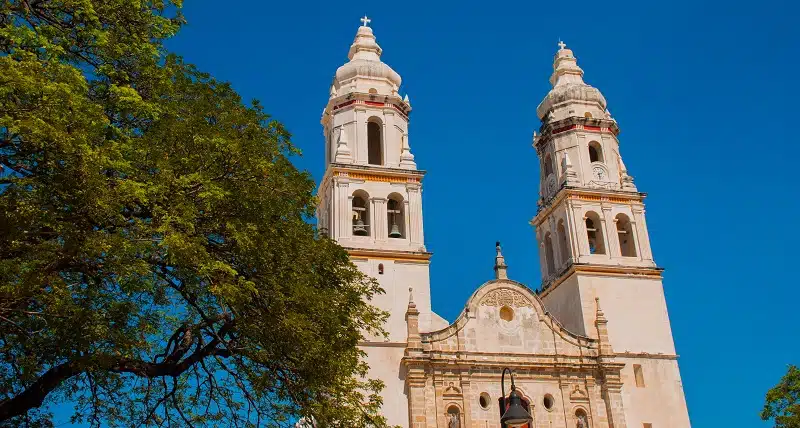 On the opposite side of the Plaza, and altogether smaller, is the Centro Cultural Casa No 6. Once an exclusive private home, the building has been converted into a museum designed to demonstrate, well, just how such a home would have been laid out and furnished.
The northern length of the Plaza de la Independencia is dominated by a long, two-storey, yellow building that today houses the Museo El Palacio.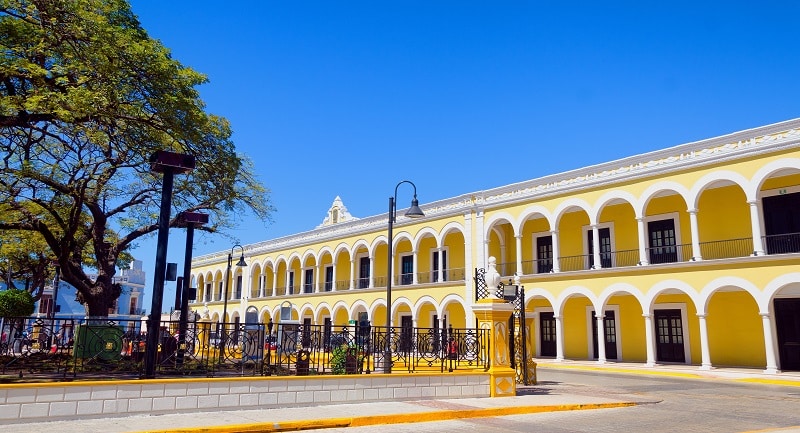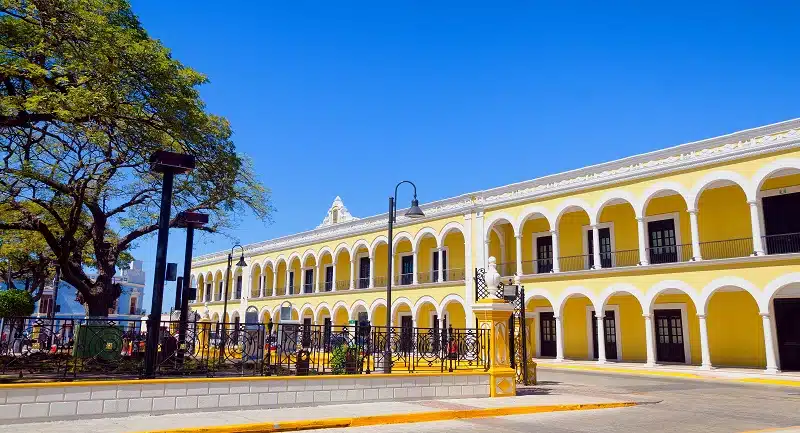 Finally, the southern side of the Plaza, alongside Calle 10, is another beautiful, colonial era building that houses a number of shops on the ground floor while the floor above is home to a selection of restaurants, with a small number of balcony seats offering romantic views of the Plaza at night. The best of these (certainly in terms of the view) is Casa Vieja del Rio.
During the day, the southern side of the Plaza is where you will find the open-sided trolley cars that run tours of the city.
All our featured accommodation in Campeche is located within the old city and therefore within walking distance of Plaza de la Independencia. The hotels Castelmar (pictured below) and Casa Don Gustavo, in particular, are just a stone's throw from the Plaza.