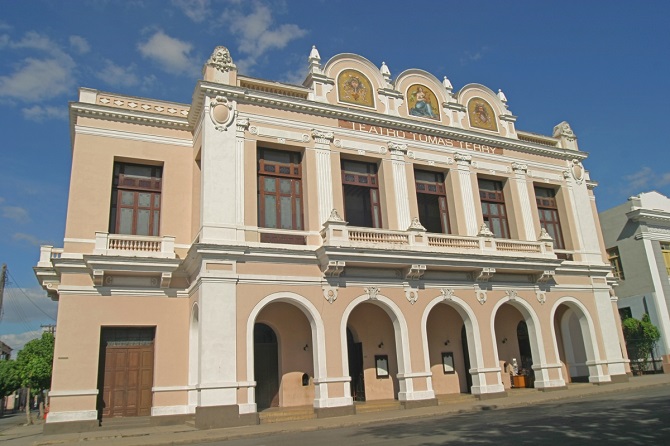 Located on the northern side of Parque Jose Marti, the Teatro Tomas Terry is probably the single most impressive building in Cienfuegos and certainly on a par with the better known Gran Teatro de la Habana in Cuba's capital city.
Tomas Terry was a hugely wealthy Venezuelan industrialist who, as the name suggests, came from Irish stock on his father's side. Although his immediate family were from Venezuela, Tomas Terry made his fortune in Cuba, initially from slavery before branching out into sugar, banking and import / export. On his death in 1886 he was said to be the richest man in Cuba.
Unfortunately for Tomas Terry, he died before the theatre he funded at huge personal expense was completed in 1889. Even then, the first performance didn't take place until 12th February 1890.
Architecturally, the building shares both French and Italian influences and is one of the most ornate buildings anywhere in Cuba, as immediately evidenced by the beautiful, gold-leafed mosaics on the front façade.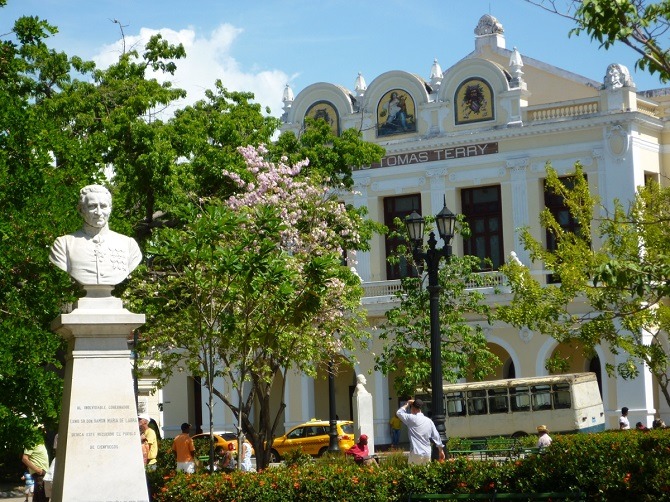 As ornate as the building is on the outside it is, if anything, even more beautiful inside – almost nothing of the original 950 seat auditorium seems to have changed in well over 100 years. Although it might not draw the same calibre of international stars it once did – Enrico Caruso, Sarah Bernhardt and Anna Pavola amongst them – it is still frequently in use today.
The square on which the Teatro Tomas Terry is located, Parque Jose Marti, is right in the centre of Cienfuegos and surrounded on all 4 sides by grand civic buildings. Both the Melia Union & Melia San Carlos hotels are just a short stroll away.
Lovers of theatre architecture may also wish to visit Teatro Sauto in Matanzas, and La Caridad in Santa Clara, both of which were also built in the 19th century.