Atop a steep hill with stunning views over the surrounding countryside, the House on the Hill is located an easy 10-minute taxi-ride from the popular tourist town of San Ignacio and offers a stylish alternative to the more traditional hotels in the Cayo district.
This beautiful, architect-designed house was originally built as a family home for its Canadian / Spanish owners but is now available to rent.
There are 2 main bedrooms (double & twin), separated by a stylish bathroom, with another much smaller (but aircon!) bedroom and second bathroom at the other end of this single storey house, I specifically mention the aircon in the additional bedroom because it is the only room in the house that has it.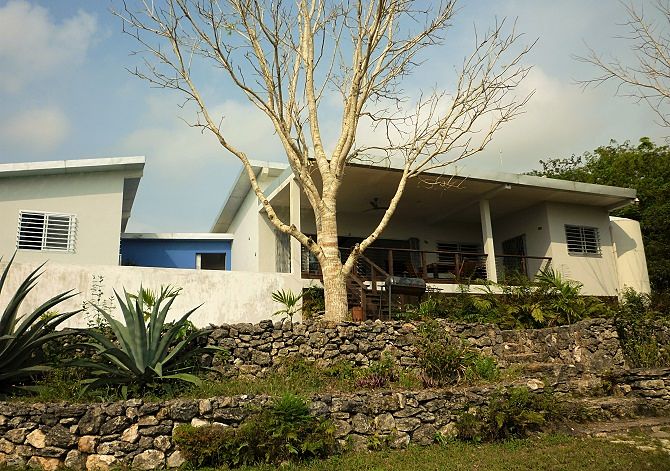 On our visit in April, with temperatures nudging the mid-30s, we were initially concerned about how hot the house would be and not being able to sleep at night. We needn't have been. With its hill-top location, every aspect of the house's layout has been ingeniously designed to take advantage of the natural breeze. Even during the heat of the mid-afternoon, the house was always entirely comfortable.
Of course, after a day out exploring the nearby Mayan ruins of Caracol and Xunantunich, we were still keen to cool off on our return to the house and this is where it's primary draw came into play, the lovely infinity pool that enjoyed the same magnificent views and cooling breeze.

As a family home, the house comes equipped with a fully stocked kitchen but, for guests who prefer not to have to fend for themselves, breakfast and dinner can be prepared by the lovely Consuela. We availed of her services for dinner on our last night but, had we known just how good her cooking was (and how cheap the meal was) we would have used her morning and night throughout our stay.
Apart from the heat, our other concern prior to staying at the House on the Hill was transport. Without transport of our own (although we could have hired a car), and no facilities within an easy walk, we did have visions of being somewhat stranded. We needn't have worried as there were plenty of taxi drivers in San Ignacio who were more than happy to take us pretty much wherever we wanted, whenever we wanted.