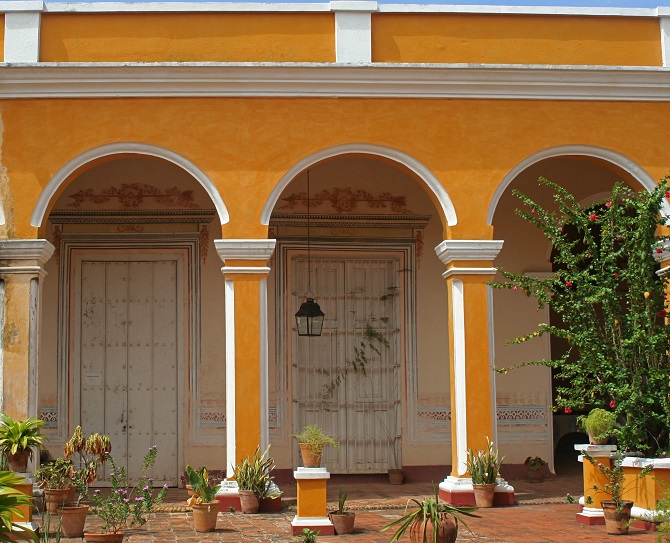 Along with the Vinales Valley, the small town of Trinidad on Cuba's south coast is the most popular travel destination outside of Havana and, accordingly, is home to a huge number of casa particulares. Although all casa particulares have to be registered with the state, nobody really knows how many there are in Trinidad; anecdotal evidence would suggest at least 500 however.
Although that might sound a huge amount, most casas have only 2 or 3 rooms each so, at most, we are talking of around 1500 rooms in total; at busy times of year, ie the high season from November through April, it can still be difficult to find a room in Trinidad.
It should also be noted that not all casa particulares are of a similar standard. Some casas are very basic indeed, basically crash pads for last minute bookings and late arrivals. There are however a growing number of casas that are earning rave reviews, both for their professional, friendly service as well as the quality of their rooms, food etc.
Location is also an important factor with casa particulares in Trinidad. The heart of the old colonial town is a UNESCO World Heritage site and home to hundreds of beautiful old buildings and homes; more importantly, these buildings are protected from demolition or insensitive alternations. On the outskirts of town, such protection does not apply and a worrying trend has seen an explosion of ugly extensions and extra floors being added to homes.
It is unlikely that anyone has visited all the casa particulares in Trinidad, and there is no official rating system or organisation so any recommendations have to be taken for what they, personal preferences from a select pool.
Here are just some of our favourite casa particulares in Trinidad, beginning with those in the colonial centre.
Casa Particulares in Trinidad
Café Tuti – Calle Josè Martì #261, e/Colon y Francisco Javier Zerquera
Brisas Alameda – 84 Jesús Menéndez
Sol y Son – Calle Simon Bolivar # 283, e Jose Marti & Frank Pais
Casa Colonial El Patio – Ciro Redondo (San Jose) No 274, Entre Amargura y Cristo
Casa Rogelio – Calle Simon Bolivar no 312, Entre Jose Marti y Antonio Maceo
Real 54 Hostal – Calle Real, No 54, Entre Simon Bolivar y Piro Guinart
Casa Maria y Enddy – Calle Jose Marti, No 407 Entre Fidel Claro y Santiago Escobar
Casa Ayala – Calle Maceo (Gutierrez) No 56, Entre Simon Bolivar & Piro Guinart
Hostal Buri y Nesti – Calle Maceo, No 390, Entre Lino Perez y Colon
Casa De Lara – 406 Calle Gutiérrez
Deborah y Jose – Calle Jesus Maria, #321 e/ Francisco J. Zerquera y Mario G
Outside of the historic centre there are a huge number of casa particulares in Trinidad although, for us, one stands out head and shoulders above the rest.
Casa Osmary Alberto – Calle Miguel Calzada No 114 (Borrell), Entre Lino Perez y Camilo Cienfuegos
Outside of town altogether, about 15 minutes' drive away, is the small coastal village of La Boca, now also home to an increasing number of casa particulares. There isn't really a beach as such, but Casa El Capitan is right by the sea and has some of the best and biggest rooms that we know of. A hire car would be a big advantage although bikes are available for hire.