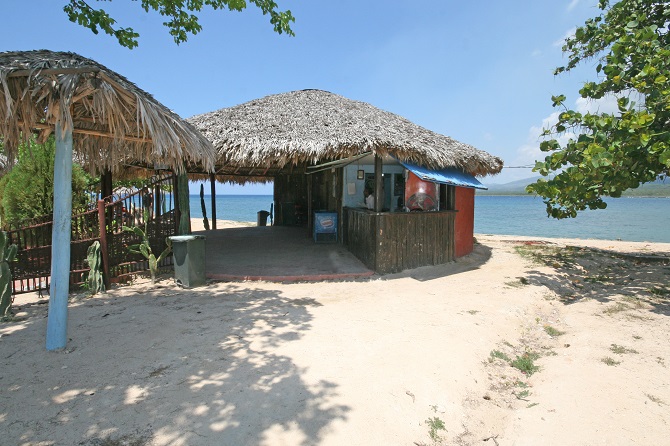 La Boca is a small coastal village some 15 minutes' drive from the UNESCO World Heritage town of Trinidad on Cuba's south coast.
After Havana, the beautiful, colonial town of Trinidad is Cuba's second most popular cultural draw. Not only is the town itself lovely, Trinidad is also a great base from which to explore surrounding attractions such as Cienfuegos and Sancti Spiritus, the Valley of the Sugar Mills and the Escambray Mountains. There are also a series of lovely beaches just 10 minutes' drive from town.
For those travellers put off by All Inclusive hotels, the bad news is that there are just 4 hotels on Trinidad's nearby beaches, all of them All Inclusive. They are, the Melia Trinidad, Memories Trinidad del Mar, Hotel Ancon & the Costa Sur Hotel & Bungalows.
There is an alternative however. On the same stretch of coast, heading west from the 3 beach hotels, is the aforementioned small village of La Boca, or Trinidad-On-Sea as the marketing types may well rename it one day.
There really isn't much to La Boca, just a main street that follows the coast as it curves inland into a calm bay. There are no shops or restaurants in La Boca but there are an increasing number of casa particulares (B&Bs) which have sprung up to cater for more adventurous travellers.
The beach, as it is, certainly doesn't compare to those you will find at the main hotels so, if it's fluttering palm trees and brilliant white sand that you have in mind, turn back now. However, if you're happy to sit on a porch, watch the world go by and enjoy the gentle lapping of waves, La Boca is certainly worth considering as a base for a few days.
For us, the best casa particular in La Boca is El Capitan. Located just outside of the main village, the property is fronted by a rocky headland but does have superb views out to sea. The older rooms in the main building are perfectly comfortable and adequate while the rooms in the new block are the best we have come across almost anywhere in Cuba! Meals can be provided while bikes are also available for hire.
In the village itself, the best of the casas is probably Hostal Villa Sonia. The rooms are a bit on the small side, and do with modernising, but the garden that surrounds the property is a great place to read a book while sipping on a mojito.
Please note, even though Trinidad town is only 15 minutes' drive away, there is absolutely no public transport to or from La Boca and arranging taxis isn't the easiest either; car hire is definitely the best option.