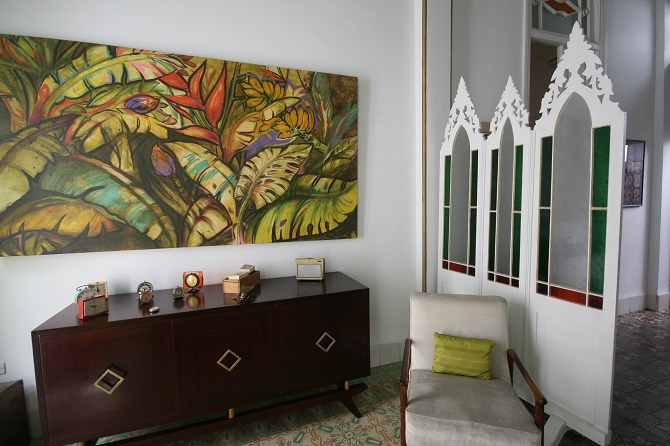 Casa Vitrales is one of a number of new, upmarket casa particulares that are springing up in Old Havana.
Located in an old, colonial-era building on Calle Habana (Havana Street), the Santo Angel neighbourhood in which Casa Vitrales finds itself is amongst the most interesting in Old Havana, characterised by odd street layouts, funky architecture and home to several of the city's best casa particulares and private restaurants.
All of the city's major sites of interest are within easy walking distance and walking tours, rides in classic cars etc can be arranged by the casa.
Casa Vitrales itself occupies an entire building, built over 3 storeys with a spacious roof terrace where guests can take their breakfast, have a drink or just chill out.
There are 9 rooms in total with a supplement for the superior rooms. Being a converted building, all the rooms are different sizes and shapes with Rooms 3 & 4 being the best of the standard rooms. The more expensive rooms, are located on the second storey and are large by Havana standards.
Shared space includes a small, communal lounge area with works of art and plenty of objets. If it's the old-fashioned, Cuba homestay experience that you are after, Casa Vitrales is not for you – this is definitely Havana meets Miami Beach. Please note too that Casa Vitrales does not take children under 10.
With the current boom in travel to Cuba, rooms at Casa Vitrales do book up a long way in advance, especially during the high season from November through April. Other, nearby casa particulares that we can recommend include Hostal del Angel, Hostal Habana 101, Tejadillo DL (not to be confused with Hostal del Tejadillo) and Pedro & Maria.
Address: 106 Havana Street, between Cuarteles Street and Chacon Street, Old Havana, Cuba.
Although all our featured casa particulares are suitable, Casa Vitrales is particularly supportive of the LGBTQ community.