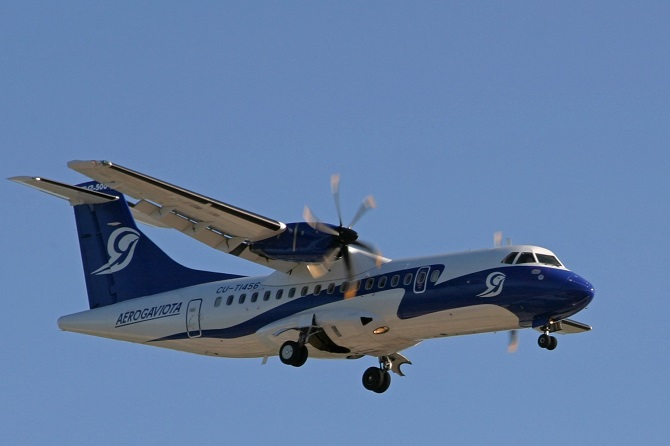 At over 1000kms in length, anyone looking to traverse Cuba within a typical holiday window will probably need to take at least one internal flight.
Is flying in Cuba safe?
This is often people's first question and understandably so. My personal opinion is that, yes, flying in Cuba is safe. This is partly my subjective opinion (I have no hesitation in flying in Cuba myself and nor would I hesitate to recommend it to clients, family, friends etc) but also, from an objective perspective, based on the fact that domestic flight operations in Cuba are fully audited by external companies.
Which airlines fly within Cuba?
As one of the last, heavily state-controlled economies, there are no private airlines operating within Cuba. The national airline of Cuba, Cubana, operates domestic flights between Havana and the island's key towns and cities such as Camaguey, Holguin, Santiago de Cuba and Baracoa.
Aerogaviota operates flights between Havana and Cuba's island resorts such as Cayo Largo, Cayo Santa Maria and Cayo Coco. Aerocaribbean is Cuba's 3rd airline but seems to be on the wane somewhat.
What routes are operated?
Cuba's domestic flight network is entirely Havana-centric in that all flights operate from and to Havana, ie there are no cross-country routes. I have always found this odd as I'm positive there would be sufficient demand for flights between Trinidad & Santiago. In fact, not only are there no cross-country flights from Trinidad (Cuba's second most important cultural destination after Havana), there aren't even any flights between Havana & Trinidad.
Those 2 gripes aside, Havana is connected to pretty much everywhere else in Cuba although please bear in mind that frequencies are limited and, during the high season, domestic flights will often book up well in advance; don't expect to be able to just turn up in Cuba and book any flight you want.
The busiest routes (and pretty much the only routes with more than 1 flight per day are between Havana & Santiago and Havana & Holguin.
What sort of aircraft are used?
Aerogaviota operate a fleet of turbo-prop ATRs (picture above), a make of aircraft that is in use all over the world. Cubana tend to operate Antonov AN 158s, small jets that are bigger and faster than ATRs but not of the same standard and comfort of the typical Airbus & Boeing aircraft that  we are used to in the West. Even so, flying across the island from Havana to Santiago only takes around 90 minutes. Don't expect to be fed (or to be able to buy anything on-board) although you'll normally be offered coffee and a boiled sweet.
What are Cuban airports like?
Cuban airports are not somewhere one would want to spend any longer than necessary. Facilities are extremely limited and, if your flight is delayed, passenger information is seldom forthcoming. Take a good book. Best airport in Cuba for domestic flights – Santiago de Cuba. Please note, if you are flying with Aerogaviota to one of Cuba's islands', there is a very good chance that the flight will operate from the small airfield near Playa Baracoa, to the west of the city, ie not Jose Marti International airport.
Checking-In and Baggage rules
It is not yet possible to check-in online for domestic flights in Cuba so you will have to do so at the airport. In my time, I've checked-in within a couple of minutes but also had to queue for an hour – hence why pre-booked transfers will always get you to the airport in plenty of time.
Baggage allowances and enforcement in Cuba are very, very relaxed. Allowances vary from 15 to 20kg per person but I have seen passengers flying with far more than that and still not be charged. If you are charged for excess luggage, rates are likely to be low.