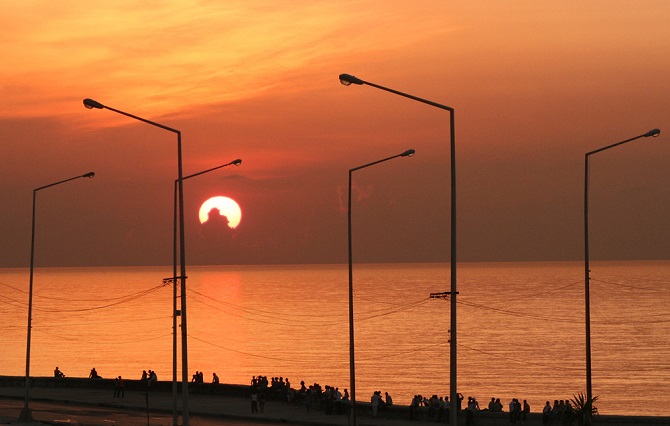 Officially titled Avenida de Maceo, the Malecon is a 5-mile seawall, promenade and road that runs from Old Havana in the east to Vedado in the west.
Construction of the Malecon first began in 1902, ostensibly to protect the city from sea-damage, and was built in stages right up until 1952. Although its defensive purpose still holds today, for most Habaneros & Habaneras, the Malecon is seen as somewhere to gather, socialise, flirt, fish, snooze, buy, sell…..whatever.
Visitors too are drawn to the Malecon, both for its theatrical portrayal of Havana-life (occasionally over-acted) and the wonderful sunsets that frequently accompany the show.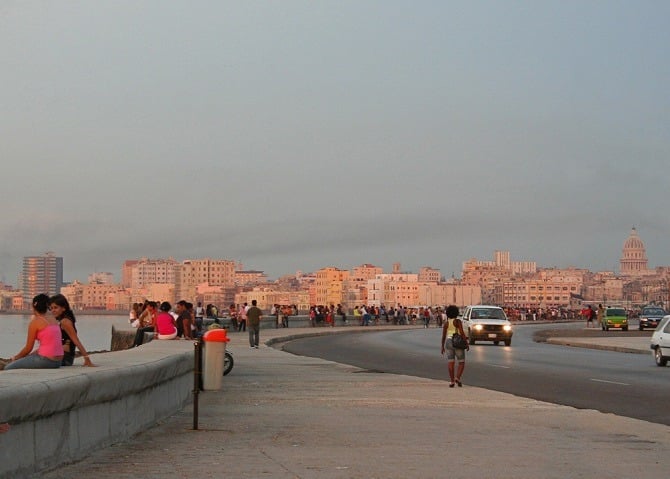 Considering its dramatic arc-like design and wonderful views out across the Atlantic, many visitors are surprised at just how undeveloped the Malecon is. Much of Havana has suffered from the elements over the years, not to mention a chronic lack of investment and general maintenance, but the Malecon has fared particularly badly.
Although the eastern tip of the Malecon reaches the tourist hotspot of Old Havana, from there until the iconic Hotel Nacional in Vedado (a good 40-minute walk) there is still only 1 other hotel, the very modernist Hotel Terral.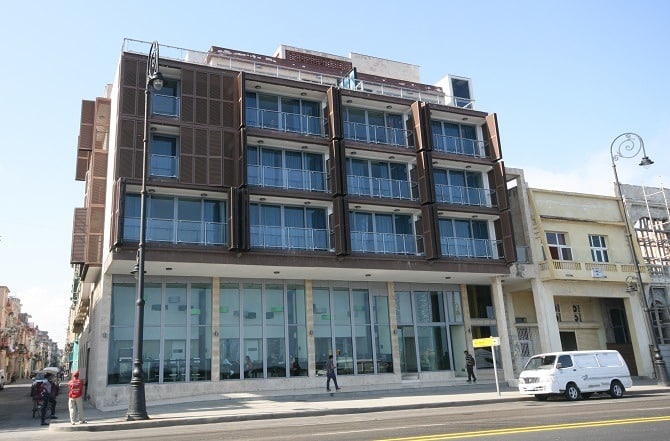 It's not just a lack of hotels – there are very few bars and restaurants (at least on ground level) and barely a shop. That is not to say it is entirely without interest though.
There are a number of important monuments along the Malecon, such as those depicting Antonio Maceo, General Maximo Gomez, General Calixto Garcia and the Monument to the Victims of the USS Maine. However, and especially within the current political context, the most interesting building is probably the recently re-opened US Embassy which is flanked by the entirely unsubtle Jose Marti Anti Imperialist Platform.
If the US Embassy is the most 'current' building on the Malecon then the Hotel Nacional is undoubtedly the most famous. Although it has long since lost its crown as the city's premier hotel, it still rules supreme, both in terms of its grandeur as well as its superb views along the Malecon and out to sea. If you're feeling energetic and / or like to go for a stroll, one can walk from Old Havana to the Hotel Nacional, enjoy a mojito or two on the lawns and then jump in a classic, convertible cab back to your hotel.