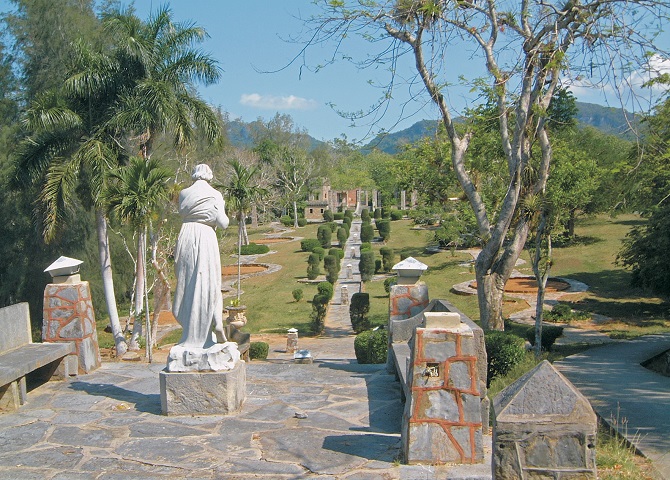 Parque La Guira is one of those places that very few visitors to Cuba seem to know about, let alone visit. Their loss, I would say.
Located just a short drive from the spa town of San Diego de los Banos (I kid you not), Parque La Guira was originally the estate of Jose Manuel Cortina, a wealthy landowner and politician who found himself on the wrong side in the Cuban Revolution; having fled the country in 1959, the estate was confiscated by the State and turned into a national park.
The original 19th century Gothic mansion at the heart of the estate is now a ruin, and getting worse all the time, although the principal appeal of Parque La Guira resides in its gardens around which you will find numerous, scattered statues and ornaments in the Greco-Roman style. Chances are, you'll have the place to yourself.
These previously formal gardens form only a small part of Parque La Guira which is said to cover some 2000 hectares. Also located within the park, although I've not been myself, are the Cuevas de los Portales, the caves where Che Guevara set up his base during the Cuban Missile Crisis.
This is an isolated part of Cuba with very little in the way of tourist infrastructure. There is just the single, simple hotel (the Mirador) in San Diego de los Banos which is something of a health retreat on account of its sulphurous springs. The one time I visited, several years ago now, my other half and I enjoyed a 30 minute massage for all of US$5 each.
To visit Parque La Guira, one really needs one's own transport as public transport is a non-starter. Located roughly midway between Las Terrazas & Vinales, one could easily take a quick detour off the main highway for this most intriguing of Cuba's parks.