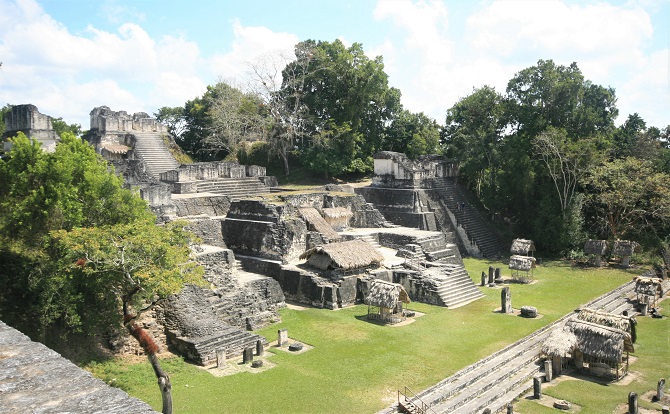 Together with Lake Atitlan and the colonial town of Antigua, the ancient Mayan city of Tikal is undoubtedly one of Guatemala's 'Big Three' tourist draws as well as being a UNESCO World Heritage site.
Located in Guatemala's northern, Peten province, an almost entirely flat and jungle covered region, Tikal was inhabited from as far as back as the 6th century BC although it only really cama to prominence from around 200 to 900 AD, an era known in Mayan history as the Classic Period. At its height, Tikal is thought to have had a population not far short of 100,000 – a staggering thought when you consider how remote it feels today.
Although the largest and most powerful of the Mayan lowland cities, Tikal was by no means alone; it was frequently at war with neighbouring Mayan cities such as nearby Yaxha (also worth visiting if you're in the area) as well as Calakmul, located across the border in Mexico's Yucatan Peninsula. Quite why the city went into such speedy and total decline is still a source of mystery and disagreement.
Having been reclaimed by the jungle for hundreds of years, it wasn't until 1956 that excavation work began at Tikal, first under the auspices of the University of Pennsylvania and then, from 1979 the Guatemalan government. Today, the ruins are possibly the largest and most comprehensively restored of any Mayan site……and I've been to most of them!
To visit and explore Tikal takes a minimum of 3 hours but many people spend the whole day, others even longer. Although most visitors arrive as part of a tour group, or with a guide pre-arranged, it is also possible to arrange guides locally. If, like me, you prefer to do your own thing, it's very straightforward to find your way around the site.
The nearest town to Tikal (indeed the any town of any real size anywhere in Peten) is Flores, located on the south-western corner of Lake Peten, approximately 90 minutes' drive away. Visitors to Tikal have the option of sleeping within walking distance of the site (there are 3 hotels), around El Remate or back in Flores. It is even possible to visit Tikal on a day trip from Antigua / Guatemala City (by flying to Flores) although you'd have to be seriously short of time to consider that.
Travel Beyond The Ordinary