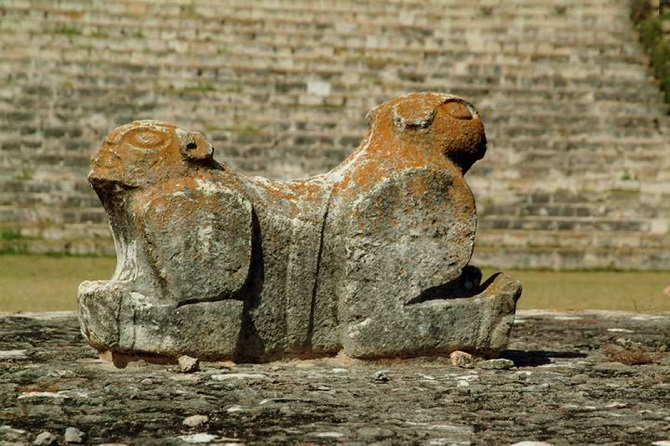 Located midway between Merida & Campeche, Uxmal is, for many visitors to the Yucatan, their favourite Mayan site.
First things first though, how do you pronounce Uxmal? Well, if you're English speaking, it is broadly pronounced 'Oosh-Mahl'…..just don't get carried away with the Oosh bit as I've also heard it pronounced as 'Uush'.
If deciding how to pronounce Uxmal is difficult then trying to get the experts to agree on where the name comes from is no clearer. Most people subscribe to the idea that it means 'three times built' while others claim that it means 'what is to come, the future'.
What we do know about Uxmal is that it was founded around 500 AD and reached its peak at around 900 AD. At that time, known as the Classic Period, it was the dominant city in the Puuc region and one of the most powerful cities in the Mayan world. As with all other Mayan cities, this period of domination didn't last long and the arrival of the Spanish in the 16th century was probably no more than the final nail in the coffin.
So, returning to our initial, introduction, why is Uxmal so popular amongst visitors? There are a number of reasons including….
Uxmal is located in the Puuc hills so, unlike the rest of the Yucatan which is pan-flat, it benefits from probably the most scenic location of any major Mayan site in the region.
The Mayan cities of the Puuc region (and there are several others nearby that one can explore) are known for their intricate and beautiful architecture. Perhaps the best example of this is the Pyramid of the Magician which, unlike elsewhere in the Mayan world, has rounded corners.
Uxmal is a large site with plenty to see. However, unlike Chichen Itza or Tulum, it is too far from the resort hotels of the east coast for it to be over-run with coach loads of day trippers. While not as eerily deserted as Calakmul, visitor numbers at Uxmal never spoil the overall experience, especially if you visit first thing in the morning or at the end of the day.
Uxmal can easily be visited on a day trip from Merida which is some 60kms to the north. However, for anyone travelling between Merida & Campeche it is also possible to stay at or close to the ruins. There are 3 hotels within walking distance of the entrance with our favourite being Hacienda Uxmal (sorry, not a real hacienda, but very pleasant nonetheless).