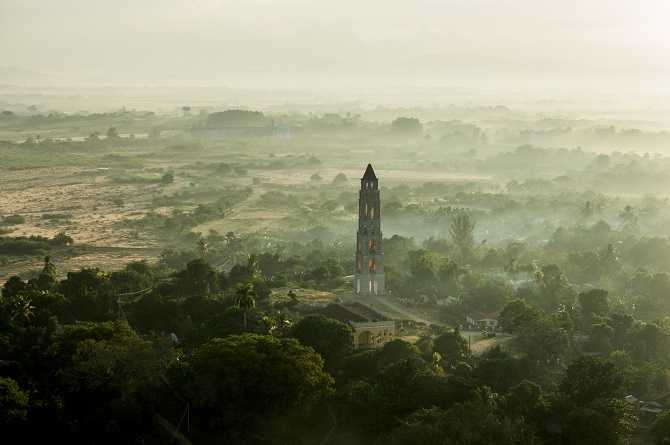 Occupying the space between the colonial towns of Trinidad & Sancti Spiritus, the Valley of the Sugar Mills is another of Cuba's UNESCO World Heritage sites.
As the name suggests, the Valley of the Sugar Mills (Valle de los Ingenios in Spanish), was once the epicentre of the Cuban sugar industry, an industry that created huge wealth for a select handful of landowners but misery for the slaves who worked the fields.
Leaving Trinidad, and heading along Route 12 towards Sancti Spiritus, the beauty of the valley and its surroundings belies the pitiful existence that these slaves had to endure.
Of the estates that once prospered in the Valley of the Sugar Mills, perhaps the most famous (and visited) is Manaca Iznaga. Set in a beautiful location, the tower at the centre of the estate now offers visitors panoramic views of the area; during the years in which it was a working plantation, the same tower was used as a look-out for watching over the slave workforce.
At the height of the sugar boom, the area was home to some 50 estates and would have been a hive of activity. All that came crashing down in the late 19th century when world sugar prices collapsed. Today, the vast majority of the grand plantation houses and mansions lie empty, derelict and rotting although, surely, just as in the neighbouring Yucatan Peninsula of Mexico, it is only a matter of time until they are converted into luxury hotels.
Tours of the Valley of the Sugar Mills can be arranged in both Trinidad & Sancti Spiritus with the most popular option, when it's working that is, being the delightful Tren Turistico, a wonderful, old steam train that trundles its way from Trinidad to Manaca Iznaga. However you get there, be sure to try a guarapo, a drink made by pressing sugar-cane through a trapiche; if you're not driving, you can always add a shot of rum.

Travel Beyond The Ordinary