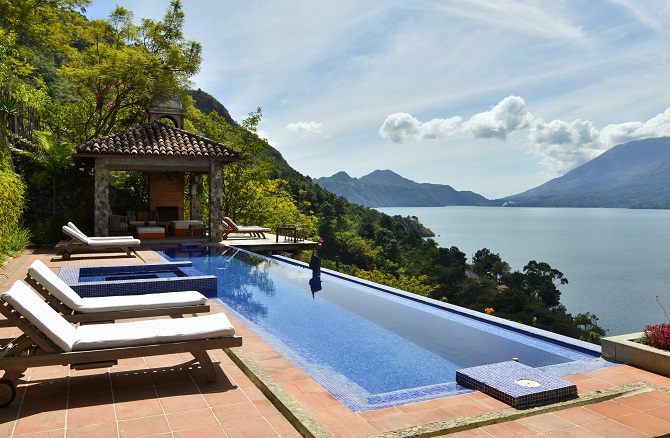 As one of Guatemala's 'Big Three' tourist draws, Lake Atitlan certainly isn't short of hotel options and deciding where to stay can be a confusing process.
Here are three of my favourite hotels in Lake Atitlan, designed to suit a range of different budgets.
Casa Palopo
Without doubt the most luxurious hotel in the Lake Atitlan area, Casa Palopo is a small, boutique hotel with just 7, very individual rooms as well as a 2-bedroom villa available for private hire. Located approximately 30 minutes' drive from the town of Panajachel, the property is built into a steep-sided hill and, although not  situated directly on the water, it does enjoys panoramic views over Lake Atitlan.
As well as offering the most luxurious accommodation in the area, Casa Palopo also boasts the best restaurant, so good in fact that it attracts custom from all the way from the capital – by helicopter of course. With its pool, spa and a full range of local sightseeing options that can be booked through the hotel, Casa Palopo is undoubtedly Lake Atitlan's premier (and most costly) hotel.
Hotel Atitlan
Situated on an old coffee plantation, surrounded by beautiful gardens and with direct access to the lake, Hotel Atitlan is a superior, min-range hotel and one of my favourite properties in Guatemala.
The original house still forms part of the hotel which, over the years, has been sympathetically added to and now offers 60 spacious rooms, all with views of Lake Atitlan.
As well as its beautiful, natural setting, one of the most appealing aspects of the hotel are the countless, indigenous curios that adorn its public areas.
Although located in a peaceful setting, the Hotel Atitlan also benefits from being an easy 10-minute rickshaw ride from Panajachel with its range of bars, restaurants and shops.
Hotel Posada de don Rodrigo
For visitors to Lake Atitlan on more of a budget, the Posado de do Rodrigo ticks a number of boxes.
For a start, it is located in Panajachel itself and therefore affords direct access to great value bars and restaurants as well as the most economical group boat tours (booked locally).
Despite being located in town, the Posada de don Rodrigo is surrounded by lovely gardens and is therefore remarkably quiet. Accommodation is clean and comfortable and I'd strongly recommend paying a little extra for the lake view rooms which offer outside space and are much lighter.