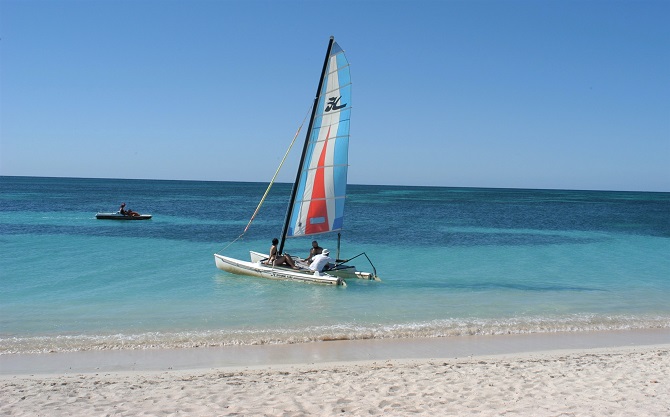 Yup, Trinidad Cuba. So, if you've found this article and were hoping for advice on beach holidays in Trinidad & Tobago, I'm afraid you've come to the wrong place amigo.
While Cuba is known for both its historic towns and great beaches, it's very difficult to combine the two without a fair degree of travel. That's because Cuba's historic towns and cities are either located inland or, if they're on the coast, they tend to be situated near deep water ports.
The one exception to this rule is the town of Trinidad on Cuba's south coast, approximately 4 to 5 hours' drive from Havana. And what an exception it is – not only is Trinidad one of Cuba's principal cultural and nature-based destinations (the Escambray Mountains are right on its doorstep), but it also has a lovely, white-sandy beach just 15 minutes' drive from town.
Great, right? Well, yes, although there is a great big 'but' in all this, namely that there are currently just 3 beach hotels in Trinidad and, well, they're pretty lousy. All 3 are locally run, All Inclusive hotels which fall far below the standards now set by the majority of Cuba's internationally managed hotels on the north coast.
Two of these hotels, the Memories Trinidad & Hotel Ancon, are located next door to each other on Playa Ancon, the best stretch of beach in the area. Just a few minutes' drive back up along the coast is the Hotel Costa Sur, on Playa Maria Aguilar; not quite as nice, but perfectly adequate.
If I had to choose between the 3, I would stay at the Costa Sur because, although the beach isn't quite as nice, it's a smaller, quieter, more relaxed hotel. However, if I wanted a beach holiday in Trinidad, I wouldn't stay at the beach at all – I would stay in town.
Trinidad is such a lovely town, with masses to see and do plus numerous places to eat, drink and dance the night away, that I would much rather stay in town, preferably at one of the many wonderful casa particulares, and then just head out to the beach for the day. Any casa particular can arrange return transport and there are a couple of places at the beach serving food and drink. Book a holiday (with me) and I'll even tell you where!
Some people have suggested / asked about staying at a casa particular on or near the beach. In reality, no such thing exists. There are a number of casa particulares in the nearby, small, coastal village of La Boca, but no real beach as such. If you do want to go down this route (and it's much easier if you have your own car) then I would recommend Casa El Capitan as the best place to stay.
Looking to the future, Melia Cuba have recently announced that they will be taking over the running of Hotel Ancon in 2018 as well as building a new, 100 room hotel, the Melia Trinidad, nearby (and set to open late 2020). This will certainly improve the current situation but, thankfully really, beach holidays in Trinidad will remain something of a niche market.
Travel Beyond The Ordinary