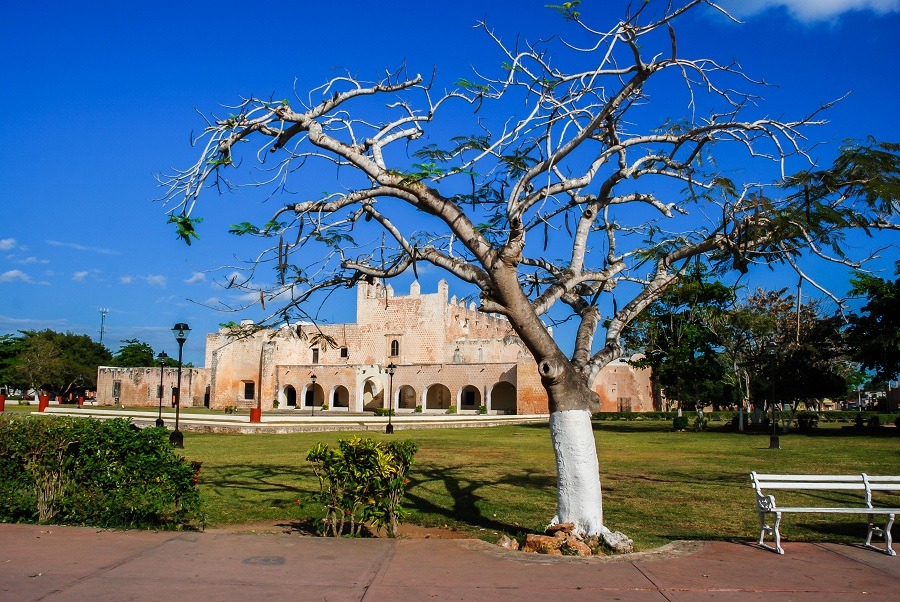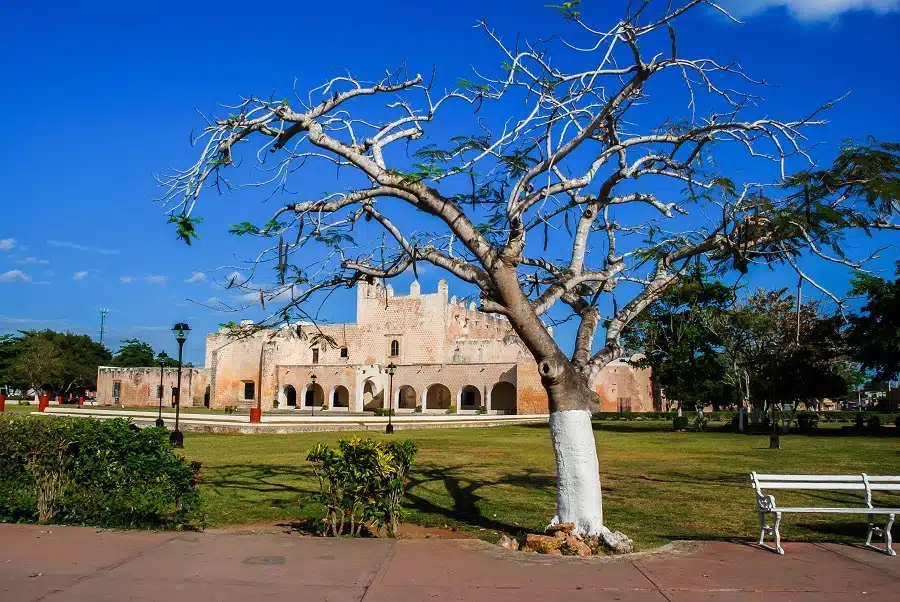 Located around 700 metres from the town's main square, the (ex) Convento San Bernardino de Siena is the main draw in Valladolid and well worth a visit.
Constructed between 1552 & 1560 by Franciscan monks, the Convento San Bernardino (named after Italian monk Bernardino de Siena) was part religious centre, part defensive fortification.
The Convento is situated in the town's Sisal neighbourhood and is connected to the town centre by what is known as Esquina de las Cinco Calles or the Corner of the Five Streets. This street was also created by the monks who lined its length with Ceiba trees (a tree that is, ironically, an important religious symbol in Mayan culture).
Although the church's interior is relatively plain and devoid of decoration, one intriguing aspect of its history and construction relates to the original, 16th century frescoes that were only discovered fairly recently. Quite why they were deliberately hidden from view remains a mystery.
Within the grounds of the Convento San Bernardino is a cenote, covered by a vaulted dome, and an ingenious irrigation system that would have been used to grow produce to support the community of monks.
During high season, there is often a Sound & Light show, typically around 9pm, that provides a fun spectacle.
If the Convento San Bernardino is the sort of thing that appeals to you, be sure to also visit the largest (ex) Franciscan monastery in the Yucatan Peninsula, the Convento San Antonio de Padua in nearby Izamal.
Quite aside from the Convento San Bernardino, Valladolid is one of our favourite destinations in the Yucatan Peninsula and a great base from which to explore numerous, nearby attractions including the most famous of them all, the great Mayan city of Chichen Itza.
To discuss your plans for a holiday that includes time in Valladolid, either give us a call on 01580 764796 or drop us an email via travel@beyondtheordinary.co.uk