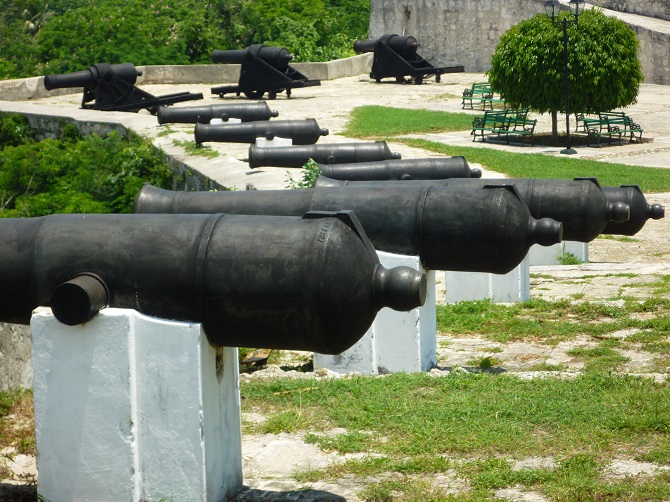 Referred to as either the largest, second largest or even third largest fort in the Americas, La Cabana Havana (or Fortaleza de San Carlos de la Cabana to give it its full name) is a vast 18th century fort that overlooks Havana from the eastern side of the bay.
Not many visitors from the UK realise that in 1762 Havana was captured and held for around a year by British forces. As part of the negotiation for its return to Spanish control, nearby Florida was ceded to the British. Determined not to suffer a repeat, the Spanish colonial government in Cuba set about building a vast fort to guard the city.
Construction began almost immediately, in 1763, and La Cabana Havana was completed in 1774. Such was the huge cost of building the fort that King Carlos III of Spain is said to have quipped that he was surprised he couldn't see the fort from Spain. Expensive it may have been, but over the next couple of hundred years it did successfully guard Havana.
In more recent history, La Cabana Havana was used to hold prisoners both pre and post the Revolution and served as Che Guevara's headquarters for a period. Although there is still a large military base nearby (check out the old missiles!) La Cabana itself is now purely a museum and part of a broader historical park that includes the Morro Castle and a number of small museums.
Entrance to La Cabana Havana costs 6 cuc and every night a canon is fired at 9m – known as El Canonazo de las 9 – a tradition that harks back to the colonial era and which signalled the closing of the main gates in Havana's city wall. Not surprisingly, it's a popular event with tour groups.
During the day, the fort is easy to walk around on one's own (you will need at least an hour) and the views across the bay to Old Havana are superb; take your camera. On my last visit, there couldn't have been more than 20 visitors so we had the place almost to ourselves.
To get to La Cabana, one can either take a taxi from Old Havana (up to 10 cuc depending on your negotiating skills) or catch the ferry (5 cents!) to Casablanca and then walk up the hill via the impressive statue Cristo de la Habana. If you have time, we suggest taking a taxi to the Morro Castle, walking across to La Cabana and then down to Casablanca (via the statue of Christ) to get the ferry back to Old Havana.