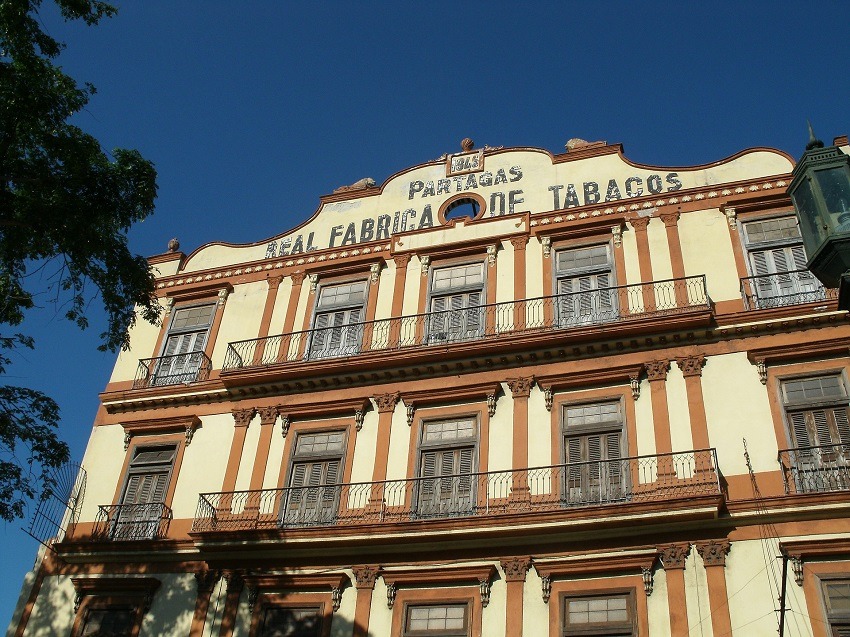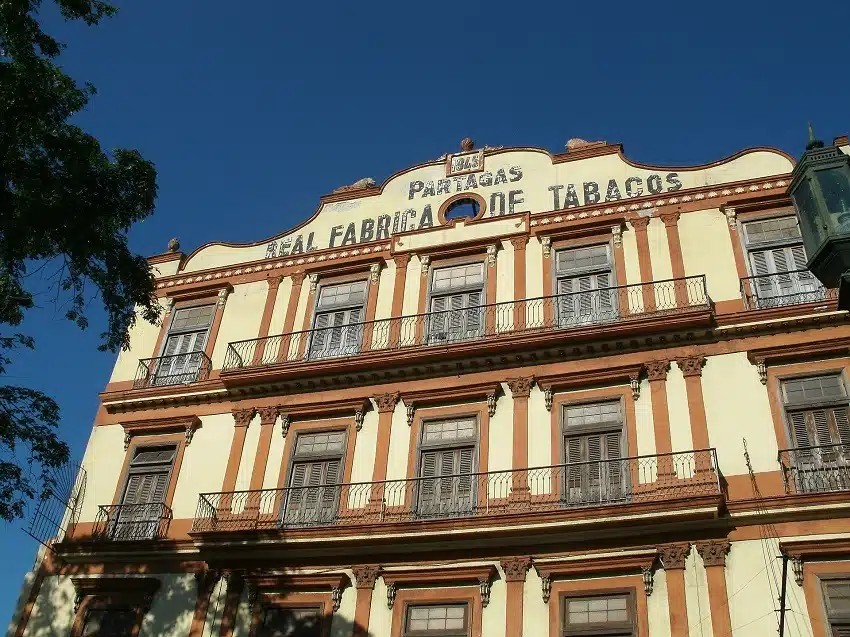 Even for those who have never taken a puff in their life, there is no denying the iconic nature of Cuban cigars.
So, if you are planning on taking a holiday to the island and want to somehow incorporate Cuban tobacco and cigars into your itinerary, read on.
Where is tobacco grown in Cuba?
To make a Cuban cigar you first need the basic, raw ingredient, tobacco, all of which is grown on the island.
Throughout the island, most tobacco farms are very small scale with most plots no more than 10 acres in size. Although these farms are nominally private, there is no 'market' for tobacco in Cuba as it all goes to the government at the same, fixed price.
In terms of location, most experts agree that Cuba's finest tobacco is grown in Vuelta Abajo, near the town of San Luis in Cuba's far western province of Pinar del Rio.
Why? Well, the climate is near perfect for growing tobacco (ie the optimum combination of heat, humidity and rainfall) while it is also claimed that high nitrate levels in the soil are also beneficial to the tobacco plant.
As well as Vuelta Abajo, the nearby Vinales Valley is another important tobacco growing region (as well as being a very popular tourist destination) while, to a lesser extent, so too is the Vuelta Arriba region to the east of Santa Clara.
There is currently no tourist accommodation at Vuelta Abajo but a spattering of hotels and hundreds of casa particulares in nearby Vinales.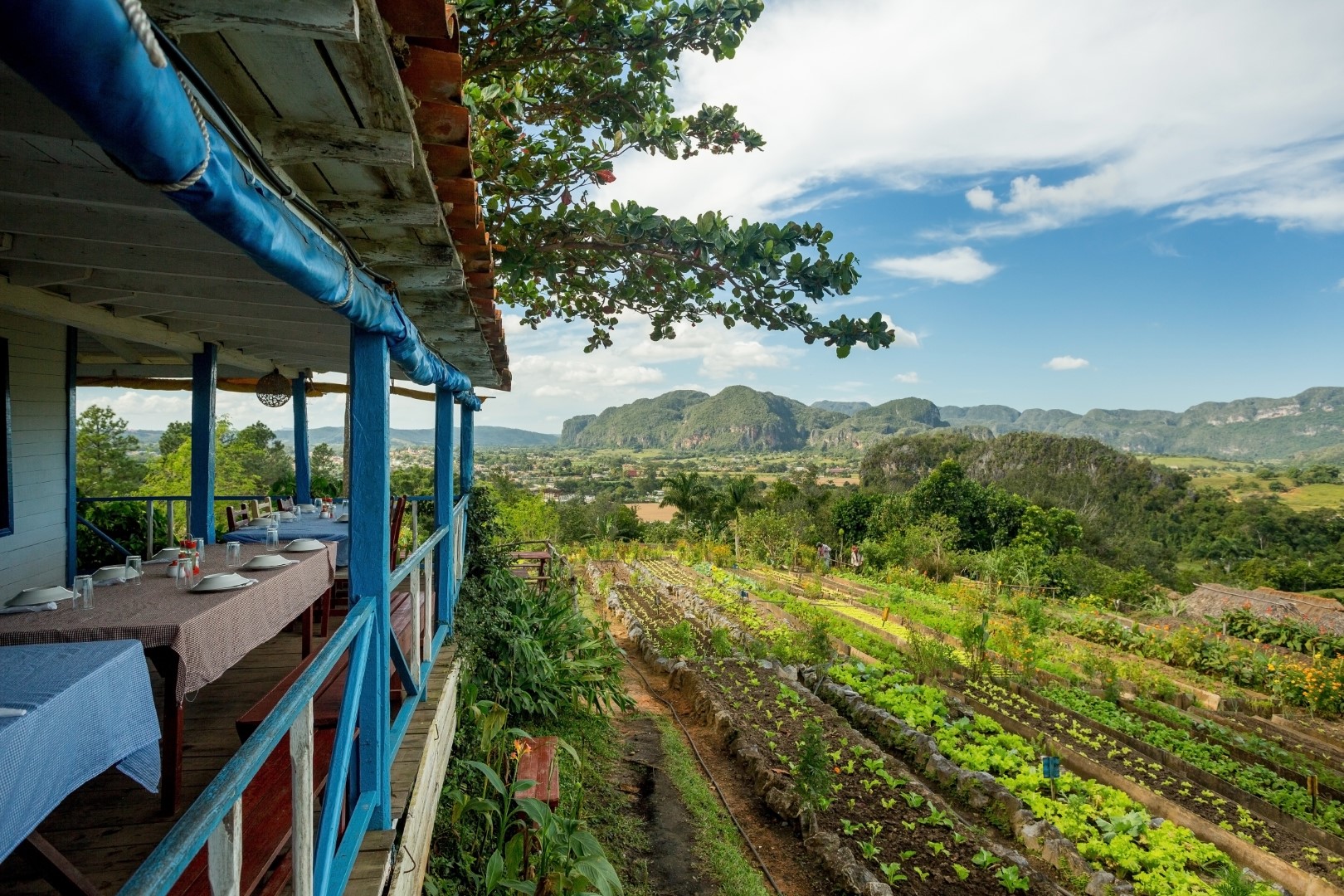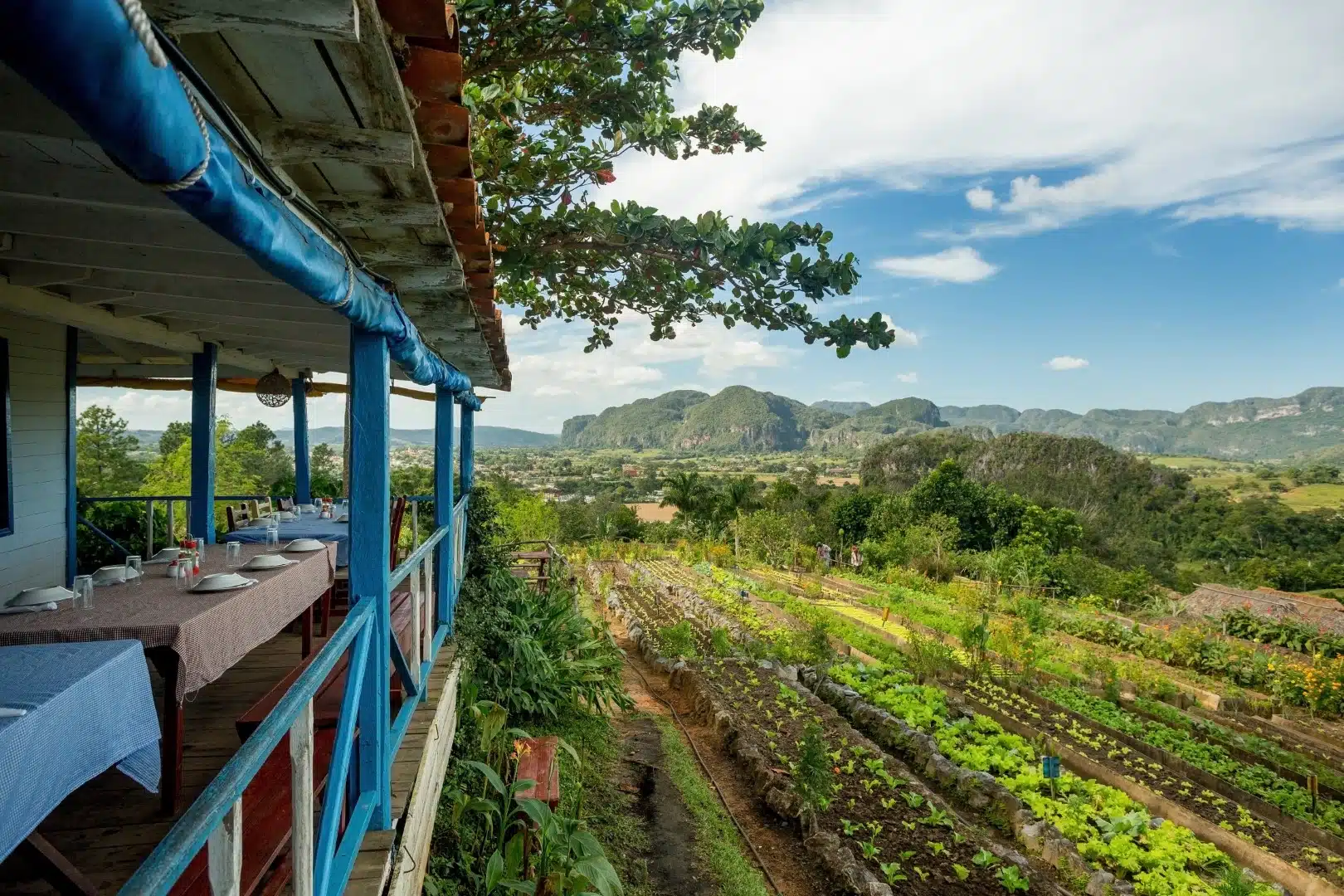 When is the tobacco growing season in Cuba?
The tobacco seeds are planted in greenhouses towards the end of October before being transferred outside roughly a month later.
The growing season then lasts around four months so the tobacco harvest is generally in March / April, depending on the weather that winter.
As this period corresponds with the best time to visit Cuba, many visitors to the island treat seeing fields full of tobacco plants as very much part of the Cuba holiday experience.
All our escorted tours visit the Vinales Valley while, for independent travellers, the choice is between either visiting Vinales on a day trip from Havana (private or group) or basing oneself in Vinales for a period of time. For those clients who do opt to stay in Vinales, we offer a number of optional, local Trips (excursions) that include visiting a tobacco farm.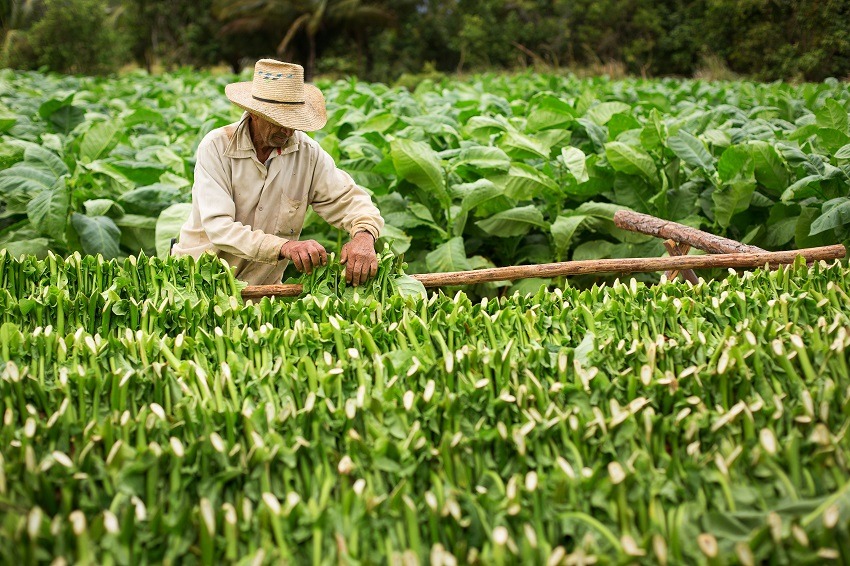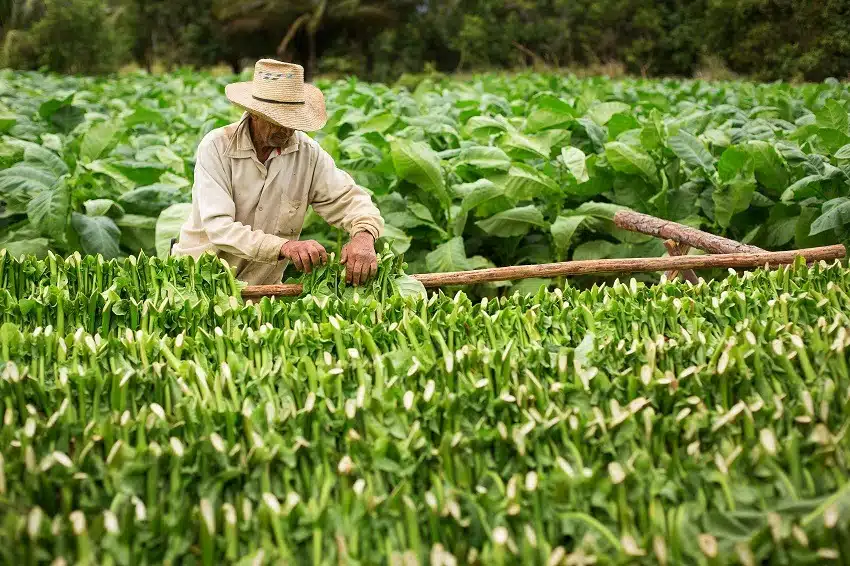 Post harvest
Once harvested, the tobacco leaves are sent to large, airy barns where they are hung on poles and left to dry for around 50 days. Again, if you are visiting Cuba during this time, it is generally possible to include a visit to a drying barn so you can see the process for yourself.
After this drying period, the tobacco leaves are then transferred to wooden crates and moved on to specialist sorting houses where they are then fermented for a further 3 months.
Once this process is complete, the tobacco leaves are finally sent to the cigar factory, ready to be turned into the final product.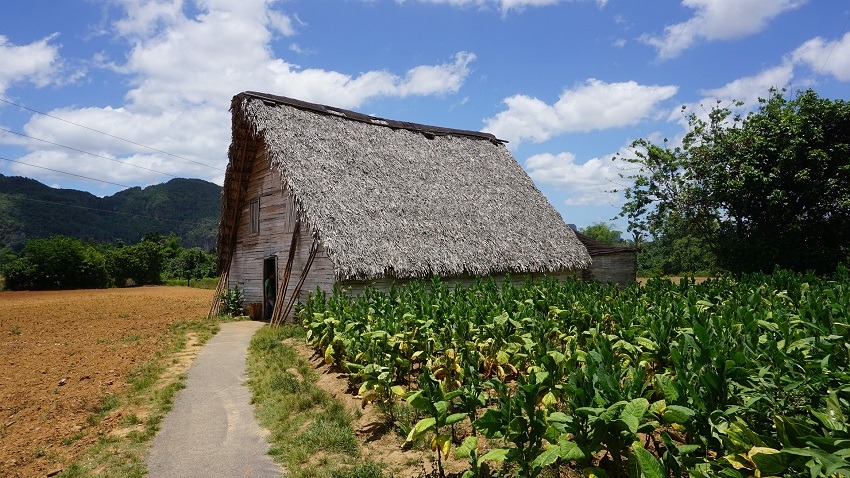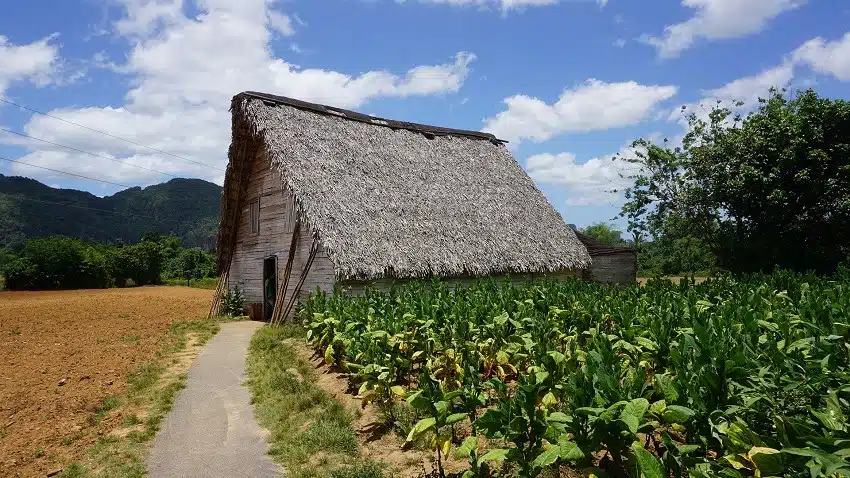 Visiting a Cuban cigar factory
Not surprisingly, a visit to a Cuban cigar factory is high on many visitors 'to do' list although it isn't always as easy as one might expect or hope.
While there are a number of cigar factories in Havana, as well as Pinar del Rio, visiting times are limited and erratic, ie they don't always open when they are meant to.
For independent travellers staying in Havana, we can pre-book a visit to a cigar factory as one of our many optional Trips (excursions) while clients on our small group, escorted tours will also visit a cigar factory as part of their itinerary.
The most famous cigar factory in Old Havana was undoubtedly the Partagas but, alas, it is no longer in operation. Located just behind the Capitol building, rumour has it that the building will eventually be converted into a luxury hotel.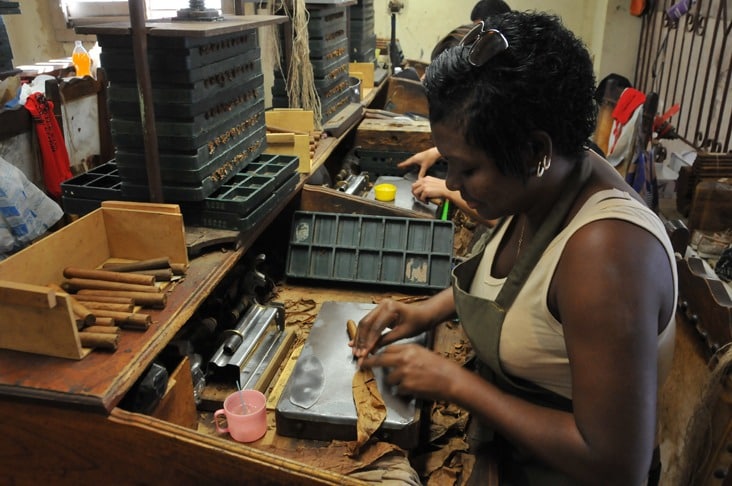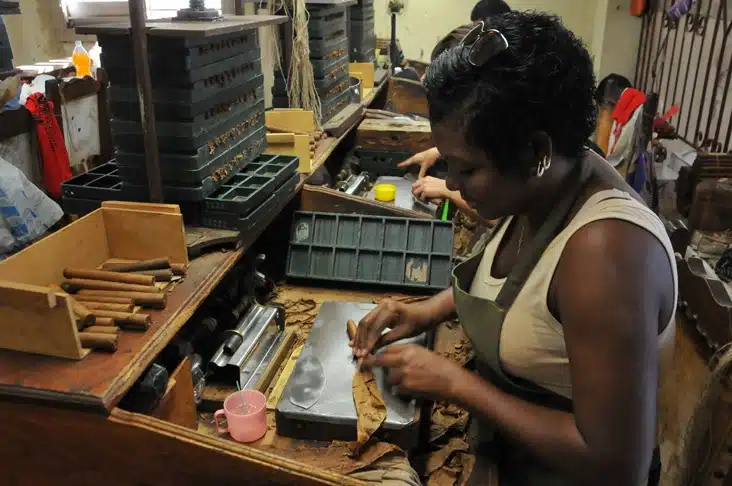 Buying Cuban cigars
If you wish to buy cigars while in Cuba, our first piece of advice is to buy them from official sources only.
Throughout the island, but especially in Havana, you will be offered 'genuine' cigars that are anything but. As with many copies, they look convincing and, unless you know what to look for, it can be hard to spot the difference.
Across the island, you will come across La Casa del Habano stores that sell a variety of Cuban cigars. Many tourist hotels also sell cigars although the choice might not be the same and you probably won't get the same expert advice. One of the best hotels in Old Havana in which to buy cigars is the Conde de Villanueva.
As a general guide, if the cigars just say 'Hecho en Cuba' then they are machine made; 'Hecho a Mano' are the same but hand finished. For fully handmade cigars, like the ones you see being made in the cigar factory, look out for 'Hecho en Cuba: Totalmente a Mano'.
Before you purchase any cigars, please take also into account that there are restrictions on both how many you can take out of the island as well as how many you can take back to most countries.
Finally, if you want to brush up on some of the main brands of Cuban cigars, we suggest you check out the following: Cohiba (generally the most expensive), Montecristo (the biggest seller), Punch, Partagas, Romeo y Julieta, Bolivar, Robaina & H Upmann.