Keen as we are to promote travel that ventures 'beyond the ordinary', this Guatemala tour – Kites, Culture & Traditions – certainly fits the bill.
Please note that this is a one-off tour, commencing 30th October 2018, and further details (including how to book) are available on request.
Day 1: Arrive Guatemala
On arrival in Guatemala City, clients will be met at the airport and transferred the short distance to the nearby town of Antigua.
Founded in the sixteenth century, Antigua is a cosmopolitan destination with a rich colonial past. Its cobblestone streets are lined with pretty, pastel-hued homes, luxe boutique hotels, and an exceptional selection of smart restaurants and shops. A UNESCO World Heritage Site since 1979, this city of 35,000 people sits in valley between coffee farms, indigenous villages, and three imposing volcanoes.
At the heart of town is the central park, a European-style plaza busy with shoe-shiners, ice cream vendors, families, and tourists. During its architectural peak, Antigua was home to dozens of colonial monuments, churches, and monasteries, but an earthquake in 1773 damaged or reduced most to rubble. In the centuries thereafter, efforts were made to rebuild and restore, and the city today is filled with gorgeous and fascinating relics and ruins.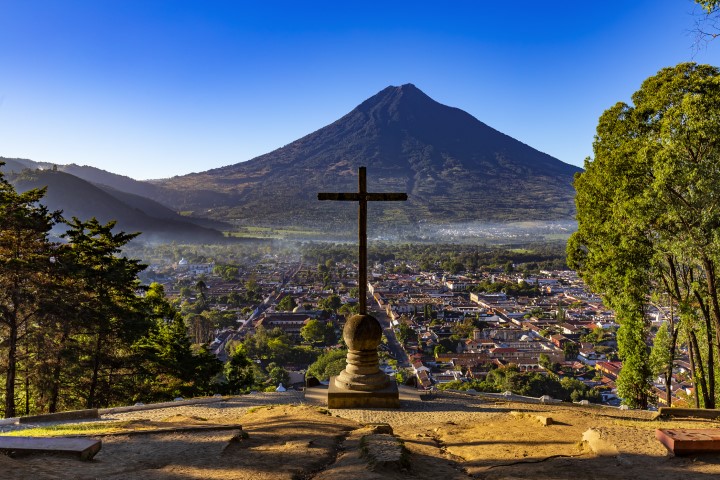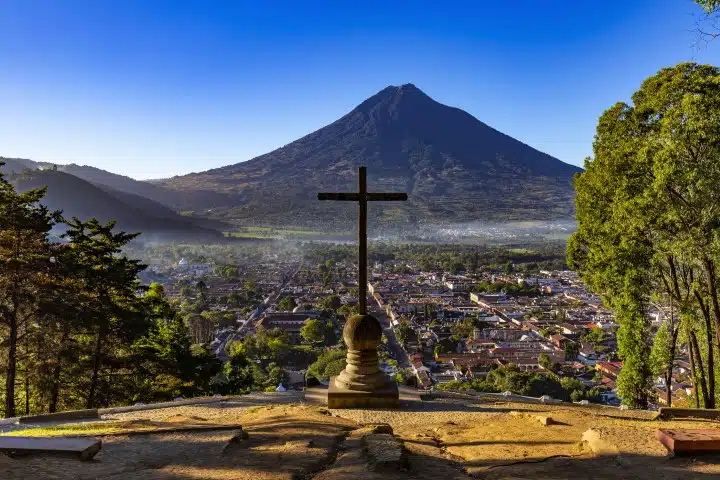 Day 2: Antigua
Your private guide and driver will meet you for the short ride to the town of San Miguel Escobar, just outside of Antigua. In San Miguel, you will meet a guide from De La Gente (DLG), a non-profit organization working to support small independent coffee producers and promote environmentally responsible agriculture in Guatemala.
On this tour you will visit some of the families supported by this organisation. You can work side-by-side with coffee farmers as you help pick, pulp, ferment, wash, dry, thresh, sort, or grade the coffee (depending on the season); roast the coffee over an open fire; and grind it by hand on a grindstone before sampling the brew.
Later, you'll enjoy a simple, traditional lunch prepared and served in a family home before returning to Antigua.
You will be met at your hotel by your private guide to begin your afternoon walking tour of Antigua. This tour explores this colonial city's cultural, architectural, and social history with a behind-the-scenes look at some of Antigua's ornately decorated churches, Spanish colonial-era ruins, and the tomb of the first Guatemalan saint.
Entrance fees for the Cathedral of San Jose and the San Francisco el Grande and La Merced churches are included; however, with just a word to the guide, this flexible tour can also be tailored to individual interests (you may need to pay additional entrance fees). At the end of the tour, the guide will accompany you back to your hotel or take you to a place of your choosing.
Day 3: Kite Festival
This morning guests transfer to Santiago Sacatepequez where they walk to the cemetery with their private driver and guide to experience the Kite Festival and enjoy the celebration of the Day of the Dead.
On November 1st each year, Guatemala's families honour their departed loved ones during Day of the Dead (Dia de los Muertos) festivities. Besides the traditional visit to the cemetery, Day of the Dead in Guatemala is marked with kite festivals and dining on fiambre, the traditional dish of Day of the Dead.
Sumpango and Santiago Sacatepequez hold the largest and most well-known festivals, with thousands of kites flown by families, locals, and religious groups to honour the dead. The elaborate kites span several metres and are constructed almost entirely of bamboo and tissue paper. Fiambre, which is only made and eaten once a year is served cold and contains a mix of cheese, meat, eggs, and vegetables cured in vinegar. Some recipes call for as many as 50 different ingredients.
Day 4: Comalapa Market, Iximche & Lake Atitlan
Your guide will meet you at your hotel to transport you to San Juan Comalapa, a town known for its more than 500 painters, primarily of Maya Kaqchiquel heritage. On arrival, you will see the famous mural, painted by local schoolchildren and adults, depicting major events in Guatemala's history from the pre-Columbian era through the signing of the 1996 peace accords.
You will then visit a few of the artists who continue the tradition of naïf painting for which the town is famous. Finally, you can walk through Comalapa's authentic market for a glimpse into daily life in this region, as residents, dressed in the colourful textiles traditional to the region, buy their weekly produce and goods. You can also visit the small museum dedicated to the Comalapa-born composer who wrote Guatemala's national anthem.
You will have lunch in a typical restaurant before heading off to explore the Mayan ruins of Iximiché, active from 1470 to 1524 A.D., with its temples, ball courts, remnants of palaces, and a collection of artefacts in its small museum. After exploring Iximiché, you'll continue your journey to beautiful Lake Atitlán.
Day 5: Lake Atitlan
Surrounded by rugged hills, a trio of towering volcanoes, and a handful of small villages, Lake Atitlán will inspire you with its grandeur.
Located in the Guatemalan highlands, the lake was formed more than 80,000 years ago during a violent volcanic eruption. Tz'utujil and Kaqchiquel Mayas have plied its shores for centuries and continue to do so today, wearing vibrant traditional clothing and practicing age-old Maya customs, particularly in towns like Santiago Atitlán and Santa Catarina Palopó.
Although more than a dozen fascinating towns and villages overlook majestic Lake Atitlán, Santiago and San Juan La Laguna top the must-see list. In San Juan, watch indigenous weavers mix natural dyes from locally grown plants and flowers, and then see the women use a back-strap loom to create intricate textiles, thread by colourful thread.
From there, peruse a workshop of art naïf painters before boarding the boat for the cruise to Santiago. After a delicious lunch, head out with your guide to find the house of Maximón, the Maya folk saint who moves annually with the selection of his new caretaker. A shaman may be performing a ritual for a local follower or two gathered at Maximón's candle-lit altar.
Afterward you can visit the church, learn about the town's vivid history and explore the thriving market. Be sure to check out more of the distinctive textiles and primitive art, both famous from the lake basin. The tour includes your morning hotel pickup and evening return.
Day 6: Chichicastenango & Uaxactún
You will be met at your hotel by your private driver and guide for a one-hour transfer to the highland town of Chichicastenango. Along the way you will pass through the central highland region and see the local Maya people in their traditional dress going about their daily lives – working in the fields, collecting firewood, travelling between markets, selling their wares.
Upon arrival at Chichicastenango your guide will take you to explore this famous market, including colourful spreads of fruit, vegetables, and everyday items that residents buy as well as the crafts area, where you can find endless an variety of beautiful textiles and, hand-made wooden and ceramic crafts. You can also visit the famous St. Tomas Church, where Maya residents perform Maya resident rituals within the Catholic church, – demonstrating the interesting combination of the two faiths.
Another option is hike up the hill to the Pascual Abaj ritual site to see if any local shamans are performing rituals and/or to the cemetery on the outskirts of town. Lunch is provided, after which you will return to Guatemala City for the evening domestic flight to Flores in the north of the country. On arrival in Flores you will be transferred to Uaxactún.
Located in the department of El Petén, not far from Tikal, Uaxactún (eighth stone) was one of the longest-occupied cities of the Maya people. Today, the area's wild jungles are home to ancient temples, a small Maya community, and one-of-a-kind and recently updated guest accommodations.
The archaeological site is notable for holding the oldest known Maya astronomical complex and is also the community where the "chicleros" (gum collectors) have lived for over 100 years. Many of Uaxactún's residents make their living from gathering forest products such as chicle (exported to Japan), allspice and xate palm leaves (ornamental plant exported internationally and used for floral arrangements).
Adjacent to the archaeological site is a specially designed camping area. Surrounded by tropical foliage, eight covered platforms each have a private deck and hold a spacious tent with real beds, bedside tables, and lanterns. Little touches include locally made soap and handmade souvenirs for guests.
After your night-time arrival at Uaxactún from Flores, you'll drop your belongings in your tent at the campsite near the jungle-shrouded temples. But don't even think about settling into your bed yet as you'll be setting out along jungle trails in search of nocturnal wildlife, such as owls, opossums, and spooky-looking insects. Uaxactún's many structures include an elaborate, thoroughly accurate astronomical cluster, where you'll gaze up at a twinkling blanket of stars and luxuriate in the jungle mystique.
Day 7: Uaxactún
After breakfast, you'll embark on a guided tour of the Uaxactún ruins, stopping at partially restored temples that align perfectly with the sun on key dates of the calendar. In the village, you'll learn about the natural gum, allspice, and xate (exported globally for floral arrangements) that locals collect.
For lunch, you'll savour a traditional dish prepared with locally sourced ingredients. You can rest or explore at your leisure in the afternoon. At dusk, you'll climb a lookout tower for sunset drinks, followed by a delicious, locally made dinner before another overnight in the jungle camp.
Day 8: Tikal – Guatemala City
After breakfast, A 45-minute ride through the deep jungle will take you to Tikal National Park, where some 3,000 ancient structures rise from the rainforest floor. You will enter Tikal through the forest, an area most visitors never get to see.
Not only will you enjoy a fascinating tour of this UNESCO World Heritage Site, but you'll also experience the sights and sounds of tropical birds and animals, including howler and spider monkeys. Following in the footsteps of Maya royalty and commoners, you will visit the majestic Great Plaza and its Temple of the Jaguar (44 metres / 144 feet), Temple of the Masks (38m / 125ft), Acropolis, and much more. You will end your tour with lunch at a local restaurant.
You will then return to Flores airport for the return flight to Guatemala City. On arrival, you will be transferred the short distance to your city centre hotel.
Day 9: Tour Ends
After breakfast at your hotel the tour comes to an end with a transfer included back to the La Aurora airport for your onward flight. Alternatively, clients may wish to extend their stay in Guatemala City or return to Antigua for a few days exploring and relaxing on their own.