Missed out on many holidays to Guatemala, largely because of the difficulty in getting there, Livingston is well worth a visit. In fact, in our opinion, the journey there is one of the key reasons for visiting.
Known as Buga by the indigenous Garifuna population, Livingston is unconnected to the mainland so, for now at least, all travel in and out is by water. So, if you don't like boats, small boats, stop reading now.
With no nearby airport (Guatemala only has 2 airports, Guatemala City and Flores), visiting Livingston entails taking the overland route through Guatemala, often with a slight detour across the Honduran border to Copan.
The best way to arrive in Livingston is to be dropped off at the port of Puerto Barrios and then make the 20-30 minute boat crossing from there. There are regular, shared boat crossings in the morning but often none beyond 2pm; tickets cost around 35 quetzales (approx £4) per person. Alternatively, you can charter a boat privately at any time (daylight hours) for around 200 quetzales.
It's a beautiful journey from Puerto Barrios to Livingston, hugging the coast for most of the route. However, it really is a journey that lends itself to good weather. If it's raining, you will get wet. If it's choppy, you will have a sore bum.
Shared boat crossings will drop you at Livingston's main dock, private charters will drop you wherever you want. Many visitors to Livingston will be staying at Villa Caribe, which has its own dock, but which is only a short walk from the public dock.
Leaving Livingston, heading inland and then on to Flores, Tikal etc, is definitely the most memorable trip you will take in Guatemala and, for many, the highlight of their holiday. The boat journey from Livingston to Rio Dulce takes between 2 and 3 hours and, again, there are shared or private charter options.
A ticket in a shared boat costs around 120 quetzales (approx £13) with boats generally departing Livingston around 9.30. Chartering a private boat will depend on your bartering skills, as well as how many of you there are. You can expect to pay anything from 700 to 1000 quetzales and, as it's your boat, departures can be almost any time you want although, to facilitate your onward journey, a morning departure makes the most sense.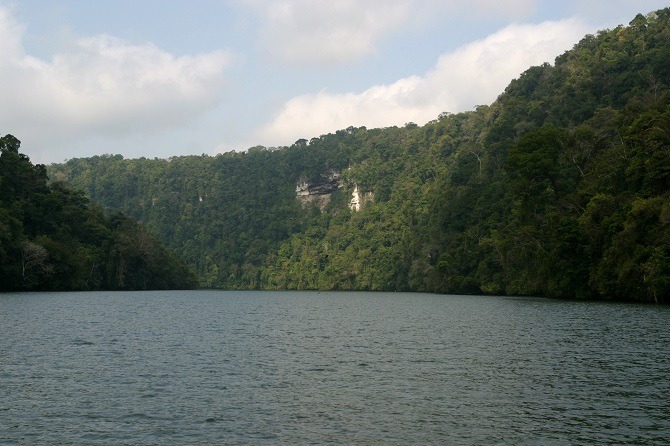 The first part of the journey is through a beautiful, steep sided gorge which is covered in dense, lush vegetation. After 30 minutes or so the sides of the river flatten out and you will begin to see the first evidence of human habitation.
A short diversion up a side tributary eventually leads to a Mayan settlement where there is the opportunity to get out, stretch your legs with a scenic walk through the jungle and check out the handicrafts the villagers make.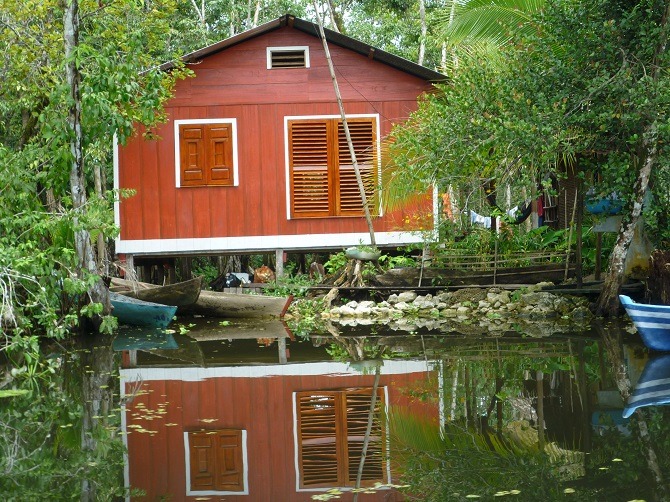 Returning to the main river, you then enter Lake Golfete where your next port of call are a series of natural hot-springs alongside the bank. Make sure you bring your swimming stuff as the water is clean and paddling about in the cool lake with sudden blasts of hot water is a fun experience; a small restaurant is on hand if you feel thirsty or peckish.
As the boat continues inland, usually via the aptly named Bird Island, look out for possible sightings of crocodiles; and keep your hands in the boat.
At this stage too you will begin to notice boats. Not small speedboats like the one you are on. No, these are a mixture of elegant sailing yachts and huge, luxury motor boats, all enjoying the safe mooring on offer.
As the journey comes to an end, your final option is a visit to an old Spanish castle, Castillo de San Felipe, which guards access to Guatemala's largest lake, Lago de Izabal.  Beautifully restored, and set in a lovely parkland location popular with locals, entrance is 20 quetzales.
At this point, many people will be dropped off at the dock in the main town of Rio Dulce and then continue their journey by road to Flores. This drive takes approximately 3 hours so the other option is to overnight in the vicinity. The Hacienda Tijax is one such nearby possibility and offers quirky cabins over the mangrove as well as the option of a beautiful, guided sunset walk through their extensive estate. The 360 degree views at the end are a fitting end to the day.