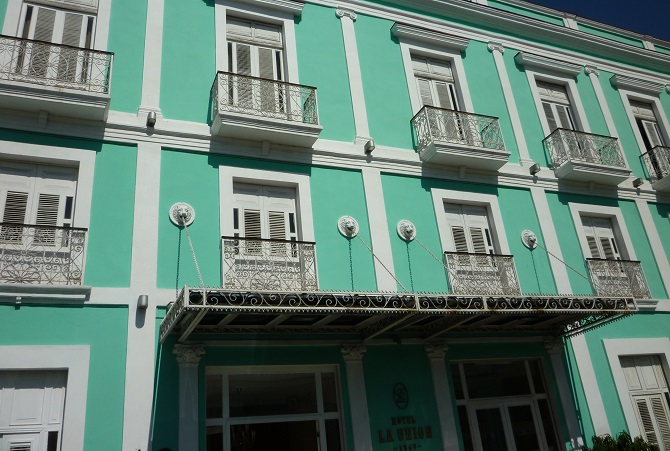 Melia Cuba have announced ambitious expansion plans for Cuba involving 8 new properties, and a total of 931 rooms, in Cienfuegos, Trinidad & Camaguey.
Part of the vast Spanish hotel management company, Melia Cuba currently operate almost 30 hotels on the island, all but 4 of which (3 in Havana and 1 in Santiago) are All Inclusive beach hotels. Details of the new hotels, announced just before the annual FIT Cuba Tourism Convention, are broadly as follows.
Melia Cienfuegos
Traditionally overshadowed by nearby Trinidad, the maritime city of Cienfuegos on Cuba's south coast is nonetheless a destination in its own right (the city centre is a UNESCO World Heritage Site) but, as with the rest of the country suffers from a dire lack of quantity and quality when it comes to hotel accommodation. In a surprise move, Melia Cuba have announced that they will be taking over (from local management) pretty much all the city's hotels – the Union, Jagua, Palacio Azul, Casa Verde & Perla del Caribe – as well as bringing back to life the long empty Hotel San Carlos.
Anywhere else in the world, it would be considered odd, indeed undesirable, for a single company to to dominate accommodation in a single destination…….but this is Cuba. The addition of the 56 room Hotel San Carlos in the city centre (a hotel, I must confess, I've never heard of) won't make a huge difference to capacity / availability in Cienfuegos but, heh, it's better than nothing. More important will be the improvements in hotel quality, reliability etc from being taken over by Melia Cuba.
Melia Trinidad
After Havana, the small, colonial town of Trinidad is Cuba's most popular cultural destination and one that boasts its own small, beach resort at Playa Ancon, a 15- minute drive from town.
There are just 3 very scruffy, locally managed All Inclusive hotels at Playa Ancon, a source of real disappointment to both visitors and tour operators. The ugliest of these 3 hotels is the Hotel Ancon (sometimes also known as Club Ancon) which really should be knocked down and rebuilt. Although that isn't going to happen, Melia Cuba will take over its management which will lead to extensive renovation of rooms and public areas as well as better service, dining etc.
Next door to the Hotel Ancon, (which will be re-branded as Sol House Ancon) plans have been announced for the building of a brand-new hotel, the Melia Trinidad which, with around 400, will be one of the smaller beach hotels in Cuba. One assumes that, like the Melia Buenavista on Cayo Santa Maria, the new Melia Trinidad will be a luxury, Adult Only property – expect sky high rates when it eventually opens!
I had half expected / hoped that Melia Cuba would take over the stalled Pansea Trinidad project but, alas, there has been no such confirmation.
Melia Camaguey
Although not particularly well-known, the centrally located city of Camaguey is yet another of Cuba's UNESCO World Heritage Sites and, due to its strategic location on the island's main, cross country highway, is a required stopover for anyone planning to traverse the length of the island by road.
Although the number of hotels in Camaguey has increased over the last few years, they are all locally managed and none are a particularly great advertisement for the city. The recent announcement by Melia Cuba will see the company taking over the management of 3 existing hotels – the Gran, Colon & Hotel Camaguey. The first 2 are fairly simple, 'character hotels' in the city centre that will benefit from investment and expertise. The Hotel Camaguey, with over 100 rooms, is the largest hotel in the city and is located on its outskirts. It is also something of a 1970s dump so the necessary change of management can't come soon enough.
While the Gran & Colon will be re-branded as Melia hotels, the Hotel Camaguey will see a new brand coming to Cuba, namely INNSIDE.
Commenting on the announcement, Gabriel Escarrer, President of Melia International had this to say: "We came to the island in 1990 because we believed strongly in the potential of this country. These 8 new hotels represent a major challenge that we assume with great enthusiasm, and we are committed to guaranteeing the Melia service throughout the island to boost the circuits segment".
Conclusion
While it is disappointing that this recent announcement only includes the building of 1 new hotel (and at the beach, rather than in the towns or cities where availability is most scarce) I guess we need to be thankful for any improvements to Cuba's tourist infrastructure. Speaking from long and frustrating experience, the more foreign investment and expertise in Cuba's hotels, the better.
This news follows in the footsteps of recent announcements by Iberostar Cuba, Melia Cuba's main competitor, who themselves are also expanding across the island. With Kempinski set to open their first, new, luxury property in Old Havana very shortly, the hotel scene in Cuba is becoming increasingly international.