Playa Blanca is an attractive, white sand beach a short boat ride from the town of Livingston on Guatemala's tiny stretch of Caribbean coast.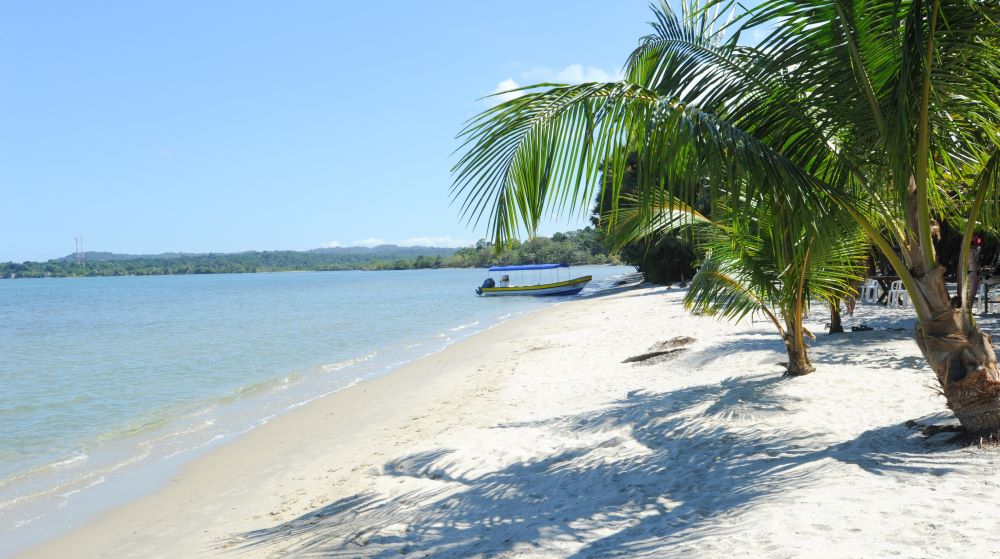 Boasting an attractive, laid back ocean front setting, quirky Livingston is a popular and worthwhile destination to include on one of our private guided tours of Guatemala, not least for the beautiful journey in and / or out along the Rio Dulce.
However, while hotels in Livingston, such as the Villa Caribe, may feature a swimming pool, if you fancy a proper day by the beach you will need to take a boat trip to Playa Blanca.
While it is relatively easy to arrange locally, we can save clients the bother and include a trip as part of an overall Guatemala itinerary. Alas, we are unable to arrange visits on their own.
Tours to Playa Blanca generally depart Livingston at around 09.30, returning to town around 15.00.
Heading out into the Bay of Amatique, you may be lucky enough to spot dolphins enroute to Playa Blanca which is located to the west of Livingston.
Some clients may also choose to combine Playa Blanca with the nearby Seven Altars (Los Siete Altares), a set of 7 small waterfalls and fresh water pools surrounded by lush rainforest. Quite how picturesque the waterfalls are tends to depend on water levels so, if you are visiting at the height of the dry season, well, we're sure you understand.
Arriving at Playa Blanca (where there is a small entry charge to be paid locally), it is very much a case of taking a good book with you and finding a spot to simply chill out under a palm tree. A small restaurant is on hand serving simple meals and cold drinks.
With such a tiny stretch of northern coastline, much of it mangrove, the only other option for experiencing the beach while in Guatemala is to head the other way, to the nation's Pacific Coast, where there are a spattering of hotels along the volcanic (ie black sand) beach, the best of which is probably Dos Mundos.