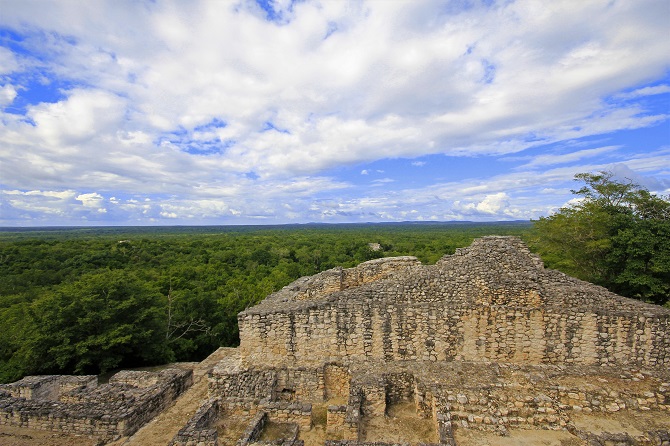 Located in the deep south of Mexico's Yucatan Peninsula, and part of the Peten basin that crosses into neighbouring Guatemala just 35kms away, the ancient city of Calakmul was once just one of a number of great, nearby Mayan city-states that dominated the region.
Recent research suggests that this near pan-flat region was even more densely populated than first thought but, to visit today, that is very hard to imagine.
Calakmul is the most isolated of the Yucatan Peninsula's numerous Mayan sites, situated a good hour's drive from the nearest main road and surrounded for as far as the eye can see by dense jungle.
As with other major cities in the Peten region, Calakmul was in its pomp during what is known as the Classic Period, roughly speaking from 250 – 900 AD. During that period its population reached a peak of between 50,000 & 100,000 while, politically, it was in a repeated, bloody struggle with Tikal, in modern day Guatemala, for domination of the region.
For a far greater insight into the history of Calakmul it is best to visit the UNESCO website.
For anyone wishing to visit Calakmul, the most important thing to bear in mind is that it really is a long way from anywhere. If you're visiting as part of an organised tour then you won't have to worry about how to get there or where to stay; that will all be taken care of. But what if you plan to visit on an independent basis?
Located in the deep -south of the Yucatan Peninsula, Calakmul is not somewhere you visit on a day trip (ie like Chichen Itza or Uxmal). It's somewhere you specifically set out to see and (at least partly) plan your itinerary around.
If you look at a map of the Yucatan Peninsula you will see that it is broadly square-shaped with Cancun in the north east, Merida in the north west and Calakmul in the central south. As the vast majority of visitors fly into and out of Cancun, and often wish to spend at least some time on the wonderful beaches that run due south along the region's east coast, the best option for including Calakmul (and the many other highlights) is an anti-clockwise loop.
So, starting in Cancun and either travelling with a car & driver or simply driving one's self, head west to Merida via Chichen Itza and Valladolid, then south to Campeche, east to Calakmul and then back up north via Laguna Bacalar to the beaches of the east coast and Cancun.
The drive from Campeche to the turn-off to Calakmul takes around 5 hours while the onward journey to Laguna Bacalar is roughly the same. Accordingly, you will need somewhere to stay.
Accommodation options are very limited in the region with only 2 hotels of note. The first, Hotel Puerta Calakmul, is located just off the main road at the start of the park entrance (the Mayan ruins are located within the Calakmul Biosphere Reserve) and offers atmospheric, sort of shabby-chic bungalows in a lovely jungle setting.
Alternatively, another 30 minutes up the main road, is the Chicanna Eco Resort. Another pleasant hotel in an attractive garden-setting, the Chicanna Eco Resort is slightly more 'tour-groupish' and a longer drive to the ruins at Calakmul (but then a shorter onward drive to Laguna Bacalar). Neither properties are what one would term 'destination hotels' although both are perfectly adequate.
In terms of visiting the ruins, it is again important to stress that, even from the hotel Puerta Calakmul, it's a good hour's drive along a slightly bumpy road to the ruins. There are no safety issues as such but this is probably not somewhere you want to be driving yourself in the dark.
Once you get to the site entrance, and if you're travelling independently, there are almost always English- speaking guides available to book locally.
For anyone who has been to Chichen Itza, Palenque etc, please note that, although Calakmul is of a similar size, very little of it has been excavated. Indeed, the vast majority of your visit will be done wandering along paths under the canopy of the jungle. The one time that you will truly break into sunlight – and with jaw-dropping results – is when you climb one of the handful of giant pyramids that tower above the jungle with spectacular 360-degree views.
Although the emphasis of this article has very much been on Calakmul, it is important to point out that there are numerous other Mayan sites worth visiting nearby such as Becan & Chicanna (just across the road from the hotel of the same name). Further east, not too far from where you turn off and head north, is one of my favourite, small Mayan ruins, Kohunlich (also home to the luxurious hotel Explorean Kohunlich – pictured below).
Travel Beyond The Ordinary