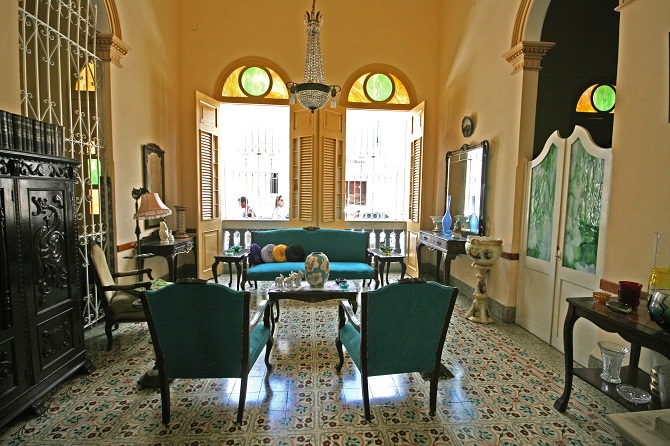 Deciding where to stay is part and parcel of going travelling. With accommodation in Cuba, your first decision may be whether you opt for hotels or casa particulares.
Casa particulares are, broadly speaking, a cross between a B&B and a homestay and nowhere else in the world do they play such a prominent role in the local tourism industry as in Cuba.
Put simply, due to years of under investment, Cuba's towns and countryside suffer from a huge shortage of hotels. With growing numbers of arrivals from the USA, visitors who are largely barred from staying in casa particulars, this situation is only going to get worse. The result has been a huge boom in the number of casa particulares.
Coming from Europe (and discounting the charter flights that service the big beach resorts), the vast majority of visitors to Cuba arrive in Havana and spend three or four days in the capital. So, where to stay?
After a long flight, and especially if it is one's first trip to Cuba, many visitors opt for what I call a 'soft landing', ie plumping for the relative familiarity of a hotel. Of course, as with any city, there is no such thing as a standard hotel so that 'soft landing' might mean staying in a large, corporate hotel with all the bells-and-whistles (in which case I would suggest the Hotel Parque Central) or it may mean staying in one of Old Havana's small, heritage-style hotels.
If you do opt for a hotel please note that (a) they book up a long way in advance, especially in Old Havana and (b) value for money has long since left the building. In both cases, this is especially the case during the High Season, from 1st November to 30th April.
Should either of the above put you off Havana, don't worry, there are now probably over 500 casa particulares in the capital with at least half of those in Old Havana. Although prices are rising, they do tend to offer much better value for money than the city's hotels and, for the most part, a much friendlier welcome.
Perhaps the only word of caution I would introduce regards casa particulares in Old Havana is that, with very few exceptions (Casa Prado Colonial being one) they are all housed on the second and third floors of buildings, often accessed by steep stairs. In my time, I have stayed in a lovely casa that almost required ropes, ladders and grappling hooks to access so, if mobility is an issue, please bear this in mind.
Leaving Havana, the relative attraction of casa particulares over hotels grows far stronger.
Most 'touring' visitors to Cuba stick to the western half of the island, taking in the key traveller destinations of Vinales, Bay of Pigs, Cienfuegos, Trinidad, Sancti Spiritus, Santa Clara & Remedios. To briefly summarise the situation in each…..
Vinales
There are currently just three, somewhat run-down hotels on the outskirts of town (a new hotel is slowly taking shape in town) which, apart from the benefit of a pool and some admittedly superb views, offer very little else. I would always recommend staying in a casa particular in Vinales and there are plenty of them.
Zapata Peninsula & Bay of Pigs
The three main hotels in the Zapata Peninsula & Bay of Pigs area well, no, just don't do it. Either pass through or opt for one of the simple casa particulares in Playa Larga such as Hostal Mayito. You'll need a car though.
Cienfuegos
Considering its size, it comes as something of a surprise to most visitors to discover the total number of hotels in the city centre – two. There are a handful of hotels in the Punta Gorda part of the city but they are often booked out by tour groups. Unfortunately, the casa particular scene in Cienfuegos is also quite limited making this a difficult destination when it comes to accommodation. For this reason, many visitors tend to visit Cienfuegos from nearby Trinidad.
Trinidad
It might be a stunning, colonial gem of a town, and a great base for further exploration north, east and west, but Trinidad suffers from a bewildering lack of hotels. There are currently just three hotels in town (of which two are very poor and one is very expensive), one drab hotel in the nearby countryside and three underwhelming hotels at the beach. It matters not, because Trinidad is the best place in Cuba to experience a casa particular and there are plenty of them (although the best ones book up quickly).
Sancti Spiritus
Being only an hour's drive from Trinidad, many visitors to this charming little town just come for the day. With relatively few casa particulares, and three charming little hotels in the town centre, this is one of the few destinations in Cuba where I would recommend staying in a hotel over a casa.
Santa Clara
Despite its historical importance and strategic location, someone in Santa Clara must have been really, really bad because the tourist authorities have pretty much ignored it. Currently, there are just two hotels on its outskirts, one dire hotel in the centre (Santa Clara Libre) and one, very small, block-booked hotel nearby (Hotel America). While it's certainly not awash with casa particulares either, they are the only show in town and, in Autentica Pergola, Santa Clara can at least boast one of my favourite casa particulares in Cuba.
Remedios
Although much smaller than nearby Santa Clara, Remedios is blessed with three, heritage-style hotels, all within a stone's throw of each other in the town centre. There are also numerous nice casa particulares in town so this is one of the destinations in Cuba where it's difficult to make a recommendation either way. Many visitors use Remedios as a base from which to explore the surrounding area (including Santa Clara) although the rapidly growing number of beach hotels on nearby Cayo Santa Maria means that, during the day at least, it is now getting quite busy.
What about beach accommodation in Cuba? Well, here your decision is made for you because, to the best of my knowledge, there aren't any casa particulares at the beach in Cuba. This is not an accident, but design, as the Cuban authorities have banned the opening of casa particulares at its beaches. Yes, there are casa particulares located on the coast, and from where swimming is possible (ie La Boca near Trinidad and Playa Larga), just don't expect to find a casa particular set anywhere near a stretch of pristine, sandy, white beach.