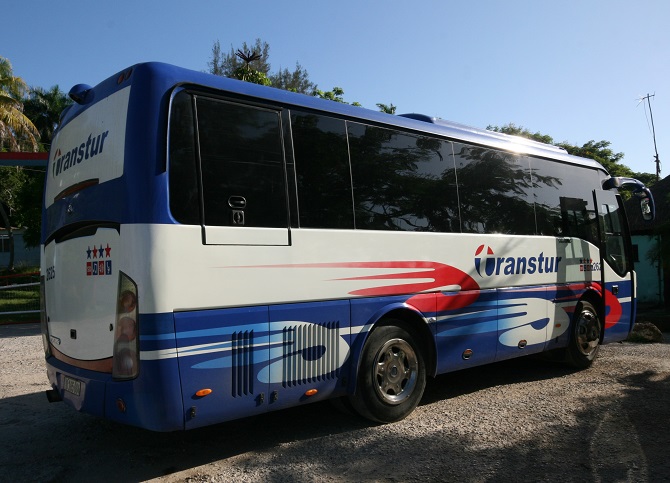 Although things are slowly opening up in Cuba, most aspects of the economy are still firmly closed to the private sector, including bus travel.
There are currently just two providers of tourist bus services in Cuba, Viazul & Cubanacan. Viazul is purely a bus operator while Cubanacan is an all-encompassing tourism conglomerate that extends its reach to hotels, taxis, tours, marinas and more besides. In addition to Viazul and Cubanacan there is another long-distance bus service, Astro, which can currently only be used by locals.
For information on services provided by Viazul, one can simply visit their website. The service provided by Cubanacan doesn't, to the best of my knowledge, have a presence online so what follows is a brief summary of their routes and schedules.
For departures and arrivals, I have provided a range of times – this is because this bus service often picks-up and drops-off passengers from a number of different points within a location. In Havana, there are three designated zones (1, 2 & 3) with Zone 1 being hotels in Miramar, Zone 2 hotels in Vedado and Zone 3 hotels in Old Havana.
In Vinales, pick-up / drop-off points are the hotels Los Jasmines, La Ermita, Rancho San Vicente and the main square in town. In Cienfuegos, they are the hotels Union, Jagua & Rancho Luna; in Trinidad they are the hotels Finca Ma Dolores, Las Cuevas, Iberostar Grand, Costa Sur, Brisas Trinidad and Hotel Ancon. In Ciego de Avila it's the Hotel Ciego de Avila, in Camaguey it's the Hotel Camaguey, in Las Tunas it's the Hotel Las Tunas, in Holguin it's the Pernik Hotel and in Santiago it's the hotel Melia Santiago.
Havana to Vinales
Passengers are picked up in Havana between 08.00 & 08.40, swing by the town of Pinar del Rio at 11.30 (with a 20-minute stop en-route) before arriving in Vinales between 12.30 & 13.10. The return journey departs Vinales between 14.00 & 14.40 and drops-off passengers back in Havana between 18.10 and 19.00.
Vinales to Trinidad via Cienfuegos
This service actually begins in Pinar del Rio at 06.00 before collecting passengers in Vinales between 06.30 & 07.30. There is a 30-minute break en-route before drop-offs in Cienfuegos between 14.00 & 14.45.  The bus then continues to Trinidad where passengers are dropped off between 16.00 & 17.00. Please note that this service does not operate in reverse.
Havana to Trinidad via Cienfuegos
This service collects passengers in Havana between 08.00 & 08.40. After a 30 break en-route, passengers are dropped off in Cienfuegos between 12.30 & 13.45 and then in Trinidad between 15.00 & 16.00. The return journey departs Trinidad between 08.00 & 09.00, travels through Cienfuegos between 10.00 & 10.50 before continuing to Havana where passengers are dropped off between 15.00 & 15.40.
Havana to Santiago via Camaguey & Holguin
The longest of Cuba's bus services collects passengers in Havana between 06.00 & 06.40 before passing through Ciego de Avila at 13.15, Camaguey at 14.45, Las Tunas at 16.30, Holguin at 18.00 and arriving in Santiago at 20.35. The return journey departs Santiago at 06.00, stopping in Holguin at 08.00, Las Tunas at 09.15, Camaguey at 11.30 and Ciego de Avila at 13.45 before dropping passengers in Havana between 20.35 & 21.25. In both directions, there is a 45 minute stop-over with lunch included in the price.
Cuba Holidays By Bus
For an idea as to how you holiday in Cuba by bus, we have put together a couple of sample, suggested itineraries. First, the 11 night Western Cuba By Bus and second the 16 night Cuba By Bus. Please remember though, these are no more than ideas as all our holidays can be tailor made to your exact requirements.
On a separate note, you might also be interested in our feature on Cuba train travel.
Travel Beyond The Ordinary