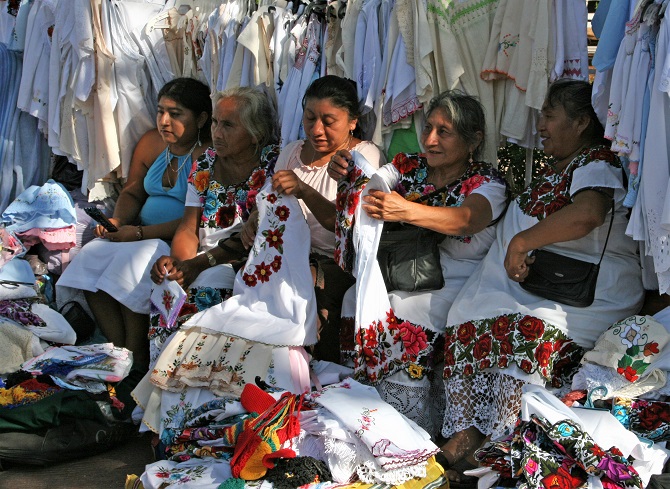 Heading inland from the beach resorts of the east coast, Valladolid is the first town one reaches of any size and 'visitor significance'.
Being a small town, one which can easily be explored on foot, many prospective visitors to the Yucatan Peninsula either pass through the same day or, perhaps, spend a night in town. This is a mistake.
Not only is Valladolid a charming town in its own right, with a good variety of accommodation and restaurants, it is also a great base for further exploration of the region. The most obvious nearby attraction, less than half an hour's drive away, is the world-famous Mayan city of Chichen Itza. Yes, there is plenty of accommodation at the ruins but, personally, I think it's much nicer being based nearby, in town.
If you can't get enough of Mayan ruins, and wish to minimise your packing and unpacking, it's also very easy to use Valladolid as a base from which to explore the ruins at Ek Balam & Coba (amongst others), both of which are well worth visiting but which receive a fraction of the visitor numbers of Chichen Itza.
Love nature? An easy day trip from Valladolid (and easily combined with Ek Balam) is Rio Lagartos, on the north coast, where daily boat trips allow visitors to witness a rich variety of birdlife.
If colonial towns are your thing, and Valladolid is a fine example in its own right, it's also easy enough to visit laid-back Izamal to the west, famous for the Convento de Antonio de San Padua. Visiting the regional capital of Merida from Valladolid is probably too much of an ask but, if you're really short of time and prepared to get up early, not impossible.
Nearer to Valladolid, and great for relaxation, are a number of cenotes where you can easily spend half a day, or longer, just relaxing. There is even a cenote near the centre of Valladolid, Cenote Zaci, but I prefer X'Keken and Samula which are just south of town and therefore reachable by bike.
By far the best way to visit Valladolid, and visit the aforementioned attractions, is to hire a car which is easy, safe and relatively cheap. However, if you're set against driving yourself, there are travel agencies in town who offer tours and transport although this will work out more expensive and won't be nearly as flexible.
The best accommodation in town is, at least in my opinion, Hotel Posada San Juan although the Meson del Marques is another favourite of mine.
So how long should one spend in Valladolid? Well, there is no right or wrong answer to such a question but, if you were to spend 4 days there, you certainly wouldn't run out of things to see do.
Travel Beyond The Ordinary