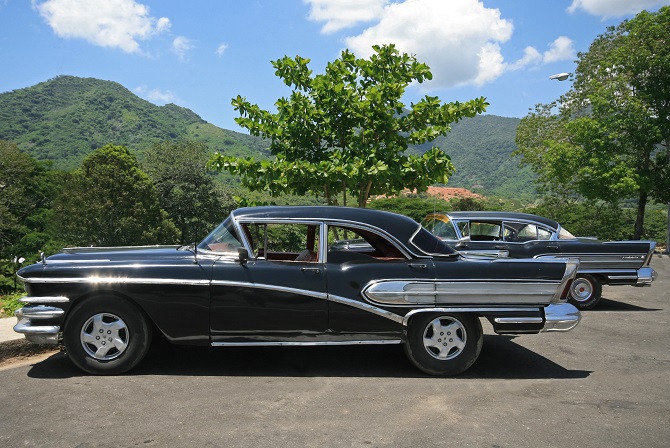 At over 1000kms long, and by far the largest island in the Caribbean, driving times in Cuba are often far greater than many people anticipate. To that end, I have put together this very broad guide to non-stop, driving times between some of the key tourist destinations.
These driving times are based on travel by car during daylight hours (driving at night by tourists is not recommended anywhere in Cuba due to a lack of street lighting) and in dry conditions; driving in the dark and /or in wet conditions can take substantially longer.
As an example of a potential self-drive holiday, please have a look at our suggested Western Cuba Fly Drive.
Driving Times From Havana
Approximate driving times from Havana are as follows:
Havana to Vinales 2hrs
Havana to Las Terrazas 1hr
Havana to Palma Rubia (for Cayo Levisa) 2hrs
Havana to Jibacoa 1hr
Havana to Varadero 2hrs
Havana to Cienfuegos 3hrs
Havana to Bay of Pigs 3hrs
Havana to Trinidad 4hrs
Havana to Santa Clara 3hrs
Havana to Cayo Santa Maria 5hrs
Driving Times From Vinales
Approximate driving times from Vinales are as follows:
Vinales to Maria La Gorda 2hrs
Vinales to Las Terrazas 1hr
Vinales to Cienfuegos 5hrs
Vinales to Trinidad 6hrs
Vinales to Varadero 4hrs
Driving Times From Cienfuegos
Approximate driving times from Cienfuegos are as follows:
Cienfuegos to Bay of Pigs 1 ½ hrs
Cienfuegos to Santa Clara 2hrs
Cienfuegos to Trinidad 1hr
Cienfuegos to Sancti Spiritus 2hrs
Cienfuegos to Havana 3hrs
Cienfuegos to Varadero 3hrs
Driving Times From Trinidad
Approximate driving times from Trinidad are as follows:
Trinidad to Santa Clara 3hrs
Trinidad to Sancti Spiritus 1hr
Trinidad to Remedios 4hrs
Trinidad to Cayo Santa Maria 5hrs
Trinidad to Cayo Coco 5hrs
Trinidad to Camaguey 5hrs
Trinidad to Havana 4hrs
Trinidad to Varadero 4hrs
Driving Times From Santa Clara
Approximate driving times from Santa Clara are as follows:
Santa Clara to Camaguey 3hrs
Santa Clara to Remedios 1hr
Santa Clara to Cayo Santa Maria 2hrs
Driving Times From Camaguey
Approximate driving times from Camaguey are as follows:
Camaguey to Santa Lucia 90 mins
Camaguey to Bayamo 3hrs
Camaguey to Santiago 5hrs
Camaguey to Guardalavaca 5hrs
Camaguey to Trinidad 5hrs
Camaguey to Santa Clara 3hrs
Driving Times From Guardalavaca
Approximate driving times from Guardalavaca are as follows:
Guardalavaca to Holguin 1hr
Guardalavaca to Camaguey 5hrs
Guardalavaca to Baracoa 5hrs
Guardalavaca to Santiago 3hrs
Driving Times From Santiago de Cuba
Approximate driving times from Santiago de Cuba are as follows:
Santiago to Baracoa 3hrs
Santiago to Bayamo 2hrs
Santiago to Holguin 2hrs
Santiago to Guardalavaca 3hrs
Santiago to Camaguey 5hrs
Santiago to Guantanamo 1hr
Driving Times From Baracoa
Approximate driving times from Baracoa are as follows:
Baracoa to Santiago 3hrs
Baracoa to Guantanamo 2hrs
Baracoa to Guardalavaca 5hrs
Baracoa to Holguin 6hrs