A travel guide to the roads and highways (autopistas) of Cuba including links to the most scenic routes and driving times.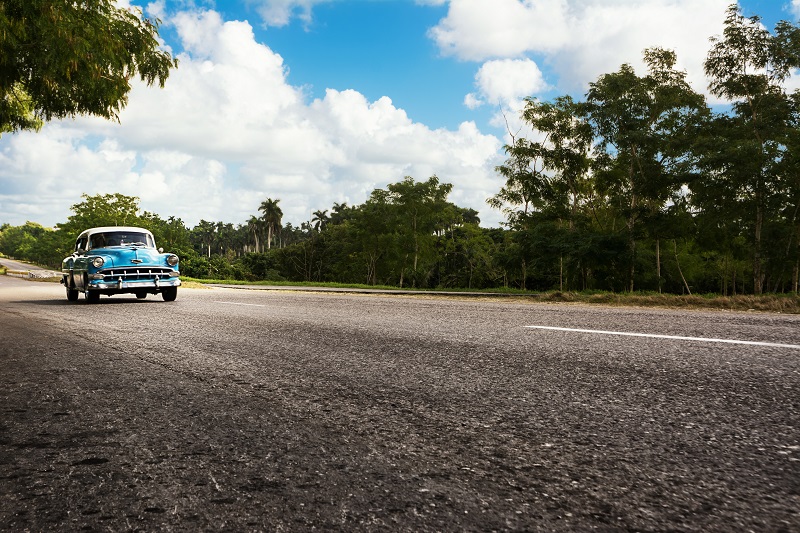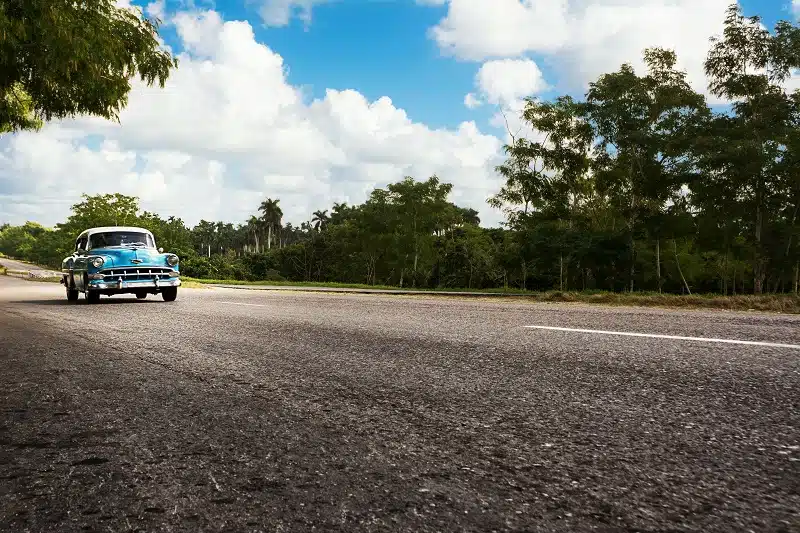 Cuba is by some way the largest island in the Caribbean, over 1000kms in length, so if you're planning on exploring the country in any depth, you'll get to know its roads and highways pretty well.
Cuba Highways / Autopista Nacional
Call them what you want – highway, motorway, expressway, autopista – but Cuba does actually have the beginnings of a highway system, known locally as the Autopista Nacional.
I say 'beginnings' because, after an initial flurry of construction in the 1970s and 80's, not a lot has happened since then. Officially, there are just over 650kms of autopista in Cuba.
The intention was, and I guess still is, for a multi-lane highway to run all the way from Pinar del Rio in the far west of the island to Guantanamo in the far east.
Heading west from the capital, the completed A4 is a two-lane highway that runs from Havana to Pinar del Rio (the provincial capital of the region) and provides relatively quick connections to the popular tourist destinations of Vinales, Las Terrazas & Soroa.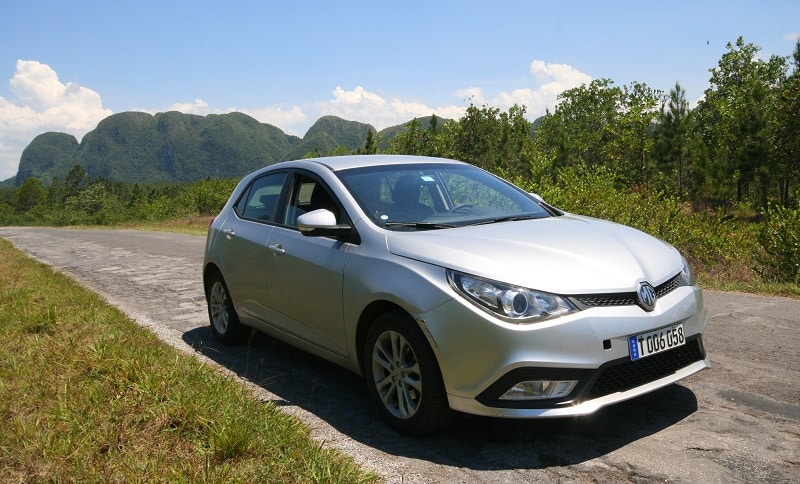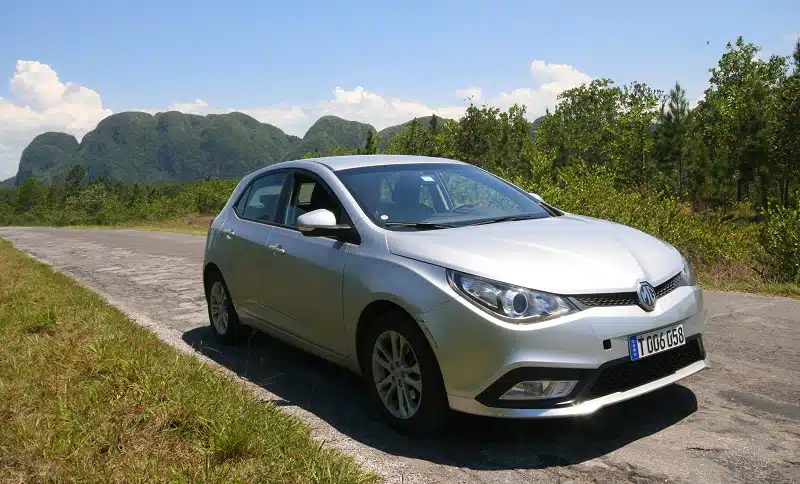 In the reverse direction, just as the A4 reaches the western outskirts of Havana (and ends without much warning!), it meets a ring road (Primer Anillo de La Habana or A2) that connects to the east of the city and the beginning of the A1 stretch of the Autopista Nacional.
The A1 is, as far as the city of Santa Clara, a 6-lane highway. Beyond Santa Clara, it soon narrows to a single lane before coming to a juddering halt altogether at Taguasco.
The A1 doesn't then reappear until shortly before Santiago de Cuba, itself only a 50kms stretch, followed by another, equally short stretch of highway between Santiago & Guantanamo.
Carretera Central
Before work started on the Autopista Nacional, one could drive the length of the island, all the way from Pinar del Rio to Baracoa, taking the single lane Carretera Central.
From Pinar del Rio in the west, as far as Havana, the Carretera Central essentially runs parallel to the A4 highway, sometimes running to the north of it, sometimes to the south.
East of Havana, it runs someway to the north of the A1 autopista, via Matanzas and Santa Clara before meeting up with the A1 at Cabaiguan, just north of Sancti Spiritus(pictured below)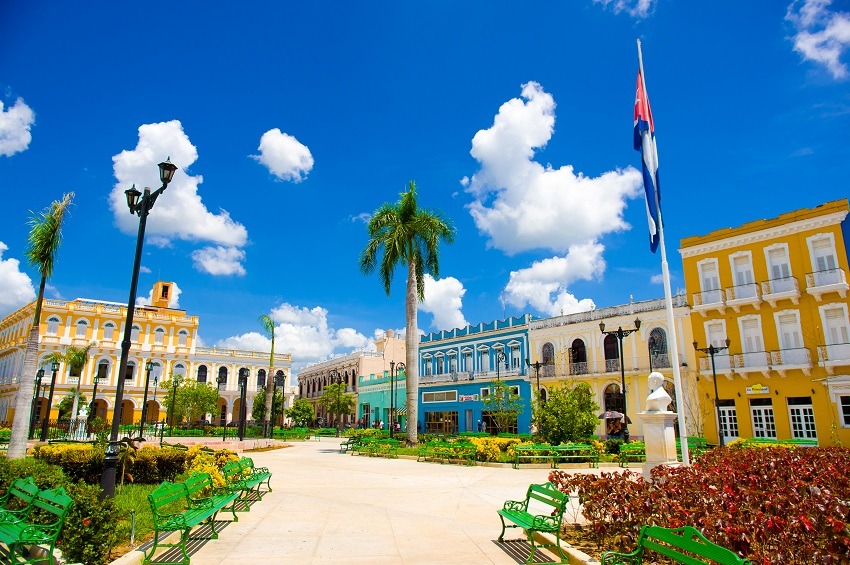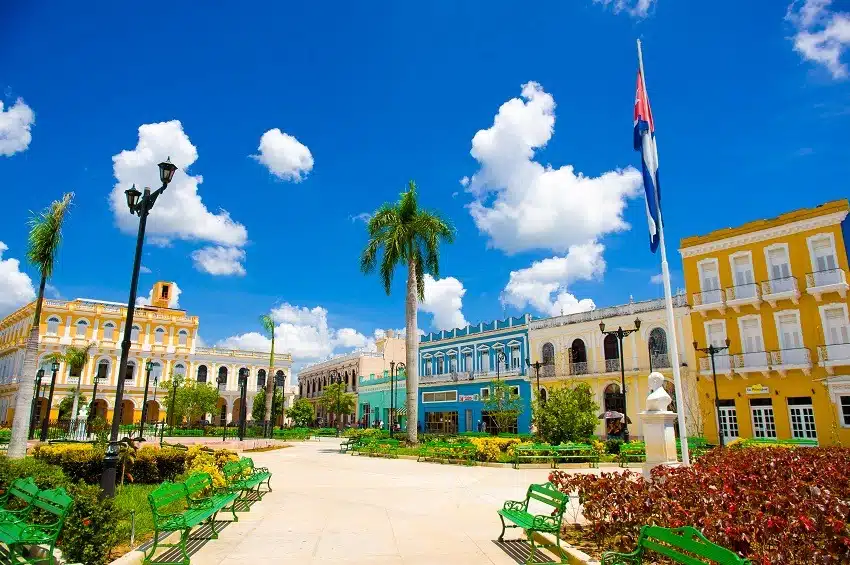 At this point, because the A1 comes to an end just east of Cabaiguan, anyone with plans to continue heading east will have no option than to take the Carretera Central.
From Sancti Spiritus, the Carretera Central heads east through Ciego de Avila, Camaguey, Las Tunas, Holguin, Bayamo, Santiago de Cuba and on to Baracoa. (It is worth pointing out however that, from Las Tunas to Bayamo, there is a more direct route on the 152).
Advice: While avoiding highways might sound appealing, taking the Carretera Central from Havana to Santa Clara takes a good 6 hours, twice as long as the A1 autopista, and really isn't worth it.
Other Cuban roads of note
Clients travelling as part of a small group tour, or on an independent, tailor made itinerary with pre-booked transfers, will generally gravitate to Cuba's main roads and highways.
There are however a number of roads / routes that, for those with a bit more time on their hands, and especially those with their own wheels, are well worth seeking out. If driving between Havana & Varadero along the Via Blanca, you'll cross over the Bacunayagua Bridge, the tallest in Cuba at over 110 metres above the valley floor.
Rather than list them here, we would suggest visiting our previous feature on the Best Drives in Cuba.
In a similar vein, we would also recommend our features on Driving Times in Cuba & Bus Travel in Cuba.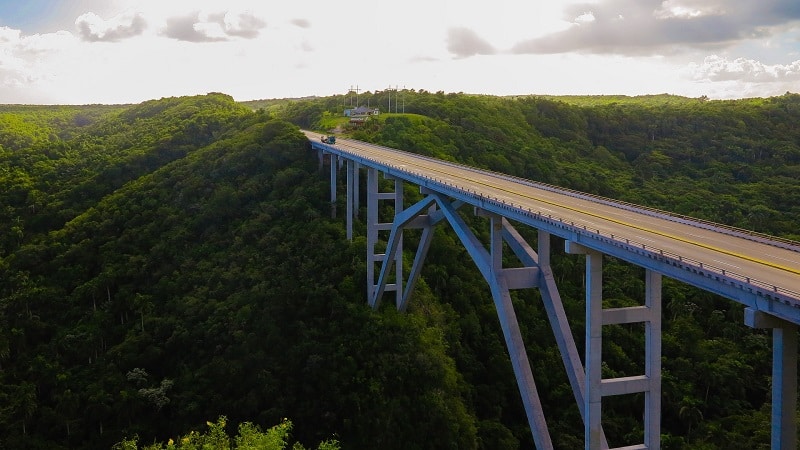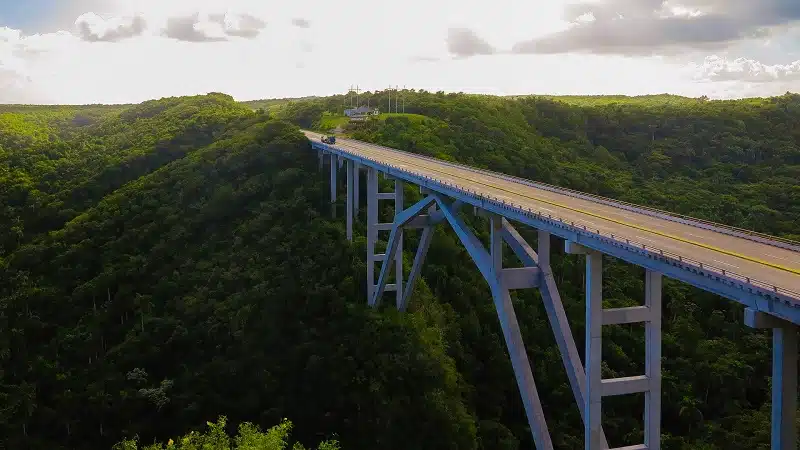 What to expect on Cuban roads
As far as the Autopista Nacional is concerned, if your definition of a highway, motorway etc is simply a multi-lane road then, ok, box ticked.
Lane markings are generally absent, pot-holes can't be discounted and there don't appear to be any rules (none that are enforced at least) about who can use the highway – don't be surprised to share the road with cyclists and even horse-drawn-carriages.
More than making up for these mere quibbles, one of the great joys of travel within Cuba is the near total absence of traffic on the roads. Even on the autopista between Havana & Santa Clara, don't be surprised (or alarmed) if there isn't another car in sight, either ahead or behind.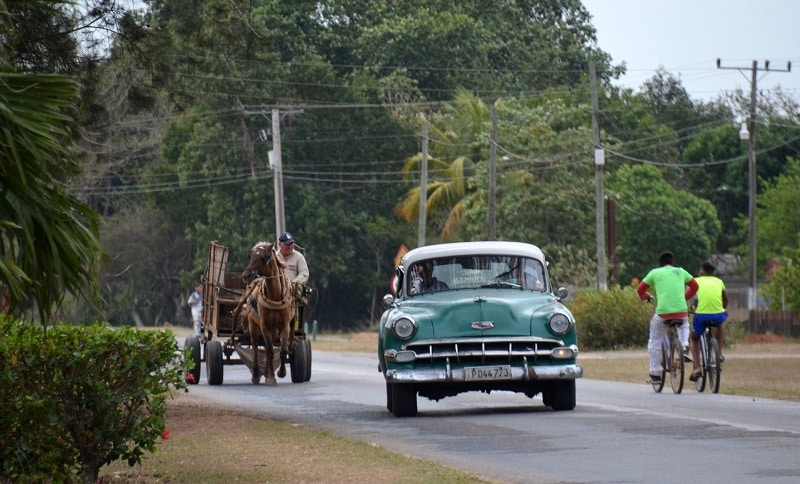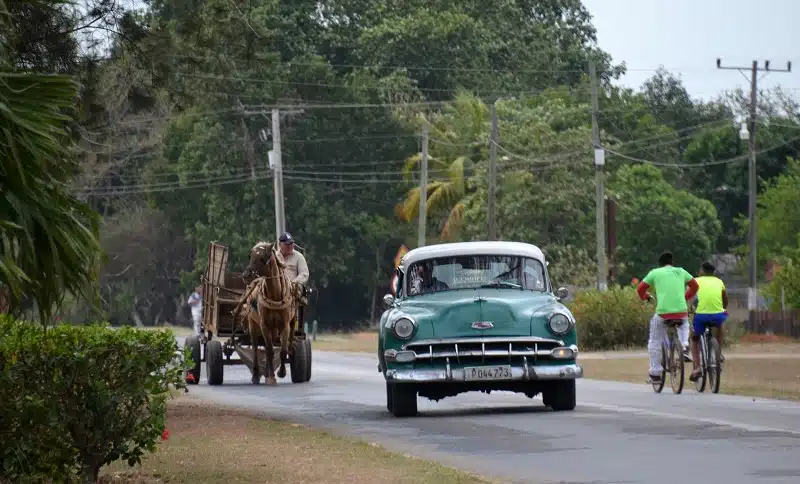 On both stretches of the Autopista Nacional, the A1 & A4, there are occasional petrol stations and rest stops / restaurants (not necessarily together). Facilities are limited so, if you're driving a long distance, it's best to stock up on water and snacks before you set off.
Cuba's minor roads (including the Carretera Central) are no busier than the Autopista Nacional but, while traffic is incredibly light, passing through small towns and villages, as well as keeping a look out for cyclists, animals, children etc will seriously temper your speed. Don't expect to get anywhere in a hurry.
What not to expect on Cuban roads
The one thing you definitely shouldn't expect on any Cuban roads are road signs.
Ok, the vast majority of Cubans don't travel far from home or, if they do, know where they are going. Tourists need rather more help, especially as road maps of Cuba (the old fashioned, paper versions) are both hard to come by and somewhat lacking in detail.
With the internet and mobile reception also posing a problem right across the island (see our feature on Wifi in Cuba) we also strongly recommend downloading offline maps to your mobile or tablet before arriving in Cuba.
Planning a Cuba road trip
At Beyond The Ordinary, we have been visiting Cuba since the mid 1990s and, while we would never claim to know every inch of tarmac on the island, we think we've covered a fair bit of it.
Whether you prefer to lean on someone else to get you from A to B, or prefer the freedom of driving yourself, we can help with the arrangements.
To start planning your ideal Cuba road trip, either give us a call on 01580 764796 or drop us an email on travel@beyondtheordinary.co.uk