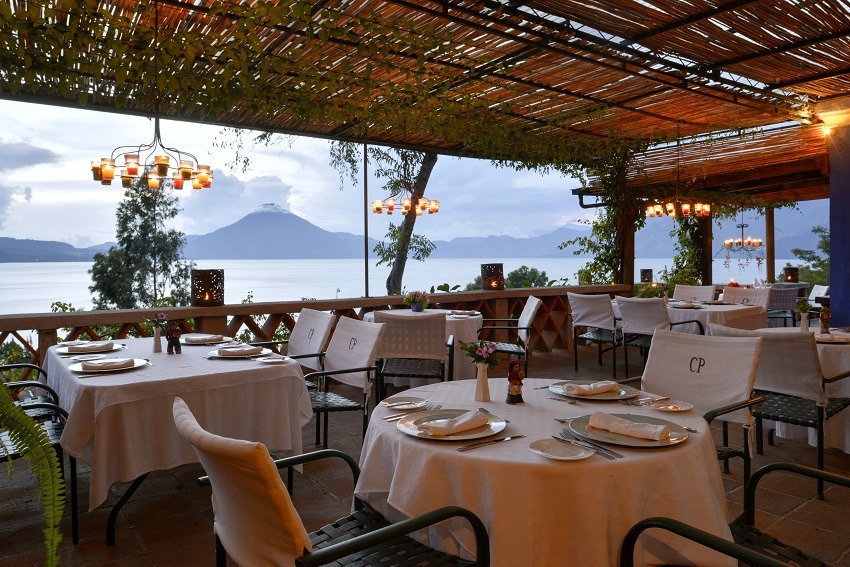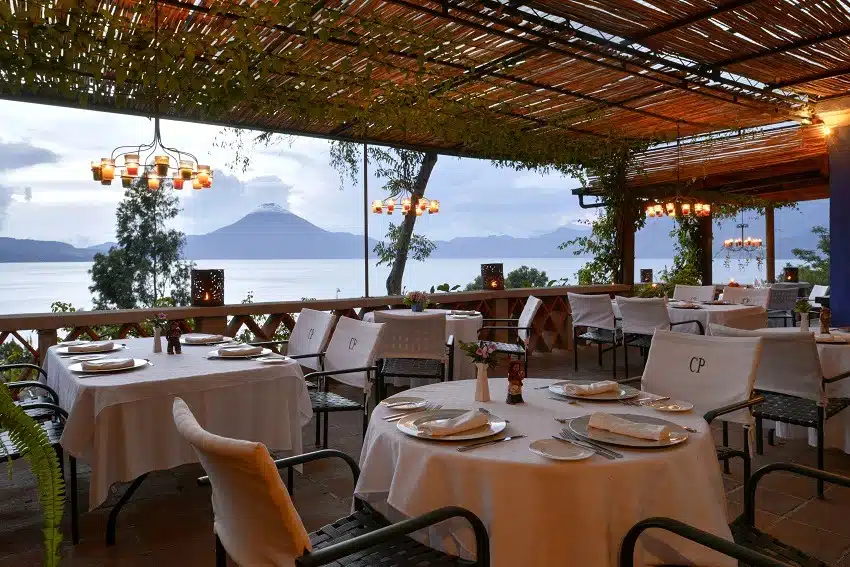 Everyone likes a hotel with a view and, when it comes to Guatemala, visitors are truly spoiled for choice with all manner of spectacular vistas.
So, without further ado, here is our guide to some of the best hotel views in Guatemala.
Hotels with a view at Lake Atitlan
Widely regarded as one of the beautiful lakes in the world, it would seem almost criminal to travel all that distance and then end up at staying at a hotel with a view of a wall or car park.
Many hotels in and around Lake Atitlan advertise lake views although it should be noted that not all views are created equal.
With two of our featured hotels, the views on offer are truly exceptional.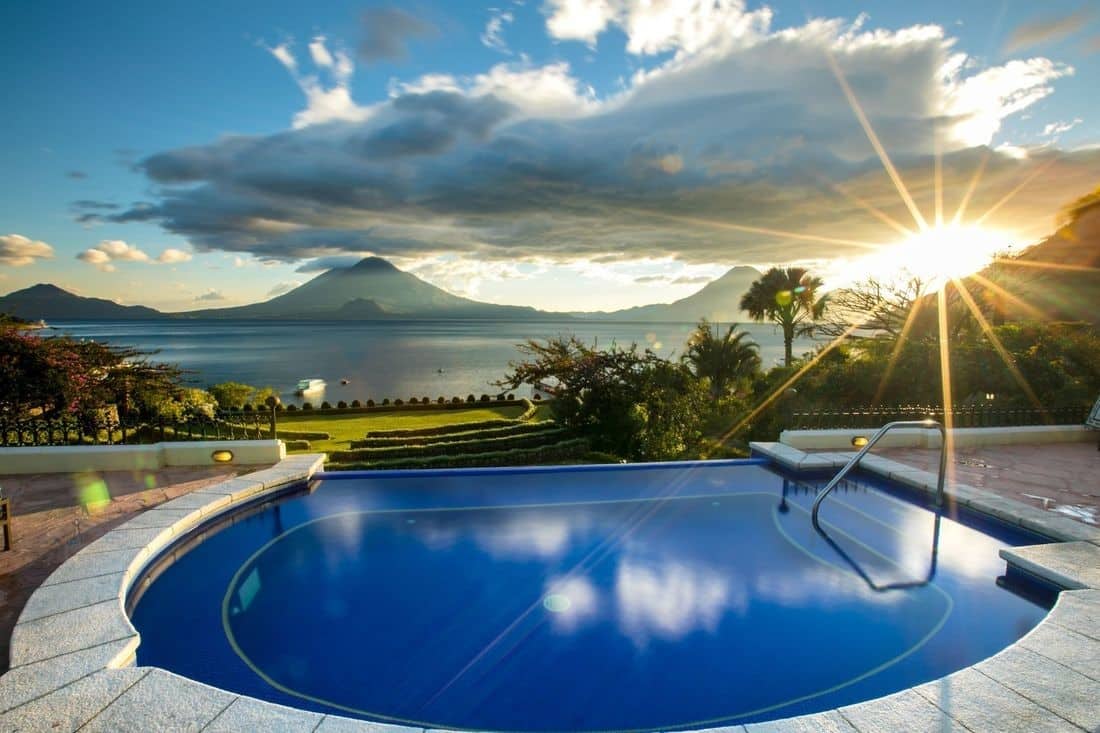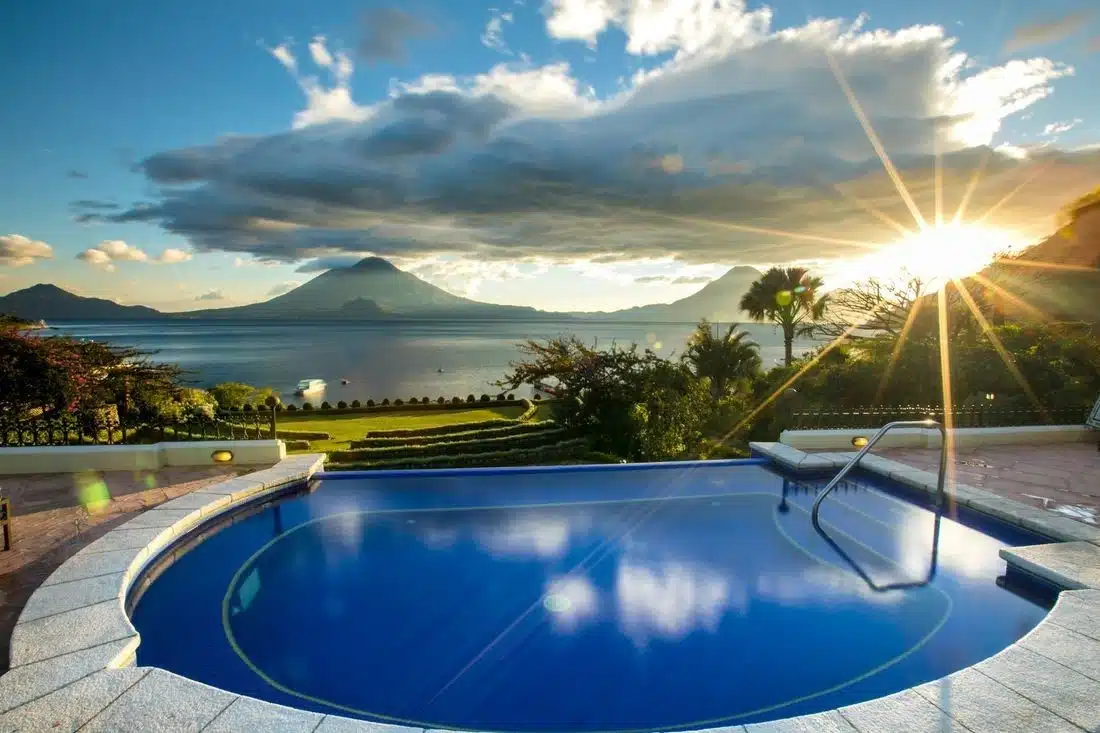 The Hotel Atitlan (pictured above) enjoys perhaps the best location, setting and lake views of any hotel in the area. Whether you are relaxing on your room's balcony, exploring the beautiful gardens that lead down to the lake, paddling around the swimming pool or tucking into breakfast at the restaurant, guests are guaranteed superb, panoramic views of the lake.
Nearby, Casa Palopo is one of the most luxurious hotels in all Guatemala and also boasts superb views of Lake Atitlan. With the main building set on the side of a steep ravine, the views from the pool and restaurant in particular are spectacular, to the extent that you really won't want to leave. For the ultimate view of both the hotel and lake, you can even travel to Casa Palopo by helicopter.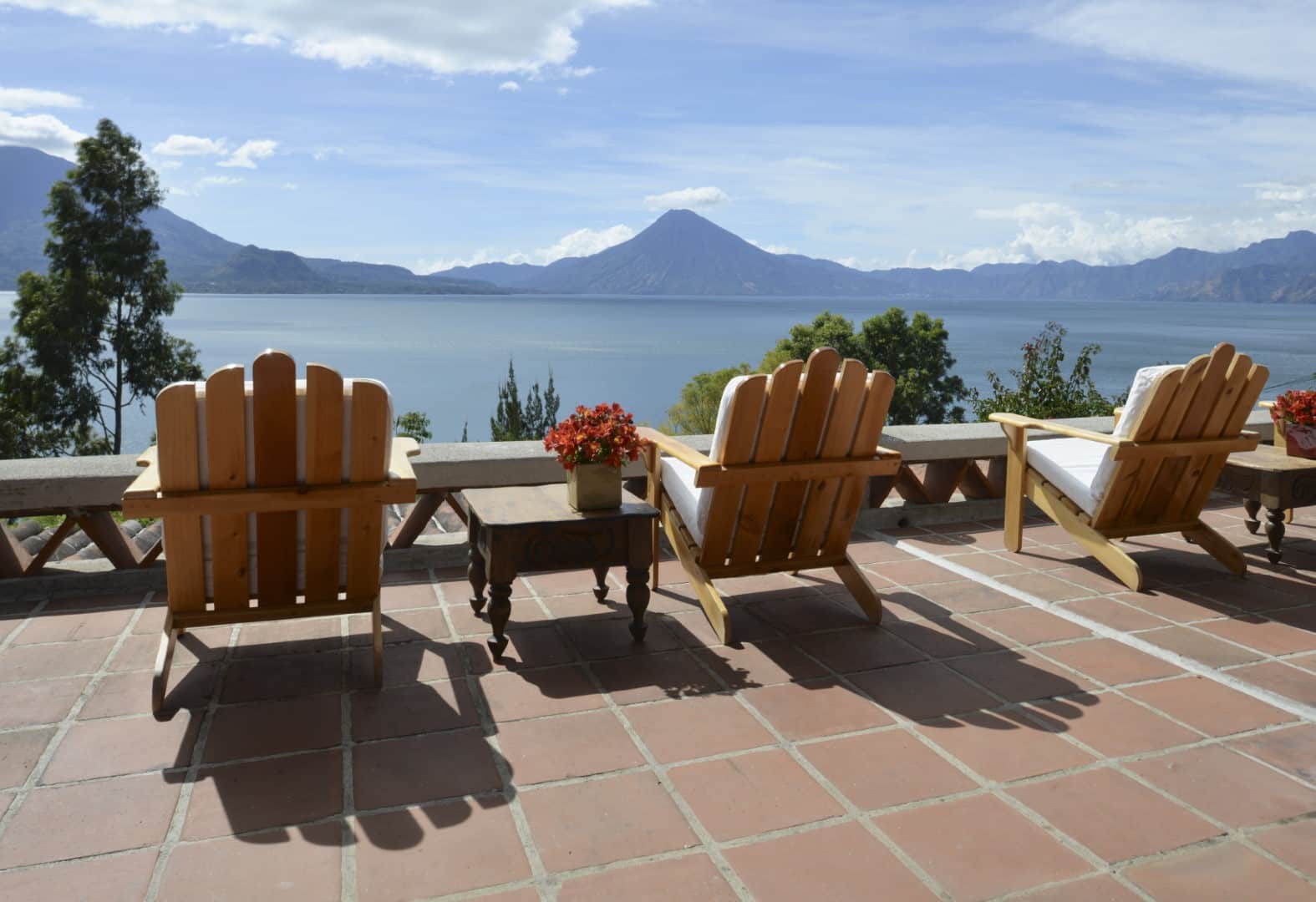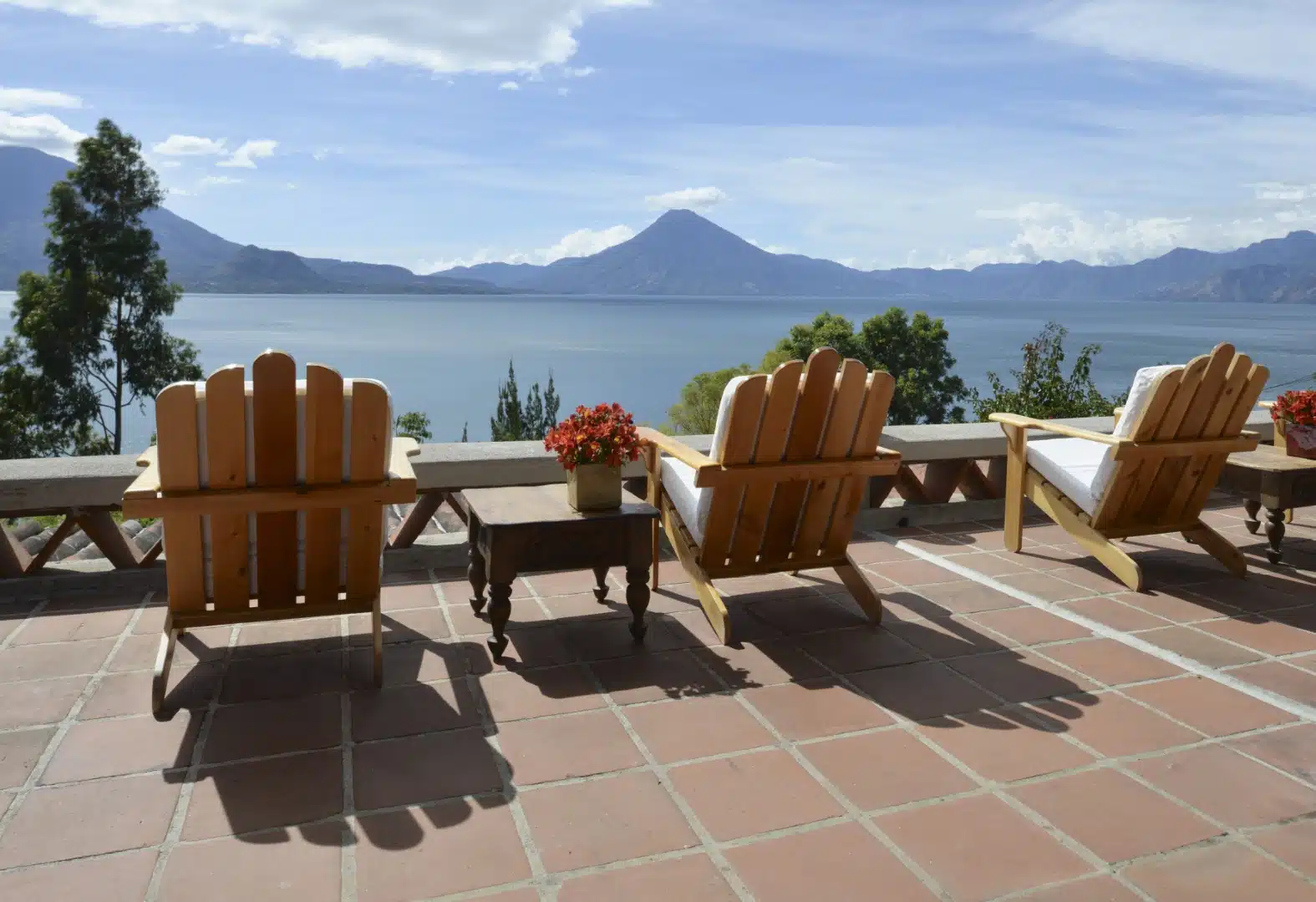 Rooms with a view in laidback Livingston
Famous for its Garifuna culture and for the fantastic boat journeys in and out of town (specifically the journey along the Rio Dulce), Livingston is less highly regarded for its accommodation options.
The best hotel in town is the modest Hotel Villa Caribe but, while it might lack sophistication and any top end facilities, its location, right on the waterfront, does mean that it offers some of the best views of any hotel in Guatemala.
Within the extensive gardens leading down to the waterfront there are a number of hammocks where guests can settle back and enjoy the views in peace and quiet. Alternatively, for more far reaching views, be sure to book one of the bungalows which offer direct views out to sea.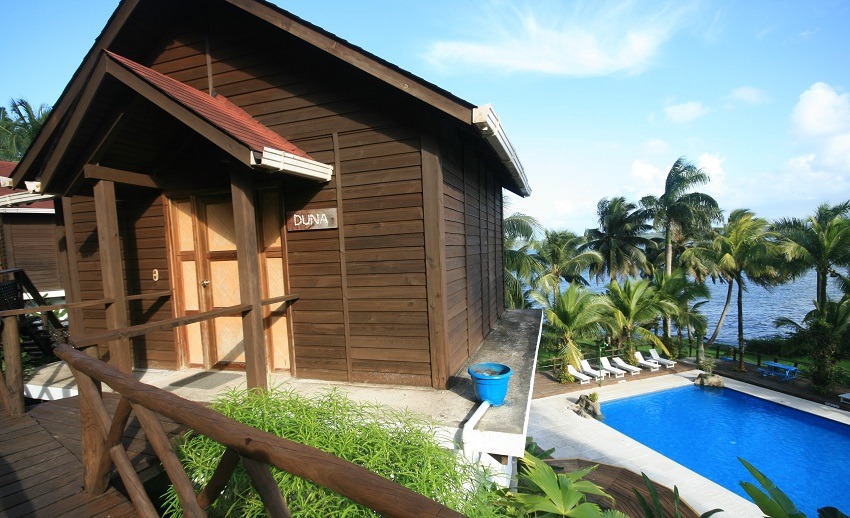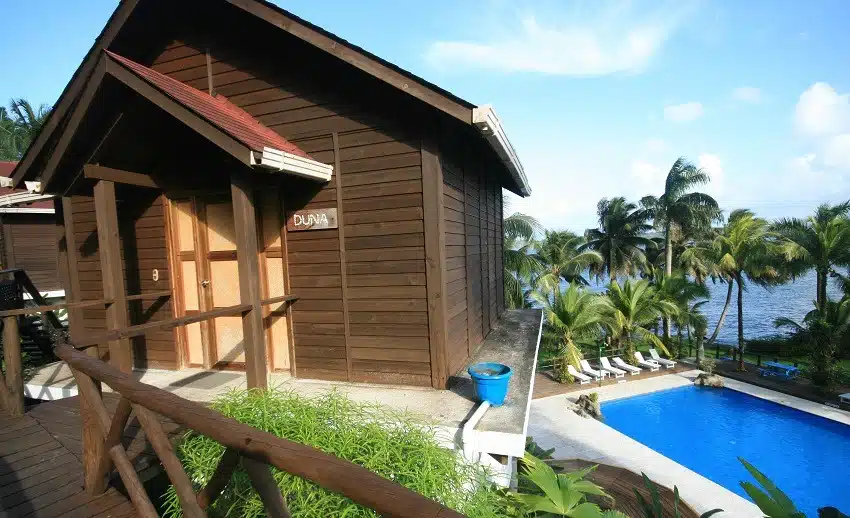 Lake views in and around Flores & Lake Peten
The vast, lowland region of Peten in northern Guatemala is principally famous for the numerous, great Mayan cities such as Tikal, Yaxha and Mirador.
Most visitors to the area base themselves in or around the main town of Flores where there are a number of hotels with beautiful views over Lake Peten.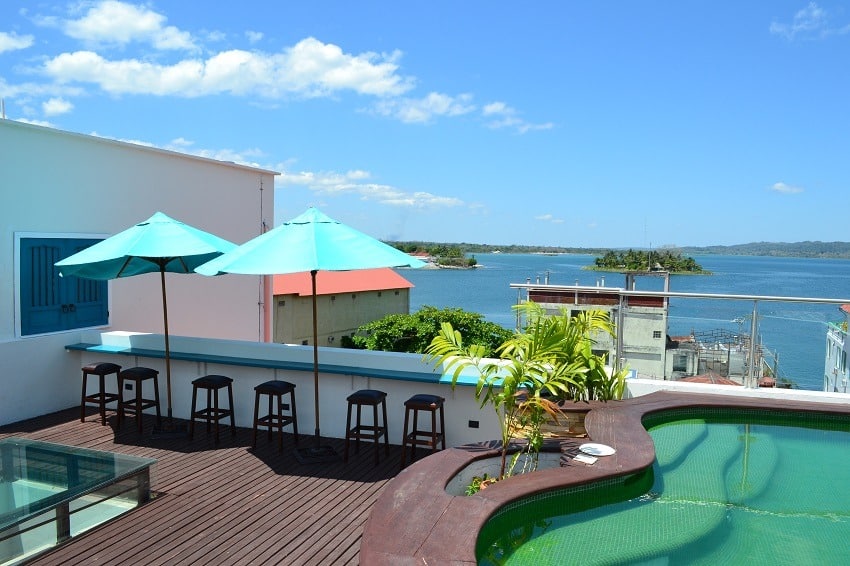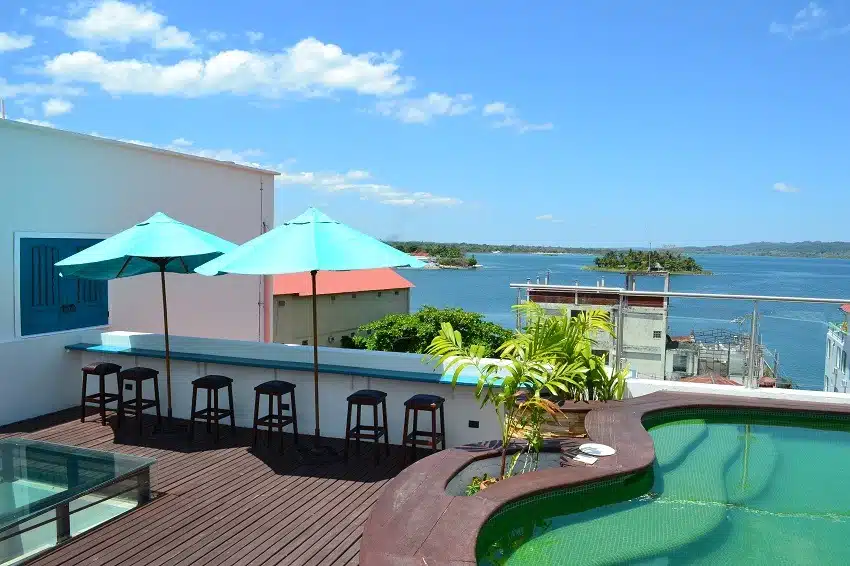 On the actual island of Flores, hotel options are surprisingly limited. The best hotel on the island is the Hotel Isla de Flores (pictured above) but, if you want a view, you'll need to head to the rooftop. The sunset views from the roof are particularly impressive.
Alternatively, on the either side of the causeway, and looking back directly over both the island and Lake Peten is the simple but comfortable Hotel Maya Internacional. The views over the lake to the front are charming, the shopping mall and parking lot to the side less beguiling.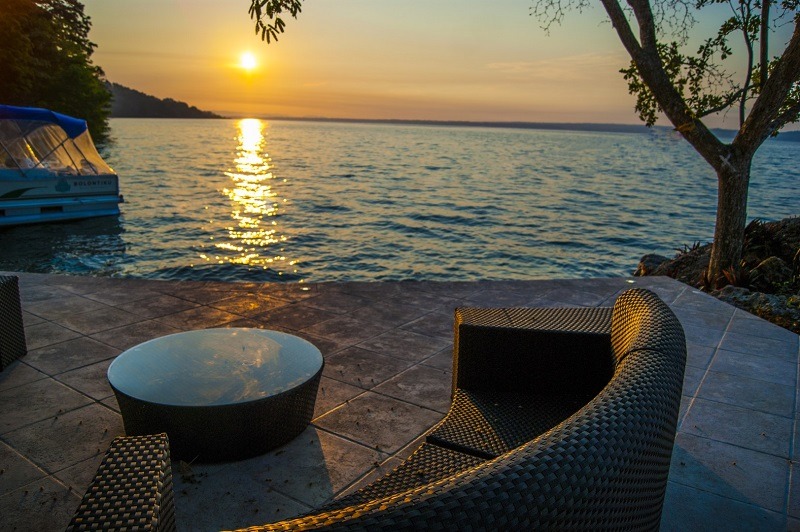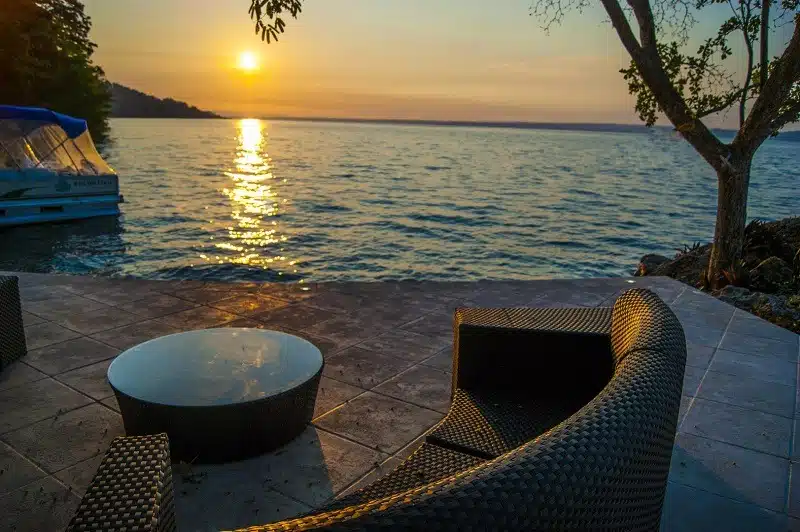 The hotel with the best view of Lake Peten is probably Bolontiku Hotel, (pictured above) a delightful, lakefront hotel about 30 minutes from Flores by boat. All rooms, together with the hotel's swimming pool and restaurant face directly onto the lake.
However, even these views are trumped by those at the luxurious, Las Lagunas Hotel (pictured below). Located a short drive from Flores, and located within in its own private eco-reserve, accommodation at the hotel consists of a small number of over-water wooden bungalows with stunning views of the lake.
Other hotels with views of Lake Peten include Hotel La Casona del Lago (also by the causeway in Flores), the Hotel Camino Real Tikal (at the far eastern tip of Lake Peten) and nearby La Lancha, owned by US film director Francis Ford Coppola.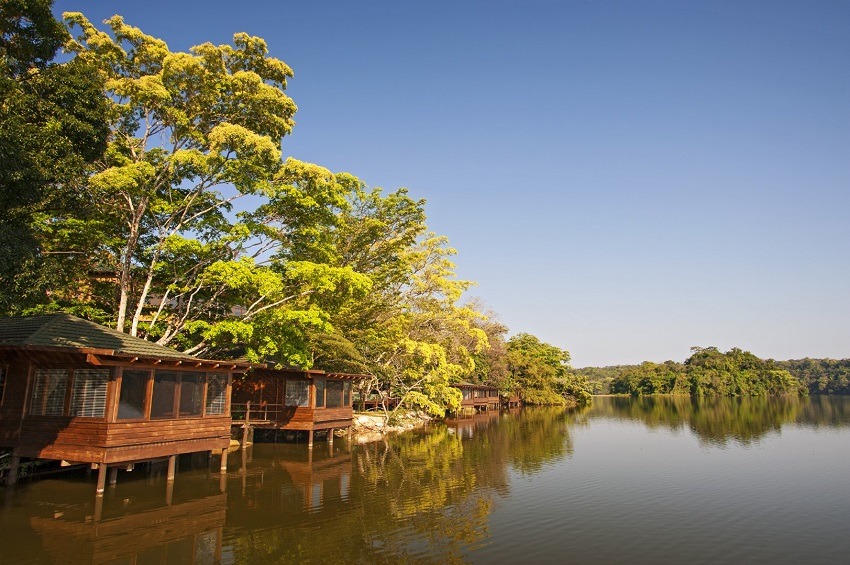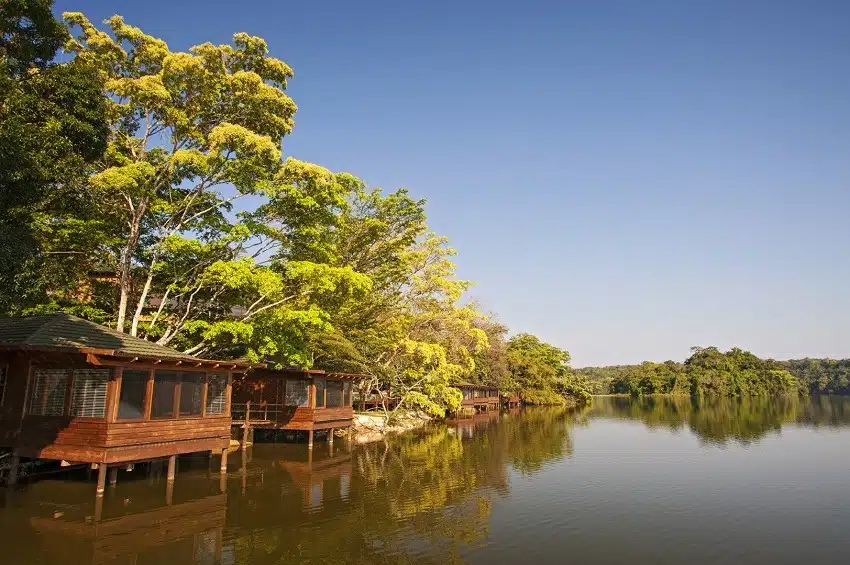 Rustic hideaway views
Approximately ninety minutes' drive from Flores, the small town of Sayaxche is the jumping off point for the boat trip to beautiful Laguna Petexbatun and the ruined Mayan city of Aguateca.
Although it is possible to visit the area on a day trip, the Chiminos Island Lodge will appeal to those looking to get off the main tourist trail, with rustic bungalows enjoying direct views over the lake.
Birdlife is plentiful and varied on the lake and, with no nearby towns or roads, it's incredibly peaceful and relaxing.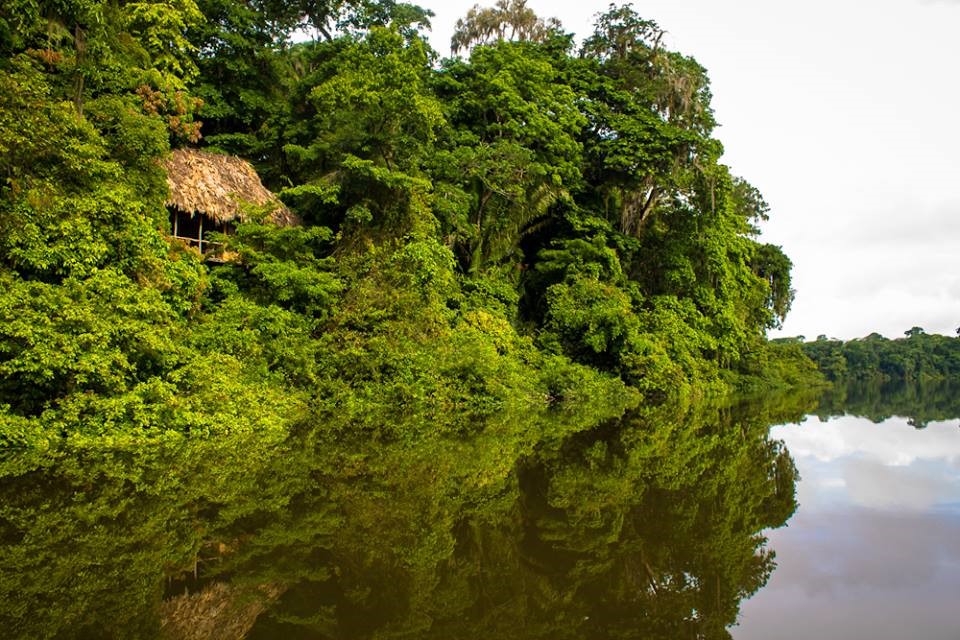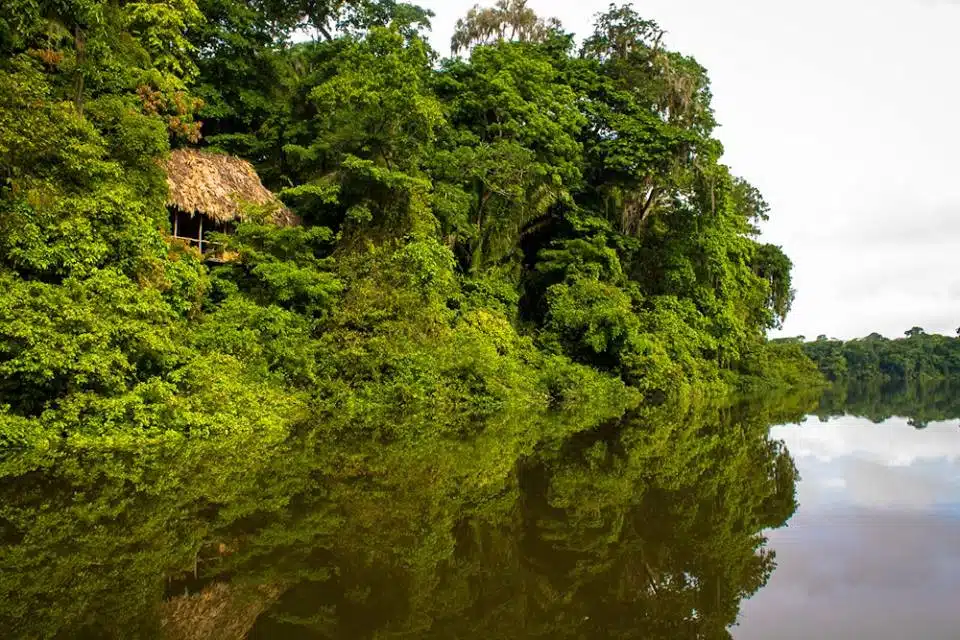 Alpine views in Guatemala
Thus far, you'd be forgiven for thinking that the only hotel views of note in Guatemala involve water in some way.
So, for a change of tack, our next hotel with a view is the Hacienda Mil Amores, a rustic farmstead high up in the Ixil Triangle, one of the remotest and most traditional regions of Guatemala.
After a long, and sometimes bumpy drive, visitors will suddenly find themselves driving through a beautiful, alpine-esque valley that would not look out of place in Austria or Switzerland, complete with dairy cows and white, picket fences.
Perched on one side of the valley, the Hacienda Mil Amores consists of the main house together, higher up the hill, with a number of individual cabins that provide the hotel's accommodation and bucolic views.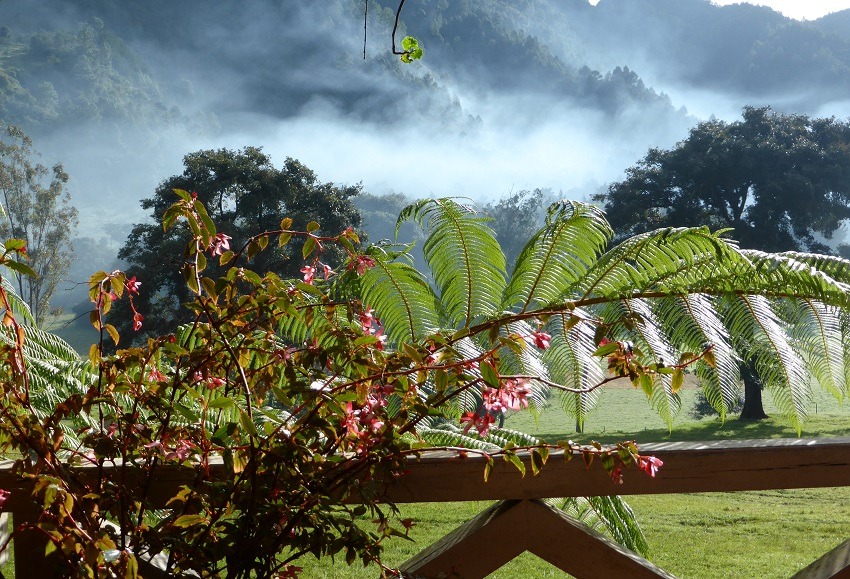 Who doesn't lava volcano view?
Guatemala is famous for its countless volcanoes and bagging a view of one from your hotel room, bar or restaurant isn't something you'll ever forget.
Such volcano views are to be found at both our aforementioned hotels in Lake Atitlan but, for the most spectacular volcano views of all, not to mention something a bit different, why not experience a night glamping?
Located just a short drive from historic Antigua, far reaching views of distant volcanoes and star-filled skies are combined with luxurious tents, delicious meals, a well-stocked bar and new friends.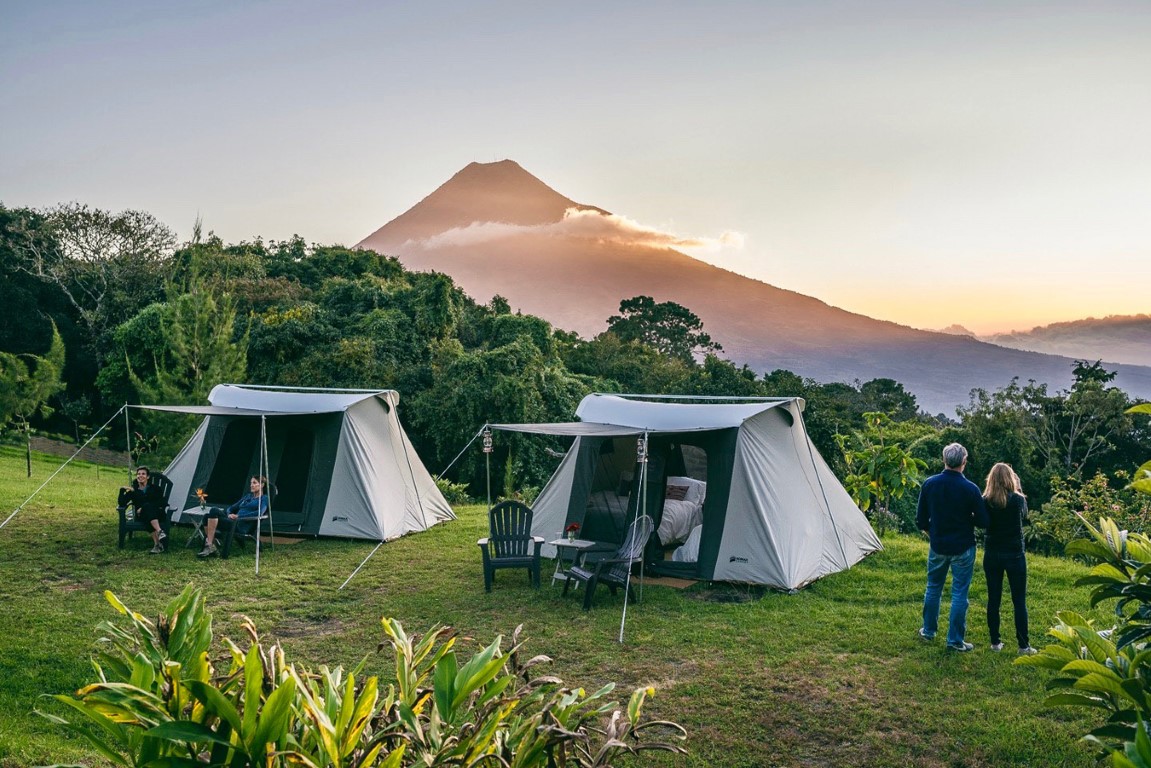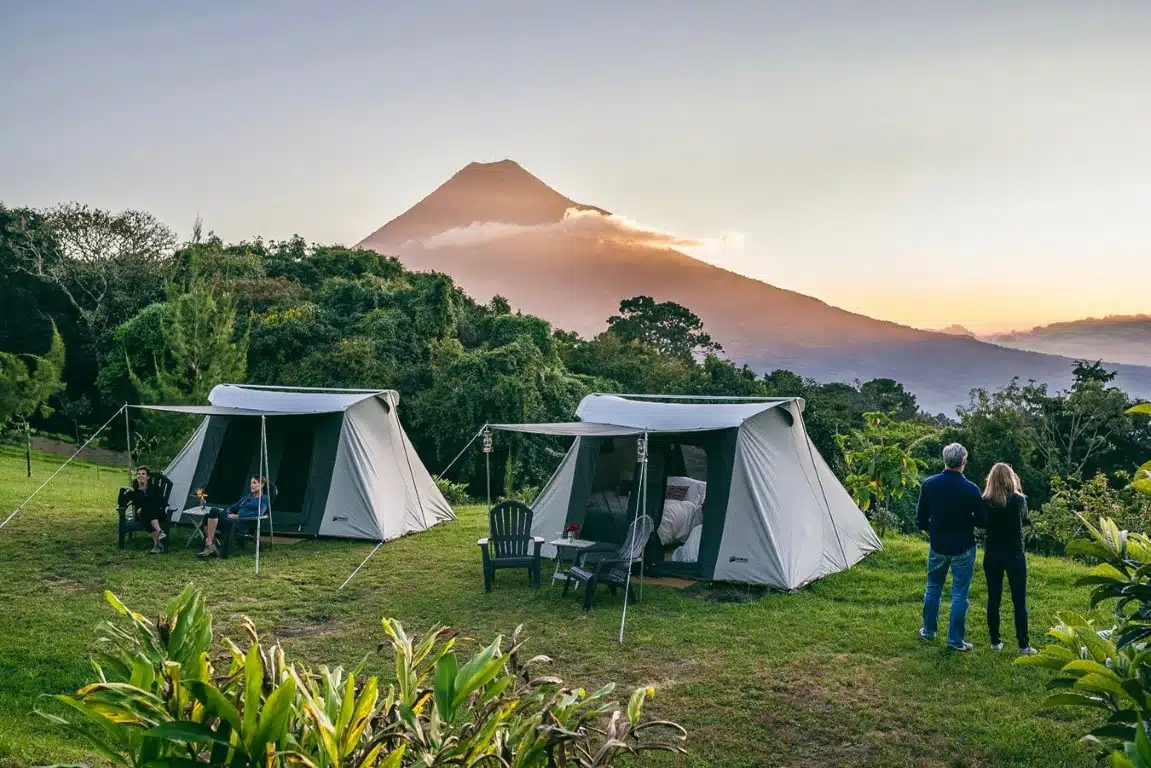 Semana Santa procession views in Antigua
No holiday to Guatemala is complete without spending time in the historic, UNESCO World Heritage town of Antigua.
For those visitors lucky enough to be in town during Semana Santa (Easter Week), not only will they be able to take in Antigua's numerous historic sites and atmospheric ruins, but also to witness the daily procession of vast religious floats through town, all part of one of Latin America's truly great religious spectacles.
What does this have to do with hotel views? Well, for guests staying at the Palacio de Dona Leonor, many processions pass along the street next to the hotel and, as many of the hotel's first floor rooms face directly onto said street, well, that's another truly memorable view to chalk up to the list.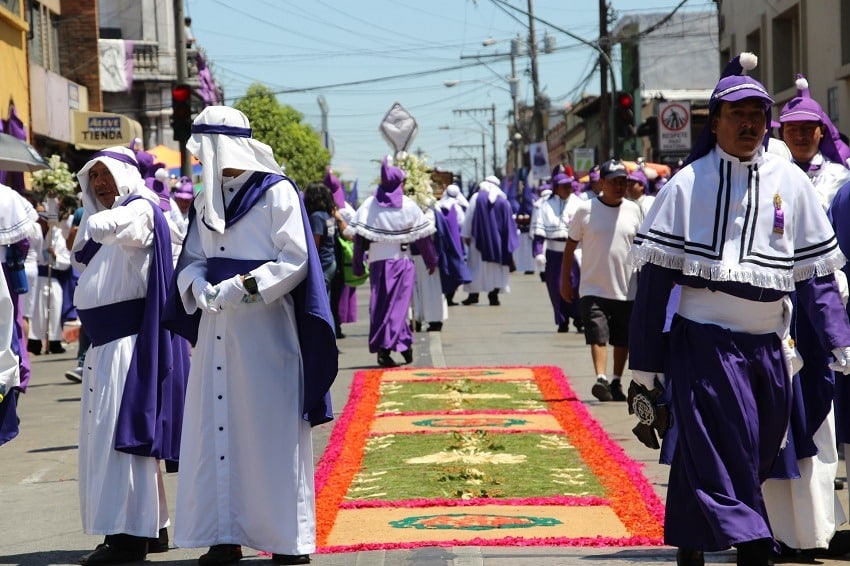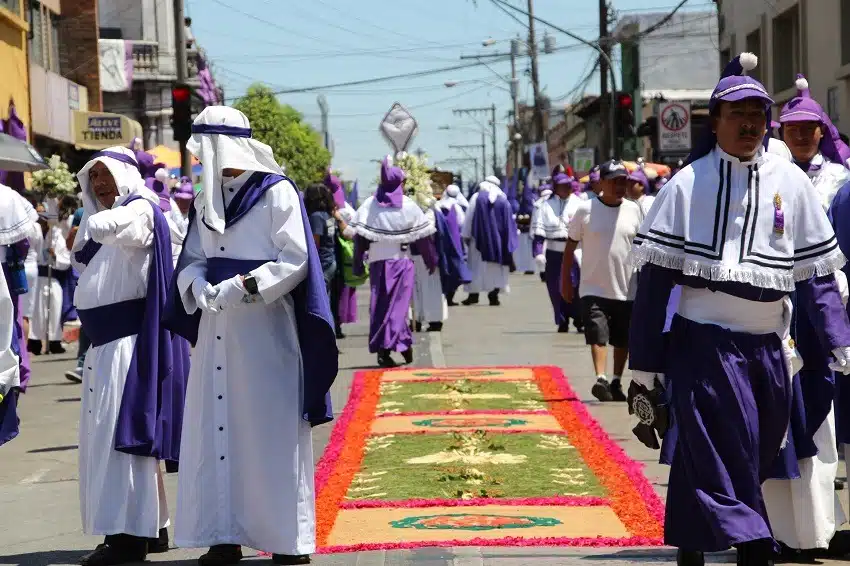 Rooftop views in Antigua
For those who aren't lucky enough to visit Antigua during Semana Santa, what are the alternatives for a great view?
In truth, they are quite limited. Many buildings in Antigua, both old and faux colonial, follow the traditional architectural style of facing inwards, ie non-descript, bare walls on the exterior disguise more lavish interiors, often with beautiful internal courtyards.
While undoubtedly stylish, atmospheric and in keeping with their surroundings, it does mean that the vast majority of hotels in Antigua are largely viewless.
If having a view is important to you, the thing to look out for is hotels with a roof terrace, such as Casa Encantada.
These spaces will generally be taken up by communal seating, dining areas etc rather than rooms but the views over the tiled rooftops of Antigua, with yet more volcanoes in the distance, are a welcome feature.