Mexico / Travel
Mexico Beaches
Beaches of the Yucatan Peninsula
While the primary focus of our holidays to Mexico's Yucatan Peninsula is very much on touring and exploring, many of our clients will want to end (or begin) their stay with a few days relaxation at the beach.
Before going into any detail about individual beaches, let's start with some broad-based information about the region.
In very simple terms, the Yucatan Peninsula is square shaped. The southern (bottom) side of this square comprises Mexico's land border with Guatemala. The western (left) and northern (top) side of the square are both coastlines facing the Gulf of Mexico. The eastern (right) side of the square is also coastline, this time facing onto the Caribbean.
The vast majority of visitors to the Yucatan Peninsula fly into and out of Cancun, which is located towards the top of the east coast.
Running due south from Cancun, almost all the way to Chetumal near the Belize border, are mile after mile of beautiful, sandy white beaches. However, the very best of these beaches are located between Cancun and Tulum.
Just off the Yucatan's east coast are two islands, Isla Mujeres and Cozumel, which also have (some) great beaches.
The north coast has much less in the way of picture-postcard beaches and, for now at least, is much less developed. Currently, the only beach destination of any note is the small island of Holbox.
The west coast too lacks the palm trees and white, sandy beaches of the Caribbean coast. There are half-decent beaches, with accommodation, near both Celestun & Campeche.
Cancun
Visiting today, it's hard to comprehend that at the start of 1970 Cancun had a population of three. Yup, that's right, just three people lived in Cancun.
Identified by the government as the ideal destination to grow tourism, that is exactly what has happened over the last fifty years. Cancun is now a city as much as a beach resort as well as being home to one of the busiest airports in Latin America.
The beach, located in what is referred to as the Hotel Zone, is actually a small island, connected to the mainland at either end. While there is no questioning its natural beauty, pretty much the entire length of Cancun beach is now taken up by vast hotels that blend in with precisely nothing except, perhaps, each other.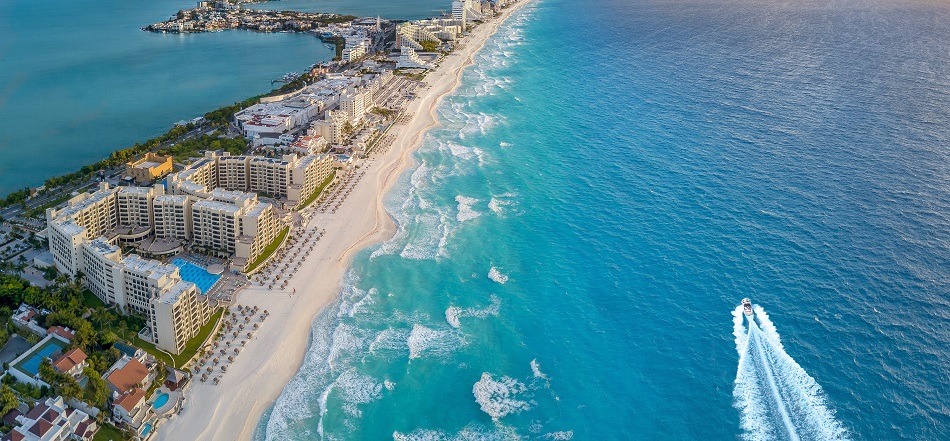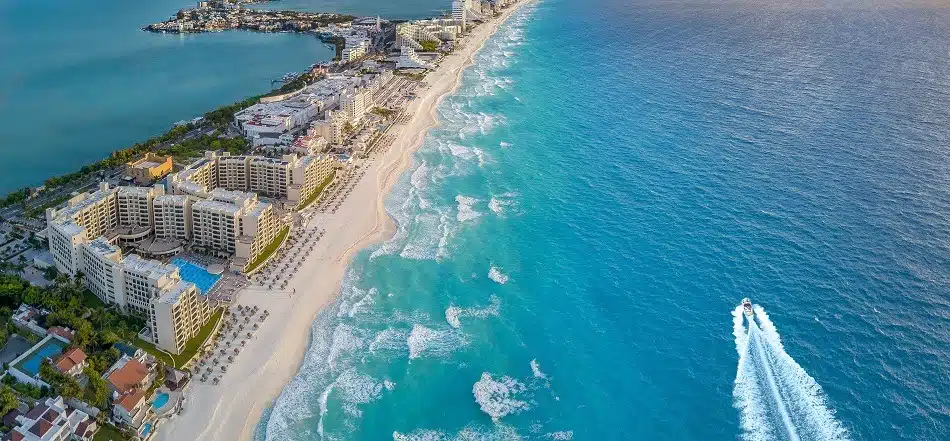 The Riviera Maya
The name 'Riviera Maya' is a modern, tourist construct, and simply refers to the stretch of coast running south from Cancun.
That said, there doesn't seem to be an agreed definition on where the Riviera Maya ends. Some say it only runs as far as Playa del Carmen, others say it goes all the way to Punta Allen.
For the sake of simplicity, and to avoid duplication, we define the Riviera Maya as running from Cancun to just before Tulum.
Along this entire stretch of coast, you will find nothing but idyllic beaches. Of course, there are different levels of development and commercialisation but the sand remains powdery white and the sea beautiful hues of blue.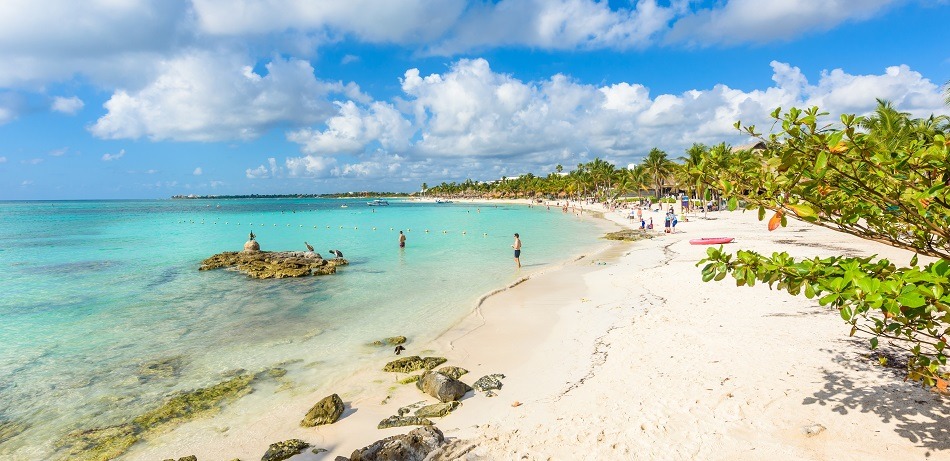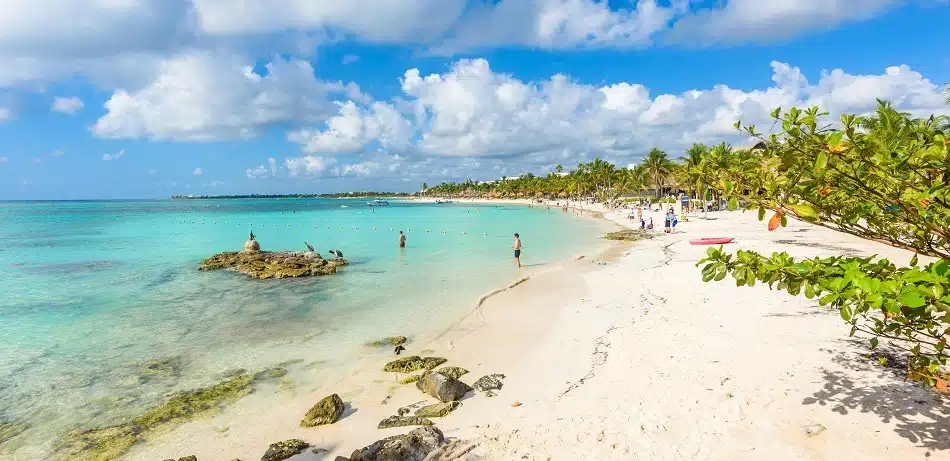 Puerto Morelos
There are very few towns and villages along the Yucatan Peninsula's east coast, with Puerto Morelos being one of the few exceptions.
Located just over 20 miles south of Cancun, this tiny town is located directly on a beautiful stretch of beach and, whereas the vast majority of the east coast is given over to hotel development, sleepy Puerto Morelos is dominated by holiday homes and apartments.
Accordingly, there are very few beach hotels within walking distance of the centre of Puerto Morelos, itself no more than a spattering of friendly, laid-back bars, restaurants and shops.  One of the few exceptions is the Hotel Ojo de Agua which, although modest in terms of standards and facilities, is the cheapest hotel that we know of with a beachfront location.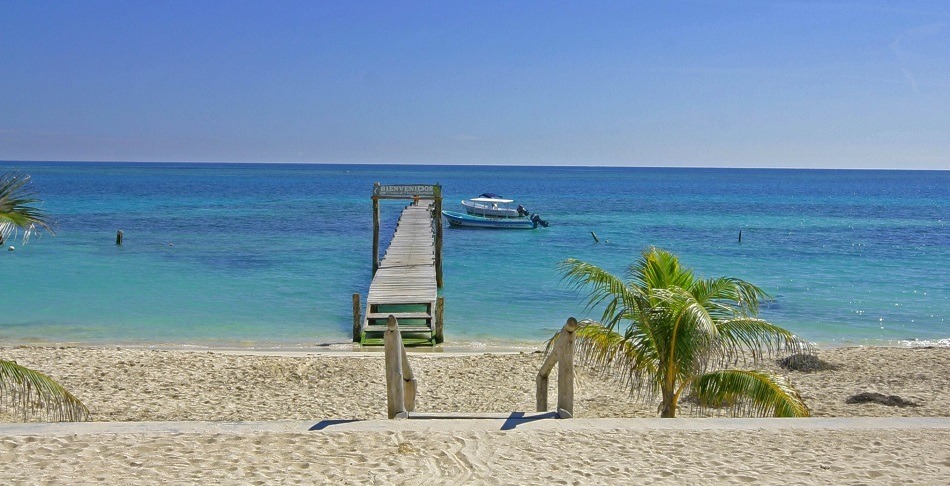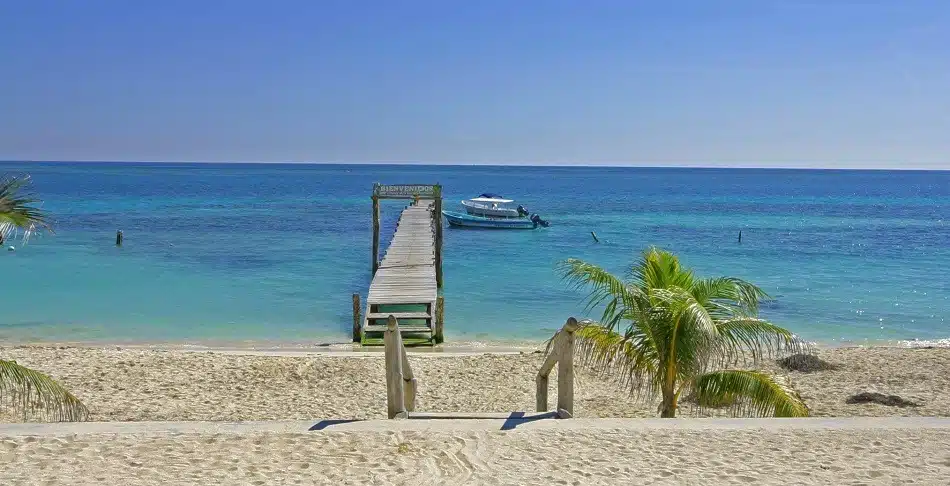 Playa Maroma
Located roughly halfway between Puerto Morelos and Playa del Carmen, Playa Maroma has a reputation as being amongst the most beautiful of beaches along the Riviera Maya, perhaps even in Mexico itself.
For this reason, most hotels along its beach will use Maroma in their name, such as two of our featured beach hotels, the luxurious Belmond Maroma Resort and All Inclusive Catalonia Playa Maroma.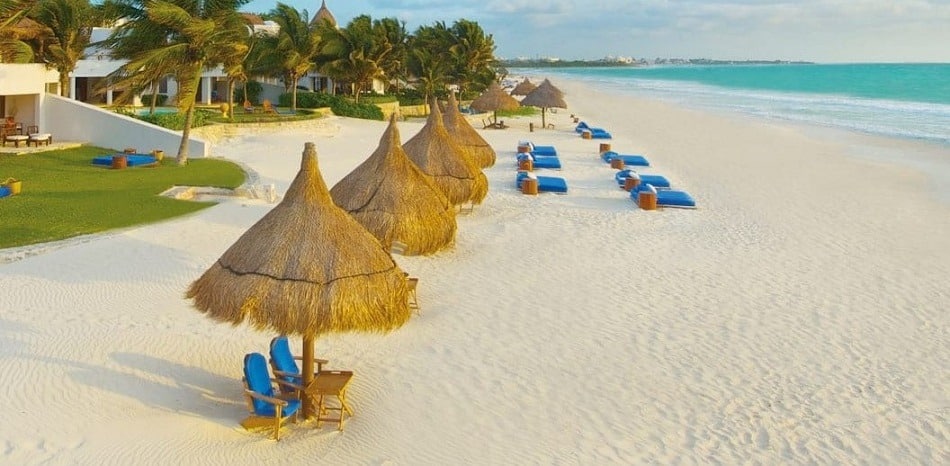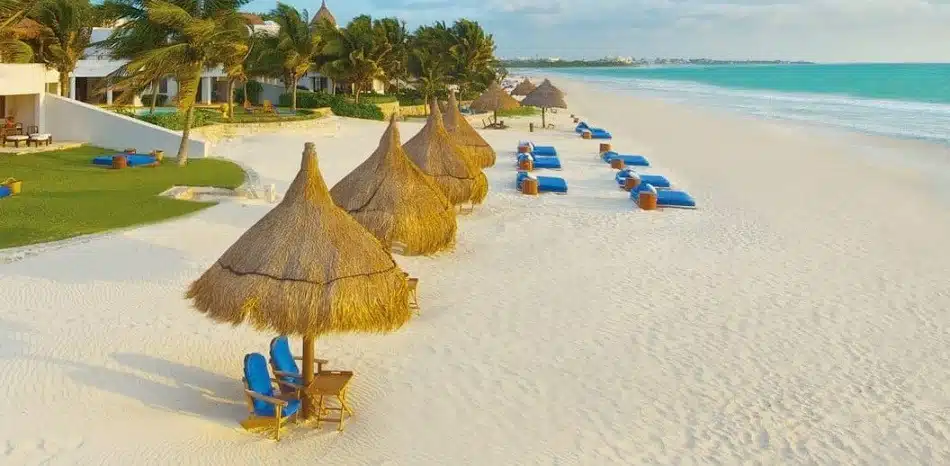 Playa del Carmen
The Playa del Carmen that we first visited in the late 1990s, while no longer the traveller hangout of lore, was sufficiently homely that most visitors still congregated at the Blue Parrott for post dinner drinks and action.
Today, Playa del Carmen still boasts the same, beautiful beach, but the town has mushroomed in size with shopping malls, retail parks and hundreds of shops, bars, restaurants and clubs stretching into the distance.
If you're looking to relax by day but eat, drink and be merry into the early hours of the morning, then Playa del Carmen is the place to go. Our featured hotel, Mahekal Beach Resort, is located directly on the beach and, although by no means immune to outside noise, is a wonderfully stylish oasis amidst the madness.
Bordering the southern side of Playa del Carmen, Playacar is a purpose built tourist development consisting of a golf course, holiday homes and a handful of modest All Inclusive beach hotels.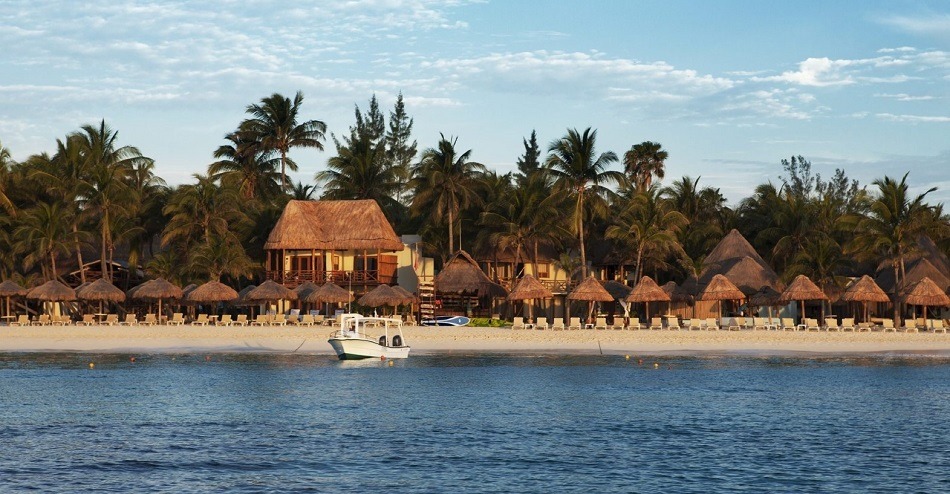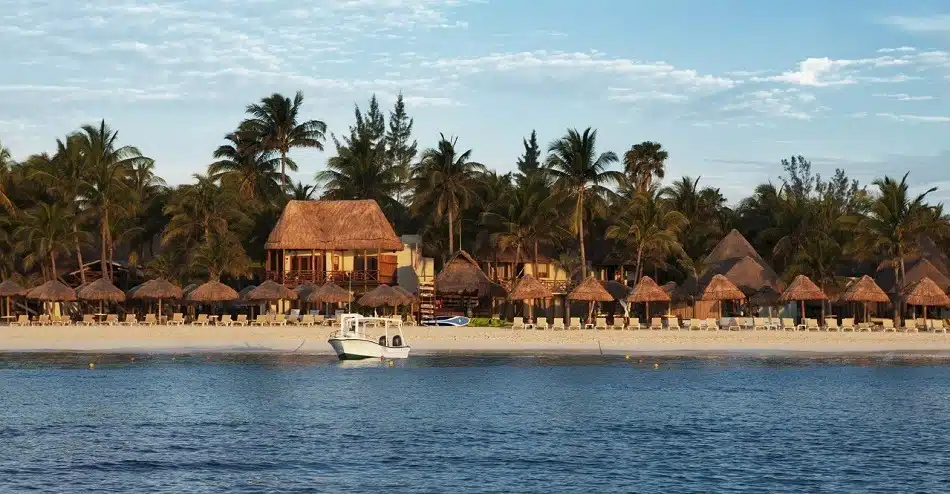 Akumal
Roughly halfway between Playa del Carmen and Tulum, Akumal is a small, purpose-built tourist village that has a large number of holiday apartments just to the north.
Our reason for featuring it here is that its beach is one of our favourites anywhere in the Yucatan Peninsula, a beautiful, crescent shaped beach, covered in palm trees and with a sheltered bay that is ideal for swimming.
Hotel accommodation in the area is largely limited to the simple but comfortable Hotel Akumal Caribe which is located right alongside the beach.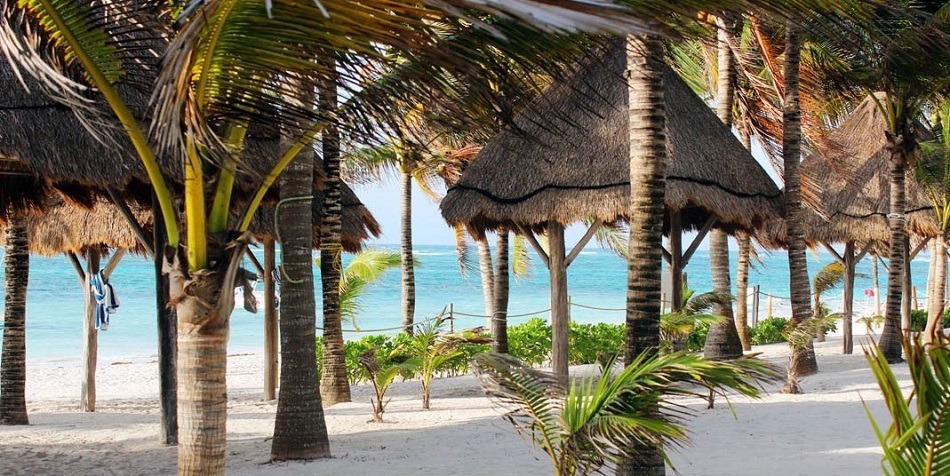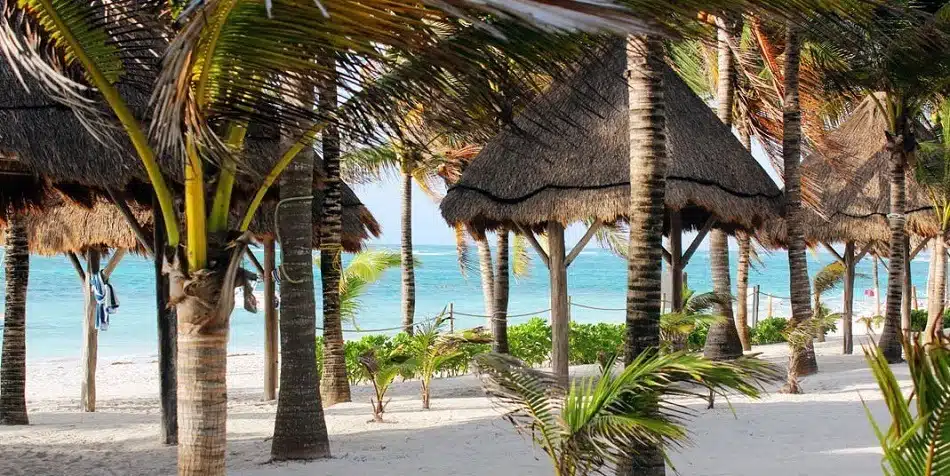 Tulum
Now one of the most famous beaches in the world, beloved of travel magazines, social media and honeymoon couples, the beaches of Tulum cover the full gambit from small, secluded coves to the broad, main beach that runs for as far as the eye can see.
As well as the undoubted natural beauty of these beaches, and their ubiquitous swaying palm trees, much of Tulum's appeal lies in its hotels, almost exclusively small, low-rise, low-impact and styled in a casual, understated manner.
Hotels that we feature in Tulum include Hip Hotel & Hotel Rosa del Viento.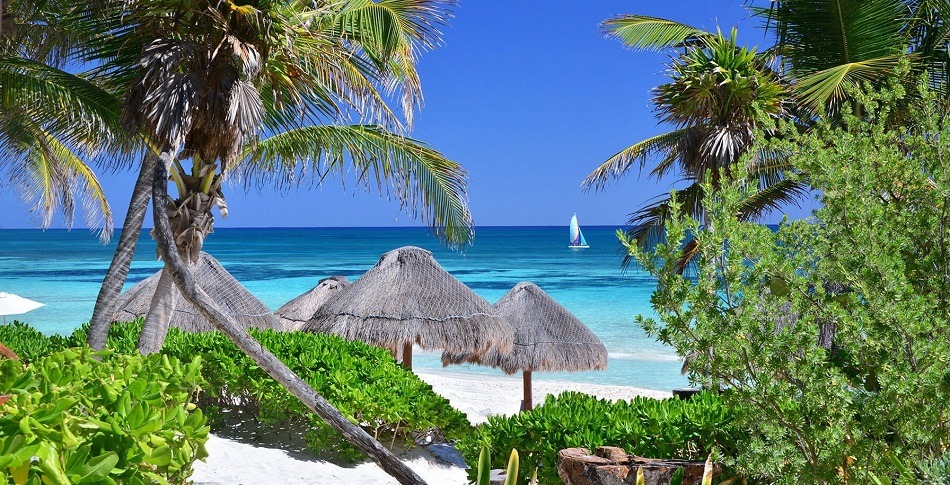 Isla Mujeres
An approximate thirty-minute ferry-ride from Cancun, Isla Mujeres is a popular day trip destination from the mainland as well as being home to a sizeable population of retirees from North America.
Much of the island's craggy coastline is unsuited to swimming although, on its northern tip, the appropriately named Playa Norte is another of our favourite beaches in the region, a combination of its natural beauty and the fact that it is so refreshingly 'unresorty'.
Two of our featured hotels on the island, Na Balam and Cabanas Maria del Mar, are located opposite each other directly on Playa Norte, with plenty of bars and restaurants within easy walking distance. If you don't fancy walking, it's also possible to hire golf buggies to get around.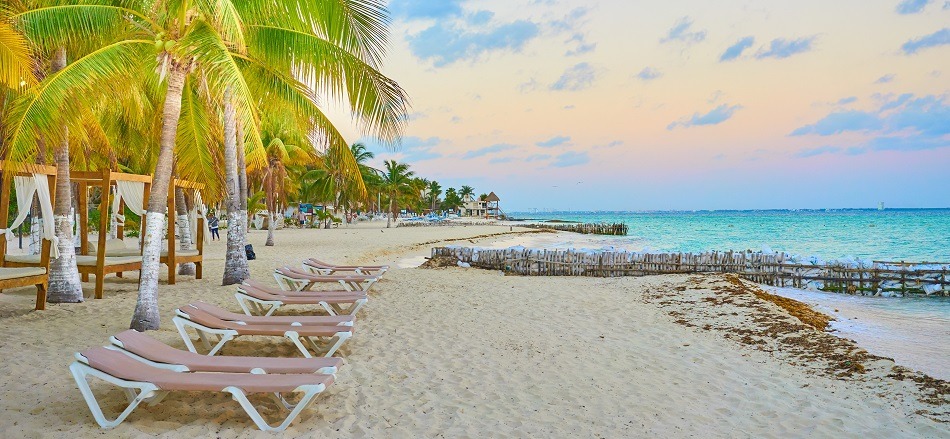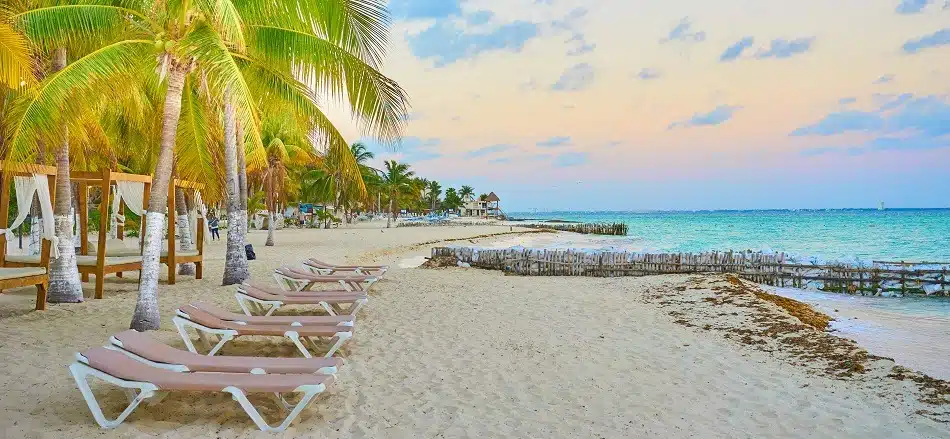 Holbox
Also a thirty-minute ferry-ride off the coast, this time the north coast, the island of Holbox is a popular option for travellers seeking a low-key beach destination where one can combine a relaxing beach holiday with access to equally low-key bars, restaurants and shops.
The island's beach runs along its north coast (the other side of the island comprises mangrove) and varies in width from no more than 5 metres to over 100 metres.
Although not the best beach in the Yucatan Peninsula, if you want to get an idea of what the east coast was like twenty or thirty years ago, this is the place to visit.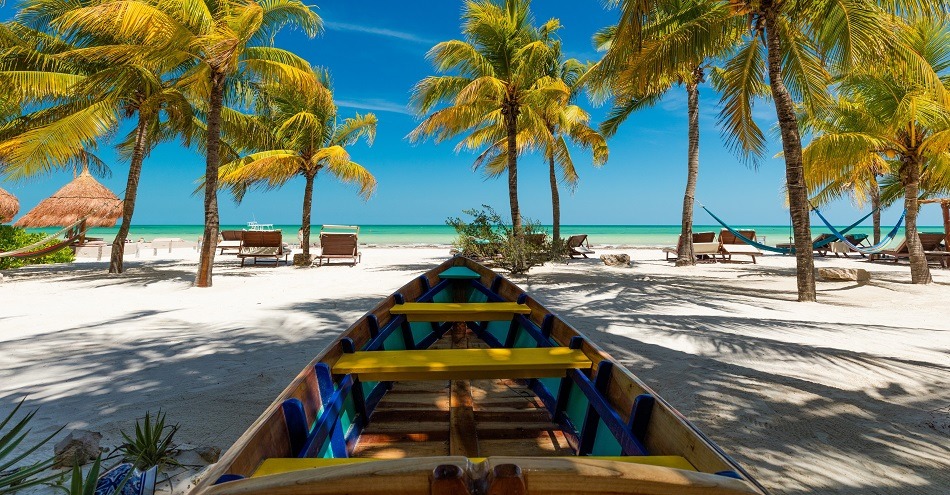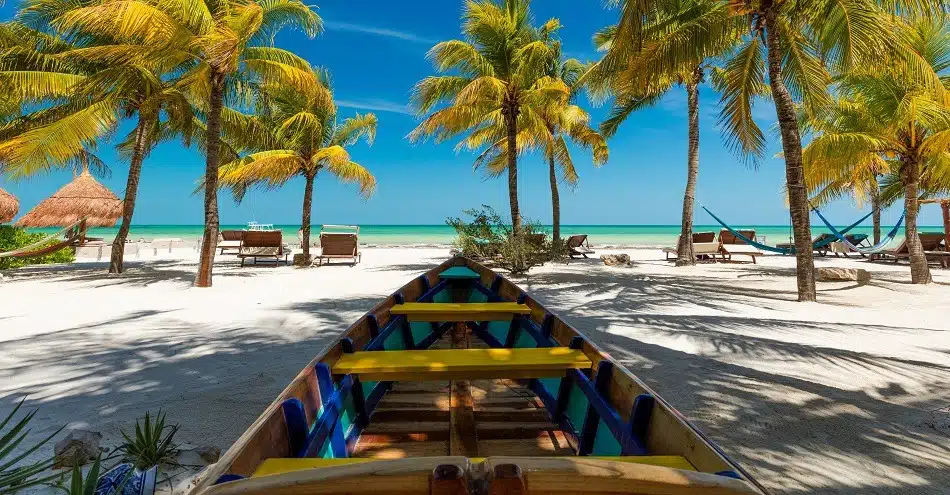 Celestun
Located on the Gulf Coast, an approximate 90 minute drive west of Merida, Celestun is best known for its UNESCO Biosphere Reserve, home to a rich variety of birdlife including one of Mexico's largest colonies of flamingos.
The jumping off point for the Reserve is a small, nearby fishing village, also called Celestun. Running north of this village is a pleasant if unspectacular beach with a single hotel, the environmentally conscious Xixim Unique Mayan Hotel. Although not featured on our website, we are able to take bookings for the property as part of a tailor made holiday.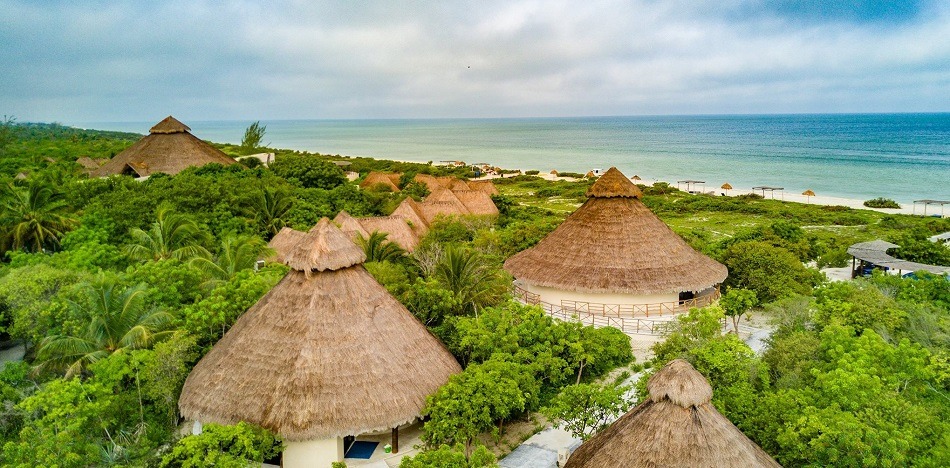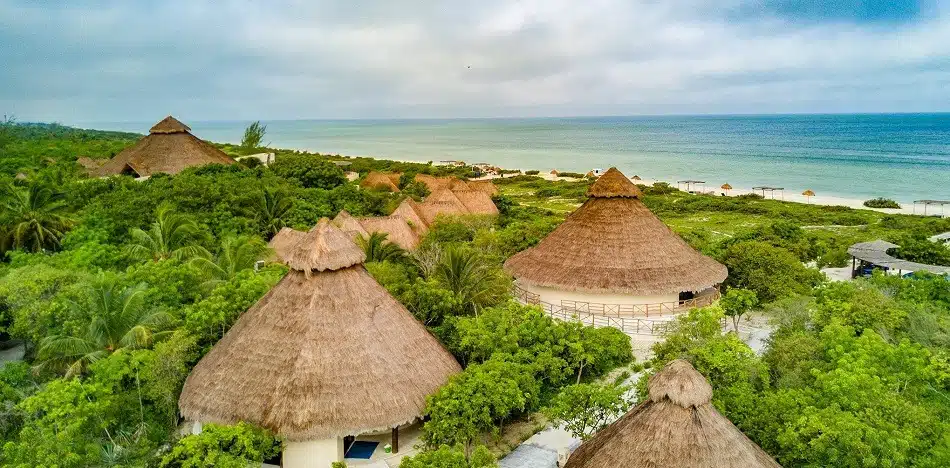 Campeche
Capital of the state of the same name, Campeche is a beautiful, colonial-era city located towards the southern reaches of the Yucatan Peninsula's west coast.
In truth, nobody travels to Campeche on a beach holiday but, if you're visiting the city as part of a touring holiday and fancy a few days relaxing by the sea, there is a simple beach hotel, the Hotel Tucan Siho Playa, some 20 minutes' drive south of the city.
The beach itself is very small and subject to tides but is more than adequate for a few days. The area also benefits from being far less developed than almost anywhere on the east coast and, if price is a consideration, rates at the hotel are also significantly lower than you will find elsewhere.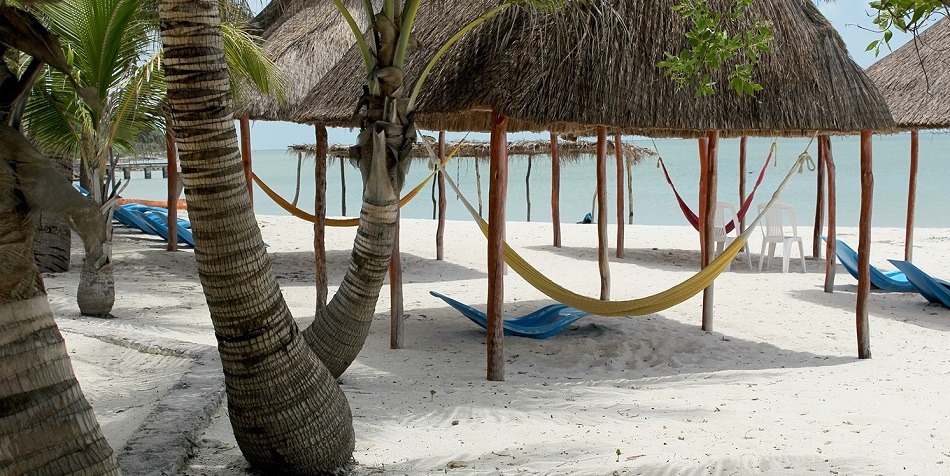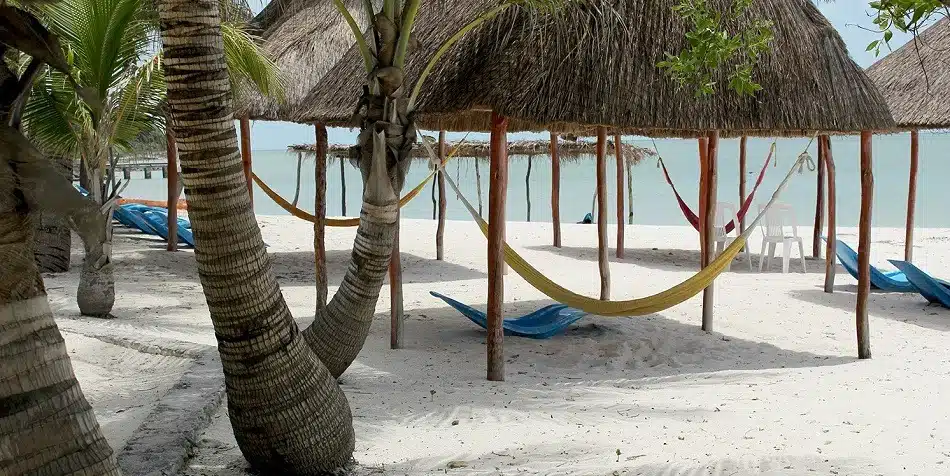 January

February

March

April

May

June

July

August

September

October

November

December