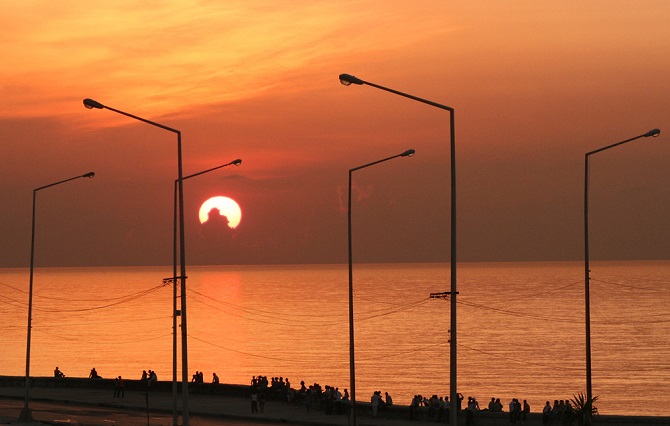 The Best of Cuba tour is an escorted, small group tour lasting 11 nights and taking in most of the key highlights of Cuba.
The first 7 nights of the tour, also sold on a stand-alone basis as the Essential Cuba tour, takes in western Cuba. The remaining 4 nights take in central and eastern Cuba before finishing in Holguin.
Departures are almost every Monday throughout the year, which coincides nicely with the Virgin Atlantic flight from Gatwick to Havana the same day.
The Best of Cuba tour commences with 2 nights in Old Havana although, as most clients generally arrive on the Monday evening, that really equates to 1 full day in Havana, enough time to get a taste for this fascinating city (and include the ubiquitous classic car ride).
After Havana, the tour heads west for a couple of days and, based at charming Las Terrazas, explores some of Cuba's most beautiful countryside, including the iconic Vinales Valley.
From Las Terrazas, the tour then heads back past Havana to Cuba's south coast, stopping briefly in the city of Cienfuegos before ending up in the small, colonial town of Trinidad, one of the undoubted highlights of any holiday to Cuba.
After 2 nights in Trinidad, the Best of Cuba tour heads out through the Valley of the Sugar Mills to Sancti Spiritus and then on to Santa Clara, home to Che Guevara's mausoleum and the Museum of the Revolution.
At this point, whereas clients on the Essential Cuba tour head west, back to Havana, those on the Best of Cuba tour head east, to the central city of Camaguey, yet another of Cuba's UNESCO World Heritage sites.
After a night in Camaguey, the tour continues east along the spine of Cuba to the picturesque town of Bayamo, for a further night, before heading into the beautiful mountain scenery of the Sierra Maestre around Santo Domingo, with a gentle trek included to visit La Plata, one-time hideout of Fidel Castro during the Cuban Revolution.
Continuing east again, with a stop-off at El Cobre, Cuba's most important pilgrimage site, the tour spends its last 2 nights in Santiago de Cuba, the island's second largest city, with visits to all its major attractions including the Morro Castle. 
On the final day, the tour heads to the city of Holguin, stopping en-route at Biran where Fidel & Raul Castro were born and where their parents are buried.
The tour then ends in Holguin on a Friday afternoon after which clients have a number of options.
They can fly from Holguin back to Havana and spend additional time taking in the capital's many attractions, bars and restaurants before returning home.
Those looking to end their holiday with time at the beach have a number of options, such as……
Just an hour from Holguin are the beautiful beaches of Guardalavaca, home to a variety of hotels including probably the very best on the entire island. Or, clients can fly back to Havana and then transfer by road to either Varadero or, our personal recommendation, nearby Memories Jibacoa 
Accommodation on the Best of Cuba tour is a mix of casa particulares (in Havana & Trinidad) and hotels.
What to expect – This is not a luxury tour of Cuba but then, there is no such thing, so an open mind and patience will stand you in good stead. Please note too that driving times in Cuba are far greater than most people anticipate so be prepared to spend longer on the road than is ideal; unfortunately, Cuba's most popular destinations are where they are so it's pretty much impossible to avoid.
Travel Beyond The Ordinary